Yes, the blog has been silent lately. Sorry about that, but I had a good reason. Last night, I typed my two favorite words in the world: The End. Shades of Wicked is now officially in my editor's hands!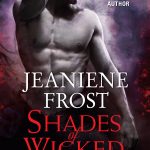 *throws confetti*
Now, yes, I know that "The End" really only means "Take One" because there will be editor revisions, critique partner revisions, possibly another round of editor revisions, copy editor notes, and galleys. But still, for the moment, I can bask in the glory of being DONE…until my first revision letter arrives, heh.
To celebrate, I'm going to do my usual: go outside for more than brief trips to the grocery story, and couch-surf while inside. I'm thinking a trip to the zoo, museum, and a few other places for the first, and for the second, I'm currently binge-watching the tv show Elementary. Yes, I know, I'm SO many seasons behind, but that's working out for me at the moment because I can watch several shows in a row. So far, at the end of season one, I'm loving it. It also amuses me that apparently, in a later season, the character playing Sherlock mentions being the inspiration behind a sex scene in "Chapter 32." Have one of the show's writers read my book? I have no idea, but I'm going to pretend that's the case even though countless other books probably have a sex scene in that same chapter number ;).
Oh, and yes, there will be more snippets from Shades of Wicked coming soon! Just want to get the nod from my editor on what scenes she thinks are good enough to share, pre-revisions. If you haven't read the other snippets yet, they're here and here.
That's it from me. Hope you're having a wonderful week!