Lots of stuff to cover in this post, so let's get right to it! First up, I have good news for sales lovers. For the month of September, Amazon is featuring two of my books in their Kindle Monthly Deal. So, for the next three weeks only, you can get the two ebooks below for just $1.99.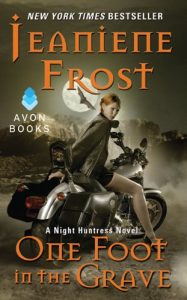 ONE FOOT IN THE GRAVE (Night Huntress book two, or more commonly known as the book with the infamous "Chapter 32";)) Description: Half-vampire Cat Crawfield is now Special Agent Cat Crawfield, working for the government to rid the world of the rogue undead. She's still using everything Bones, her sexy and dangerous ex, taught her, but when Cat is targeted for assassination, the only man who can help her is the vampire she left behind.
Being around Bones awakens all her emotions, from the adrenaline kick of slaying vamps side by side to the reckless passion that consumed them. But a price on her head—wanted: dead or half-alive—means her survival depends on teaming up with Bones. And no matter how hard she tries to keep things professional between them, she'll find that desire lasts forever . . . and that Bones won't let her get away again. Get it for $1.99 HERE.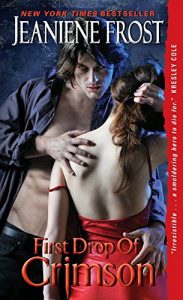 FIRST DROP OF CRIMSON, Night Huntress WORLD book one, or more commonly known as the answer to the question "So which book did Denise and Spade hook up in?"). Description: The night is not safe for mortals. Denise MacGregor knows all too well what lurks in the shadows—her best friend is half-vampire Cat Crawfield—and she has already lost more than the average human could bear. But her family's past is wrapped in secrets and shrouded in darkness—and a demon shapeshifter has marked Denise as prey. Now her survival depends on an immortal who lusts for a taste of her.
He is Spade, a powerful, mysterious vampire who has walked the earth for centuries and is now duty-bound to protect this endangered, alluring human—even if it means destroying his own kind. Denise may arouse his deepest hungers, but Spade knows he must fight his urge to have her as they face the nightmare together. Because once the first crimson drop falls, they will both be lost. Get it for $1.99 HERE.
Also, I know that audio book readers have been waiting for this, so I'm happy to announce that the audio pre-order link for SHADES OF WICKED is finally live: Get yours at Audible, Downpour, or your favorite audio retailer.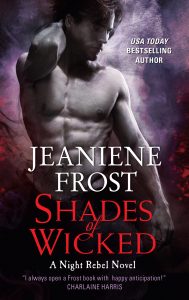 And now, to the giveaway contests! First up is the one I'm running on my blog. I have five signed ARCs (advance reading copies) of SHADES OF WICKED up for grabs, open to US and to international readers. If you're interested in your chance to win one of the five Arcs, please follow the rules below:
1. Send an email to jfrostcontest AT gmail DOT com (obviously replace the "AT" with an "@" and the "DOT" with a "." in your email.)
2. Make sure to include your name and the email address you want to be contacted at if you win (if it's not the email you're sending your entry from.)
3. You can only enter ONCE. Duplicate entries will be deleted.
4. Contest starts NOW and ends Friday, September 21st at 11:59pm EST. Winners will be announced the following day on my blog.
But wait, that's not your only chance to win! I'm also holding a contest giving away another 5 signed Arcs of SHADES OF WICKED on Goodreads. This one is open only to U.S. readers, so if you're international, skip this but enter the one above. Because this contest is on Goodreads, you have to enter on their site and follow their rules. Go HERE to enter (once on Goodreads, scroll down until you see "Win a copy of this book"), or copy/paste this link into your browser: https://www.goodreads.com/book/show/38388574-shades-of-wicked
Good luck, everyone!