Hi everyone! Last week, I typed my two favorite words: "The End." That's right, WICKED BITE, Night Rebel book two, is in my editor's hands *throws confetti* I'm celebrating my usual way – by marathon-ing tv shows that have been piling up in my queue. I'm also starting to chip away at my inbox, which has piled up in a scary way. So, if I owe you an email, it should be coming soon.
Speaking of WICKED BITE, hundreds of you signed up for my newsletter after I originally sent out the third chapter exclusively to my newsletter subscribers on May 10th. Because of that, I sent out a new newsletter yesterday that also included Chapter 3 at the bottom of it. So, if you messaged me before yesterday, telling me you signed up for my newsletter and you want the new chapter, check your inbox :). Chapter 3 of Wicked Bite should be there. Don't forget to check your Spam filter, too – they can get hungry for emails sometimes. Not signed up for my newsletter and you don't want to miss out on exclusives like this? Sign up HERE (link: https://tinyurl.com/y45ywzba)
The other thing I let my newsletter subscribers know about is the end date for the sale on SHADES OF WICKED, Night Rebel book one. I mentioned this sale on my blog before, but I didn't know how long it would last. Since I now do, I want to let everyone know that the special $1.99 ebook price on SHADES OF WICKED ends on June 10th. If you haven't grabbed your copy yet, get yours for only $1.99: Amazon, B&N, Apple Books, Kobo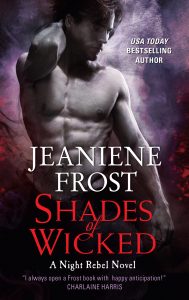 The Rule Breaker
Master vampire Ian is unrepentant, shameless…and every shade of wicked. He's made one too many enemies in his two centuries of existence, including Dagon, a demon who now lays claim to his soul. Ian's only chance to escape Dagon is to join forces with a Law Guardian, but he's never been able to abide by the rules for long.
The Law Maker
Veritas' normal role is police, judge and jury to reprobates like Ian. But she has her own ax to grind with Dagon, so if she can use Ian as bait…well, all's fair in law and war. As they scour supernatural hotspots to perfect their trap, Veritas soon realizes Ian's devil-may-care, roguish image hides something much more powerful. And Ian discovers that Veritas has shocking secrets of her own. As they're drawn to each other with a passion as intense as their peril, either love or justice will prevail. But each will have devastating consequences.
Get yours for only $1.99 in ebook until June 10th: Amazon, B&N, Apple Books, Kobo