Sorry for the blog silence lately. I've been working on revisions for WICKED BITE, which are due in exactly a week. As usual with revisions, many scenes have now been tweaked and/or changed. So, to everyone contacting me to say "I just signed up for the newsletter, can I still get the third chapter?" the answer is yes and no. No, I'm not doing a new newsletter with the chapter. But yes, you can still get it. You'll just have to wait since I've made some slight changes to Chapter Three (and some tweaks to Chapter One, too) during revisions. I'm going to post all three revised chapters on my website after my editor approves the changes. This will probably be at the end of this month, or the beginning of next month.
Revisions haven't been the only thing keeping me busy. As many of you know, I have two dogs, Gypsy and Loki. I'll be the first to admit that they're spoiled rotten because I cannot say no to a cute doggie gaze – it's my kryptonite. Pity my husband, who had to do most of their training because of this, but don't let him fool you. Aside from making sure that they don't chew our furniture out from underneath us – I am convinced that Shiba Inus are part termite because they LOVE to gnaw on wood! – he is putty in their furry hands paws.
Anyway, Gypsy turned 15 in February, so she is close to the end of her expected life span. This means that whenever something is off with her, I pretty much panic because I don't know if it's a temporary illness or The End. As a senior dog, she already has some limitations due to arthritis, being mostly blind and being partially deaf, but she's still her spoiled, happy self most days. However, a week ago, she started panting, staggering and falling. We took her to the vet and found out that a bad ear infection caused vestibular disease with nystagmus. If you don't know what that means, neither did I! I've since learned that the vestibular apparatus allows dogs to "determine if they are upside down, standing up straight or falling…all while allowing their eyes to follow moving objects without becoming dizzy…" Nystagmus is a compulsive back-and-forth rotational eye movement. So, according to the vet, having her vestibular out of whack with nystagmus made poor Gypsy feel like she was horribly seasick while walking on ground that kept moving and/or disappearing beneath her, all while her eyes compulsively kept jerking to the right (sounds awful!)
Thankfully, it's not permanent, but its debilitating effects last a week to ten days. That's why this past week, between trying to revise my book, I've also been crawling after Gypsy trying to get her to take her many medications and eat or drink – difficult when the poor girl is understandably VERY nauseous – plus carrying her outside to go to the bathroom since she can't walk. When I say I was crawling after her, by the way, I mean crawling. Since her depth perception is all out of whack, having someone loom over her made Gypsy even more anxious than her awful symptoms already did. That's why I got down on all fours to give her her food, meds and water several times a day, then crawled after her when she'd stagger away because her nausea meant she didn't want them. My husband tried to help, but nothing brings out my control-freak nature more than seeing my furbaby in distress, so I insisted on doing most of it myself. We also couldn't restrain her to force-feed her the meds or food since she'd struggle, which, with her bad arthritis, would cause her even more pain and difficulty moving, not to mention add to her stress.
Gypsy is much better now – thank God! – but I have paid for being a control freak. Last night, when I hunkered down to give Gypsy her evening meds, I shrieked when I tried to stand back up. My right knee has apparently decided that I am DONE crawling. If I disagree, I can enjoy a sharp, stabbing sensation in said knee. *grins* Is this my right knee telling me to accept more help when it is offered in the future? Or is it my knee telling me to do some damn yoga to firm up my joints, if I insist on taking everything on myself? I can only wonder…while taking Advil and refraining from any more crawling ;). I'll close with a pic of Gypsy, who is thankfully back on her feet.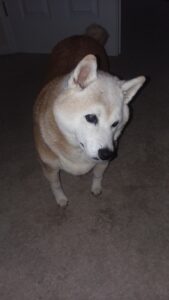 And here is Loki, who has been very worried about his big sister this past week.