TONIGHT, join me, Kelley Armstrong (BITTEN, CURSED LUCK series, more) and & Melissa Marr (WICKED LOVELY, CURSED BARGAINS series, more) for a live video chat at 7pm Central Time (8pm Eastern). We'll be chatting about books & taking your questions PLUS giving away a $50 Murder By The Book gift card and three paperback copies of HEX ON THE BEACH.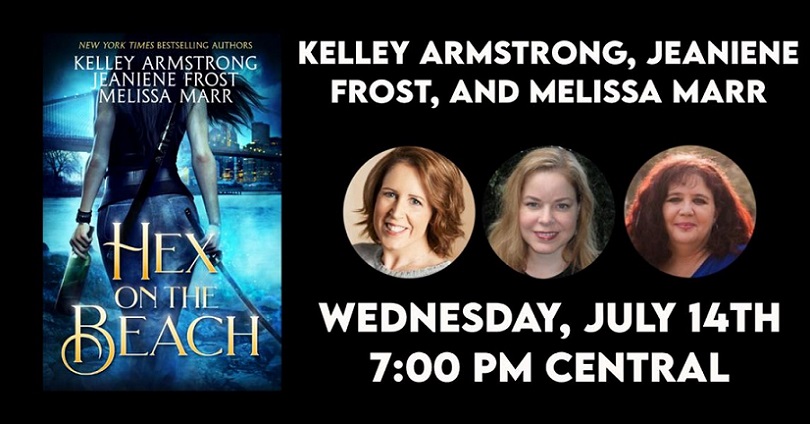 Kelley Armstrong graduated with a degree in psychology and then studied computer programming. Now she is a full-time writer and parent, and she lives with her husband and three children in rural Ontario, Canada. She is the author of the Rockton mystery series featuring Detective Casey Duncan, which begins with City of the Lost, and the novel Wherever She Goes. She is the editor of the young adult anthology Life Is Short and Then You Die.
Jeaniene Frost is the New York Times, USA Today, and international bestselling author of the Night Huntress series and the Night Huntress World novels. To date, foreign rights for her novels have sold to nineteen different countries. Jeaniene lives in North Carolina with her husband Matthew, who long ago accepted that she rarely cooks and always sleeps in on the weekends. Aside from writing, Jeaniene enjoys reading, poetry, watching movies with her husband, exploring old cemeteries, spelunking and traveling–by car. Airplanes, children, and cookbooks frighten her.
Melissa Marr writes fiction for adults, teens, and children. Her books have been translated into 28 languages and been bestsellers in the US ( New York Times, Los Angeles Times, USA Today, Wall Street Journal) as well as in various countries overseas. She also wrote the best-selling picture book Bunny Roo, I Love You, and she is well-known for the Wicked Lovely series for teens and the Graveminder series for adults. She lives in Arizona with her spouse, children, and many dogs.
---
Two Ways To Watch:
On Facebook:
Watch on Murder By The Book's Facebook page here at 7pm Central Time, 8pm Eastern: https://www.facebook.com/Murder-by-the-Book-243815711002/?eid=ARDqQsIxAlAWsJkK8jqJ-hm2Nz62X2mULyWgQk5O7ww5rC291MGRB7Auk7L93iuMazLbGi1HDsu6EUpC

On YouTube:
Most of our events can be watched live on the Murder By The Book YouTube page, which can be found HERE. When it's time for the event to begin, you should be able to refresh the page until the live video shows up as a new post. Or, if you've subscribed to our channel you'll get a notification when we go live. If you miss the beginning of the talk, as soon as it wraps up you can find it on our YOUTUBE CHANNEL to watch from the beginning.