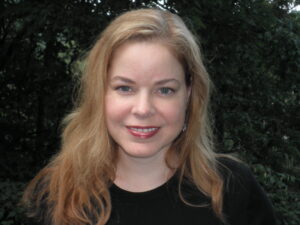 Jeaniene Frost is a New York Times and USA Today bestselling author whose works include the Night Huntress series, the Night Prince series, the Night Rebel series and the Broken Destiny series. Jeaniene's novels have also appeared on the Publishers Weekly, Wall Street Journal, ABA Indiebound, and international bestseller lists. Foreign rights for Jeaniene's novels have sold to twenty different countries.
Jeaniene lives in Florida with her husband Matthew, who long ago accepted that she rarely cooks and always sleeps in on the weekends. In addition to being a writer, Jeaniene is also a Jesus follower, a feminist and a dog mama. She enjoys reading, writing, poetry, watching movies, exploring old cemeteries, spelunking and traveling – by car. Airplanes, children, and cook books frighten her.
Jeaniene is represented by Nancy Yost at Nancy Yost Literary Agency. Please send all business inquiries directly to Nancy.
Want to get reminded about new releases and personal appearances by Jeaniene? Then sign up for Jeaniene's newsletter, hosted by CoffeeTime Romance.
Find Jeaniene on: