I'm still (mostly) on blog hiatus while I throw my efforts into finishing Cat and Bones #5, but wanted to pop up for a couple quick announcements. First, HALFWAY TO THE GRAVE, book one in the Night Huntress series, is now available as an audio book. Check your favorite audio retailer for details, or you can go to the publisher's website here. ONE FOOT IN THE GRAVE, book two in the Night Huntress series, will also be made into an audio book, but I don't have a release date yet. Will update my website once I do. I'm trying to get the rest of my novels available as audio books, but still working out the rights reversions and other boring details, so no word yet on whether those will be audio books. I'm hopeful, so cross your fingers for me :).
In other news, I am very excited to announce the upcoming release of my critique partner Melissa Marr's fourth book in her Wicked Lovely series, titled RADIANT SHADOWS, releasing April 20th. I'll be interviewing Melissa live via podcast on Blog Talk Radio Thursday, April 15th at 1pm. Click HERE for details or to set a reminder for the event. Readers are invited (and encouraged!) to call or email your questions in during the chat. So come out and help me give Melissa a hard time discuss RADIANT SHADOWS,  the faery courts, strong heroines, tough, sexy heros, tattoos, villains you love to, um, love, and what's it's like to have a novel turned into a movie (for those of you who don't know, Melissa's debut novel, WICKED LOVELY, was optioned by Vince Vaughn's Wild West Picture Show Productions, along with Universal Studios and Caroline Thomson as screenwriter). Should be a fun chat!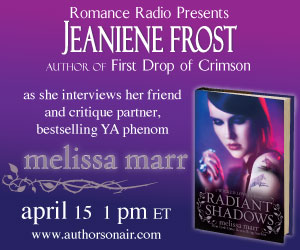 Also, for the next two weeks, WICKED LOVELY, the first book in Melissa's series, is available as free ebook on B&N and Amazon: http://tinyurl.com/yeqxmae and http://tinyurl.com/y8z3qn8 . So if you haven't discovered her series yet, check it out!