Well, finally returned home Saturday night (pause to add that I'm SO glad to be sleeping in my own bed again!) and I wanted to recap my trip. Let's start at the beginning, which was the group book signing on February 19th at Turn The Page book store.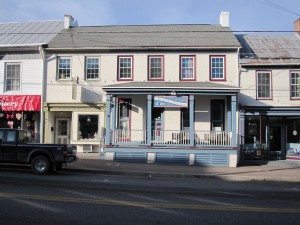 .
.
.
.
.
.
.
Turn the Page is located in the lovely little town of Boonsboro, Maryland. There were several authors at the signing, starting with La Nora herself, me, my tour partner Pamela Palmer, Stephanie Dray, Grace Burrowes, Mary Burton, and Vaughn Ripley. As I mentioned in my previous post, this event drew a ton of readers, and huge thanks again to everyone who chatted up my books while waiting in line. Personal recommendations are how I find most of the books I read, so it's very flattering to be on the receiving end of that. Before the signing, Avon Books teamed up with Turn the Page to host a live streaming Q&A with all the authors. That was a lot of fun, and the archive of the video feed is here for anyone interested:
Or if the video link is acting wonky, you can go here: http://www.livestream.com/romance
The signing was a happy blur of activity. It's always exhilarating to meet and chat with readers. A few gave me cards (thank you!) and two readers even made jewelry for me (way, way too kind!). We also took several pictures, but in the interest of space, I'm only posting a couple here. Click on any pics to make them bigger: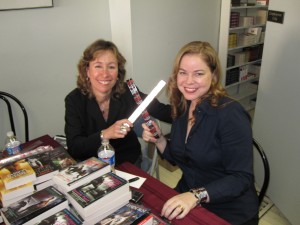 .
.
.
.
.
.
.
.
.
And here's one with several of the authors: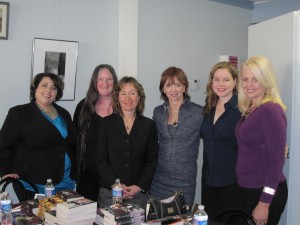 .
.
I'm so thrilled to have been included in this group, and can't thank the wonderful people at Turn the Page enough for inviting me.
Plus, once the signing was over, it was time to relax at the Inn at Boonsboro, owned by Nora Roberts and her husband.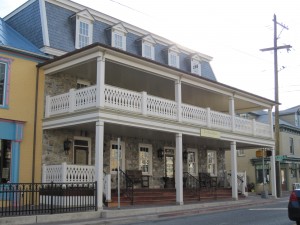 From the outside, it retains its century-old quaint charm. From the inside, ultra modern amenities are mixed in with picturesque furnishings. Take my room (pause to say thank you, Avon!). It had a lovely sitting area with a flat screen TV, a four-posted bed with a comforter that had to be five inches thick, another TV, and a bathroom to drop over dead for. The tub had Jacuzzi jets, the shower was huge, and the toilet was one of those sensor-activated, heated-seat numbers that had more cleaning settings than my washing machine at home, I kid you not. I almost took a picture of it, but figured that might be pushing things a bit, heh.
After we left Boonsboro, it was onto Birmingham, AL. The evening we arrived, Pamela and I went to a wonderful dinner at Brio's with HarperCollins rep Eric Svenson and several Books A Million representatives. I can be a little shy when meeting new people, so huge thanks to everyone for being so friendly. The next day, Pamela and I spent a couple hours wandering around Forest Hills cemetery. Longtime blog followers know that I like exploring cemeteries, the older the better. Some of the graves at Forest Hill were over a hundred years old, and there were also some interesting headstones. For example, I don't know what these two markers are, but from a distance, they almost looked like two claws coming out of the earth (plot ideas abound!)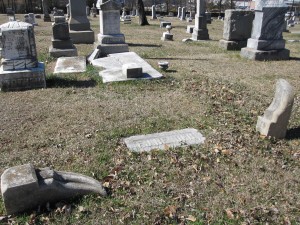 .
.
.
.
.
.
.
And here's Pamela Palmer against an older, pretty headstone:
.
.
.
.
.
In the evening, we had our signing at Books A Million and we had a really fun crowd. More than a few people mentioned that they'd driven anywhere from two to four hours to attend, which was amazing. Big thanks to everyone who came out, and to the staff for hosting us and setting up such a nice display of our books.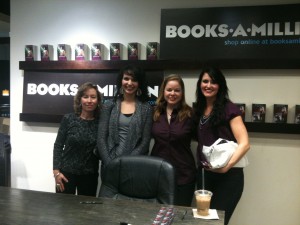 The next day, Pamela and I got up early and started for New Orleans. We had smooth sailing with traffic for all but the last ten miles, where an accident blocked two out of the three lanes. Still, we made it to New Orleans with enough time to grab lunch and change clothes before the signing, so we were freshened up and without growling stomachs – always a plus. Pamela and I were expecting only a few people considering that Mardi Gras was starting, but we had a nice group of readers who picked books over Bourbon Street…at least for a couple hours, heh.  Plus, Britton, the manager of the Garden District Book Shop, provided complimentary wine and cheese snacks, so it was like a fun soirée and chat combined. Once again, thanks to Britton and the staff at Garden District Book Shops, plus everyone who came out and chatted with us (and were kind enough to let us force slap bracelets upon them *wink*).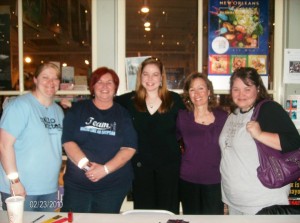 .
.
.
.
.
.
.
As a final note, during my last night on the train, I called into the Talk Shoe show where Jackie from Literary Escapism and Larissa from Larissa's Book Life were hosting a Night Huntress discussion. We chatted about characters, plots, hidden "Easter eggs" in the books, and more. To listen to the recording, you can go here:
And if that doesn't work, here's the link: http://www.talkshoe.com/talkshoe/web/talkCast.jsp?masterId=93065&cmd=tc
Once again, thanks so much to everyone! Signings (and call-in chats) can feel intimidating, but I can honestly say that I had a great time during all the events last week. Readers, book store staff, bloggers, and my tour partner Pamela Palmer – all of you made this an experience I will remember with a smile. In short, you rule! 😀