Remember the scene snippet from Up From The Grave that I posted in December? My audio book narrator, Tavia Gilbert, has provided a complimentary reading of that same snippet. Click here to listen. Thanks, Tavia! (and yes, the audio book will be available on January 28th, same as the ebook and paperback.)
Lest you think that I only plug my own books – heh – here's a recommendation for a debut novel I read recently called Unfiltered and Unlawful. It's the first novel in a NA serial series (NA stands for New Adult, meaning the protagonists are college-aged) and it's self-published. Now, I'm normally wary about reading a new-to-me, self-published author because some self-pubbed novels are in dire need of basic editing, but a glance at an excerpt for Unfiltered and Unlawful showed that it did not fall into that category. The writing quality is top of the line and when I read the premise for the series, it really intrigued me.
"Thirteen strangers walk away from a night-shift shooting at The Coffee Cave with more than $100,000 each in drug money, a pact never to speak again, and the chance to start over. Each story follows one of these characters as they embrace a 'carpe diem' attitude after the events of that night. Some seek fame, others seek forgiveness, some just want to skip town; but every character, whether they're looking for it or not, finds love. Unfiltered and Unlawful is the first novel in an 12-book serial series, with a new ebook releasing every month from now until December 2014.  The "Unfiltered" series offers one hundred percent romance stories with heroes of every type, from tough and tattooed to the All-American athlete. Every title has a "happily ever after," with interweaving plots tying the stories together in one long arc to solve the mystery behind the killing. The heat level in each installment ranges from sweet to extremely steamy, and the authors provide a handy one-to-four cup heat rating on the covers to help readers pick their pleasure."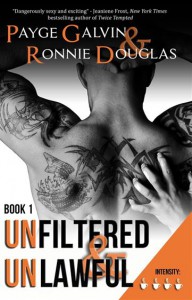 Here's the summary for Unfiltered and Unlawful, the first novel written by Ronnie Douglas and Payge Galvin:
"Until that night, Sasha 'Sugar' Kovac spent her days selling coffee to the co-eds at ASU Rio Verde and her nights trying not to run back to her ex… or join the throngs of girls lusting after her friend, Adam. But why should Sugar give in to the Harley-riding tattoo artist when his longest relationships haven't lasted more than a weekend?
Sugar's life takes a turn for the dangerous when someone comes looking for the people connected to the Cave shooting and the cash they split. To protect herself and those she cares about, Sugar has to get out of town-and fast. When Adam insists on coming with her, Sugar finds herself holed up in a tiny house with a hot man, a stash of cash, and a lot of secrets. Can Sugar protect both her life and her heart when temptation is so close? Or is the past she's fled going to catch up with her?"
This is definitely a "4 cup" level of steaminess ;-). I liked the story so much, I blurbed it. Click here if you want to read an excerpt. For a limited time, buy the ebook for only $.99 at Amazon (more ebook retailers coming soon.) Don't have an e-reader? You can still read an ebook. Learn how.

Unfiltered and Unknown, the second novel in the series featuring a story from another participant in the heist, comes out on February 14th. I for one can't wait to see what happens next.