As the subject line says, SHADES OF WICKED is now out! As my publisher hilariously said, "Take a bite out of Ian." *snorts* Sure, go ahead. He'd probably like that ;).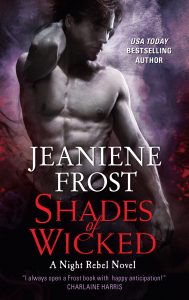 The Rule Breaker
Master vampire Ian is unrepentant, shameless…and every shade of wicked. He's made one too many enemies in his two centuries of existence, including Dagon, a demon who now lays claim to his soul. Ian's only chance to escape Dagon is to join forces with a Law Guardian, but he's never been able to abide by the rules for long.
The Law Maker
Veritas' normal role is police, judge and jury to reprobates like Ian. But she has her own ax to grind with Dagon, so if she can use Ian as bait…well, all's fair in law and war. As they scour supernatural hotspots to perfect their trap, Veritas soon realizes Ian's devil-may-care, roguish image hides something much more powerful. And Ian discovers that Veritas has shocking secrets of her own. As they're drawn to each other with a passion as intense as their peril, either love or justice will prevail. But each will have devastating consequences…
Order: Amazon, B&N, IndieBound, Apple Books, BooksAMillion, Kobo or Malaprops (for a limited time, signed copes still available to order at Malaprops)
Thankfully, I'm not the only one excited about this book. Here's a sampling of what others have said: "A flawless blend of high-stakes romance and action-packed paranormal adventure…Sexy, breathtaking, not-to-be-missed paranormal romance." KIRKUS, starred review.
"The legion of fans for Frost's super popular, darkly twisted Night Huntress titles will be thrilled by the first book in her Night Rebel series…Wild, magically enhanced sex and bloody, bone-pulverizing battles will keep readers turning the pages." BOOKLIST.
"SHADES OF WICKED is everything Jeaniene Frost fans hoped for and much more." FRESH FICTION
"Shades of Wicked is a fantastic start to this new series…Bravo again, Jeaniene Frost." THE READING CAFE
"Pulse-pounding action with some of the best characters you'll have the pleasure to read about…Ian and Veritas had me hooked from page one and addicted for more. The next installment can't come soon enough." UNDER THE COVERS BOOK BLOG
"SHADES OF WICKED is a roller coaster ride of everything you'd love in a paranormal story. Secrets, lies, battles, insane sex (good gravy Frost has an outstanding imagination when it comes to creative sex, never doubt that!) and an ending that will leave you going 'whoa'!" SCANDALICIOUS BOOK REVIEW
"With Ian's devil-may-care attitude, and Veritas's single-minded focus on her mission, the pairing off of these two is as delightful as it was unexpected." ALL THINGS URBAN FANTASY
Of course, my favorite recommendation might have to be from Dromichaetes of Dacia, Master of the Dark Coven and unofficial spokesvampire of the Ministry of Undead Persons*, who rather begrudgingly has this to say: "The Ministry acknowledges that the Author's Work in Question, SHADES OF WICKED, has literary merit and provides exciting entertainment value, while still torturing its principals hereinafter known as Hero and Heroine with a sufficient degree of cruelty to elicit sympathy from both Undead and the Living."
Ha ha ha! I knew Ian was gonna hook you, Dromeo! Resistance is FUTILE.
Of course, for those who'd rather try before they buy, you can read the first three chapters plus additional excerpts of SHADES OF WICKED here. You can also listen to an audio clip from Chapter One HERE.
Whether you spend your Halloween reading, chomping candy or both, I hope that you have wonderful Halloween!
*Disclaimer: No, I'm not claiming that an actual vampire endorsed this book, but author & BFF Ilona Andrews is. *giggles* See more here. For the backstory on this supposed feud between me and an aggrieved vampire, go here and here.