Today is the day! WICKED BITE, book two in the Night Rebel series, is now here. To help celebrate, here is the final Quote of the Day. I don't know about you, but I'd say this is Ian inviting you to take him home ;).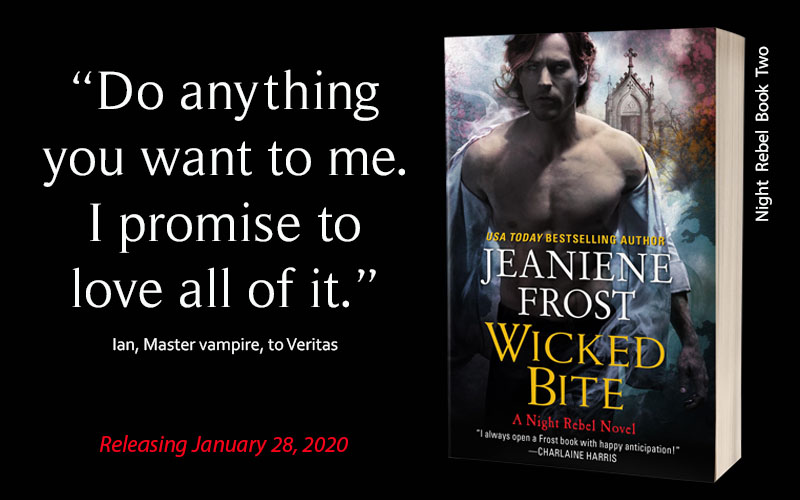 Some promises are meant to be broken…
Veritas spent most of her life as a vampire Law Guardian. Now, she's about to break every rule by secretly hunting down the dark souls that were freed in order to save Ian. But the risks are high. If she gets caught, she could lose everything. And catching the sinister creatures might cost Veritas her own life.
Some vows are forever…
Ian's memories might be fragmented, but this master vampire isn't about to be left behind by the woman who entranced him, bound herself to him, and then disappeared. So what if demons, other Law Guardians, and dangerous, otherworldly forces stand against them? Come hell or high water, Ian intends to remind Veritas of the burning passion between them, because she is the only person seared on his mind—and his soul…
Get yours: (#Ad)Amazon, Apple Books, B&N, BooksAMillion, Kobo, IndieBound  And, for a limited time, you can order a SIGNED copy of WICKED BITE from Malaprops BookStore. 
"Delivers all the sizzle, sass, and suspense that make this paranormal world such a thrill." Publishers Weekly, starred review
"A fierce and satisfying sequel…a breathtaking paranormal romance." Kirkus, starred review
"Some of the best sex in contemporary romance…[an] original and entrancing series about a world of vampires, demons, and gods." Booklist
And, Ian and Veritas will be back in WICKED ALL NIGHT, the third Night Rebel novel.