Hi, everyone. Popping up from hiatus to let you know of a fun, virtual event coming up this month with me and longtime friend, Ilona Andrews. Here are the details:
Friday 08/28 7:00 PM EST
"A conversation with Ilona Andrews and Jeaniene Frost, moderated by Sarah Penna of Frolic Media. Hosted by Malaprops Book Store."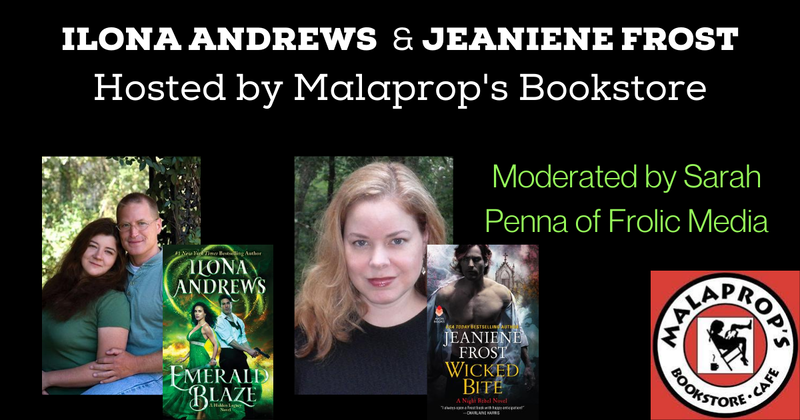 FORMAT: Zoom and Crowdcast.
Important: This is a free event, but REGISTRATION IS REQUIRED, and slots will fill up rather quickly. I hope you attend because (1) Ilona and her husband, Gordon, are simply hilarious, plus (2) we'll be talking about worldbuilding, rejection, tropes, trends, new books, and more, PLUS answering questions from attendees. Looking forward to seeing some of you there!
Register with Zoom HERE. ***ETA: Zoom is on wait list because the regular slots are full, but I heard there's still space on Crowdcast) (Full link: https://docs.google.com/forms/d/e/1FAIpQLSfoqsPON28yc7v9_iUL6b7Be0sF6z-gD_HwKojkS5jlVsliAw/viewform )
Register with Crowdcast HERE. (Full link: https://www.crowdcast.io/e/ilona_and_jeaniene/register )
Next up, I told you that I'd let you know when Chapters, Interactive Stories published their game version of BOUND BY FLAMES. Good news, it released this week!
If you didn't see my prior posts, and you're wondering "What game version?" here's a recap: Chapters, an interactive game company, acquired rights for the entire Night Prince series. They released ONCE BURNED and TWICE TEMPTED in May and June, and now, BOUND BY FLAMES is available. If you're not familiar with Chapters, these are games meant to be played on your cell phone. With my books, you role-play as the heroine, Leila, where you choose what Leila does based on the options you're provided (the game sticks close to the plot of the books.) In addition, you can also customize what Leila and Vlad look like. You can download the Chapters game App for your mobile phone at one of these links:
Google Play (Android): https://play.google.com/store/apps/details?id=com.mars.avgchapters
Apple (iPhone, iPad) https://apps.apple.com/us/app/chapters-interactive-stories/id1277029359