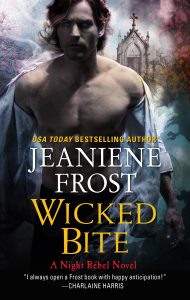 Book Two in the Night Rebel series
January 28th, 2020
In the newest Night Rebel novel, set in New York Times bestselling author Jeaniene Frost's Night Huntress world, beautiful, daring vampire Veritas risks all to protect Ian…
Some promises are meant to be broken…
Veritas spent most of her life as a vampire Law Guardian. Now, she's about to break every rule by secretly hunting down the dark souls that were freed in order to save Ian. But the risks are high. If she gets caught, she could lose her job. And catching the sinister creatures might cost Veritas her own life.
Some vows are forever…
Ian's memories might be fragmented, but this master vampire isn't about to be left behind by the woman who entranced him, bound herself to him, and then disappeared. So what if demons, other Law Guardians, and dangerous, otherworldly forces stand against them? Come hell or high water, Ian intends to remind Veritas of the burning passion between them, because she is the only person seared on his mind—and his soul…
Preorder: (#Ad)Amazon, Apple Books, B&N, BooksAMillion, Kobo, IndieBound
"Delivers all the sizzle, sass, and suspense that make this paranormal world such a thrill." Publishers Weekly, starred review
"A fierce and satisfying sequel…a breathtaking paranormal romance." Kirkus, starred review
Read the prologue and first three chapters of WICKED BITE below.
SPOILER WARNING: If you haven't read SHADES OF WICKED (book one) yet and you read the below, you WILL get spoiled on major plot points, including the ending. So, if you hate spoilers, don't read this before you read SHADES OF WICKED. That aside, here's my standard disclaimer about all pre-published excerpts: it hasn't been copyedited yet, so you might still find spelling errors, grammar errors, and missing/incorrect words. Disclaimers and spoiler-warnings aside, happy reading :).
WICKED BITE, copyright Jeaniene Frost
Prologue
Ian
"Why am I waiting for the bride of Dracula to grace me with her presence when I should be out looking for my runaway wife?"
Ian watched as his best mate Crispin glanced around to make sure Vlad hadn't been close enough to overhear him. Ian didn't care. Vlad owed him for…something. Ian couldn't remember what since it was tied to his mostly-missing previous month, but he knew it was significant. Sod his host's temper tantrum if he overhead Ian calling him by his most-hated nickname of Dracula.
"The fact that you can't remember the real reason behind your new…attached state is why we're here," Crispin said. "Vlad's wife knows a secret you were hiding from the rest of us. If it's the cause of your partial memory loss, we need to find it out before we proceed."
Attached state. Ian's lips curled. Crispin still couldn't bring himself to say "marriage." Every fiber of Ian's being should reject that word, too. Instead, he was driven by a near-crazed need to find Veritas, also known as the little vixen he'd wedded.
True, he couldn't remember why he'd married Veritas. That part hadn't survived whatever process had torn most of his memories of the past several weeks from his mind. But he had a vivid recollection of their binding ceremony, even if the notion of him marrying anyone, let alone a Law Guardian, was laughable. Crispin had certainly believed Veritas's denials about their matrimonial state when she dumped Ian with Crispin a few days ago, then left with only a vague warning about an angry demon.
He didn't remember that part, either. He'd been unconscious, and with a vampire's near-instantaneous healing ability, that shouldn't be possible. Whatever had stolen his memories had also left him – briefly – as vulnerable as a human, and only person who knew how both had happened had fled.
Sometimes, Ian was so angry over that, he could scarcely focus on anything else. But the rest of the time, his need to find Veritas had nothing to do with anger and everything to do with the more powerful feeling burning through him.
"Ian." He looked up to see a raven-haired woman in the doorway, her scowling spouse right behind her. "Sorry to keep you waiting," Leila continued before glancing behind her at Vlad. "We were late because we were fighting."
"Over me?" Ian let a sly smile lift his mouth. He would have taunted Vlad anyway – it was his nature – but for some reason, he had a stronger than normal urge to annoy his host. "Don't tell me I forget something else significant about the past few weeks?"
Vlad's growl at the innuendo caused Leila to shoot her husband a look. "Your famous temper is why you're waiting outside during this conversation," she told Vlad. "I can't trust you not to get your flame on otherwise, even if Ian is just being Ian. And really." Now Leila's attention was back on him. "Can't you resist being sleazy for five minutes?"
Ian gave her his most innocent grin. "Me? Innocent as a lamb, I am."
"Yeah, if that lamb also had a werewolf curse," Leila murmured. Then pity filled her gaze.
Ian stiffened, though his grin remained in place. Whatever secret Leila knew about him, it was bad.
"You need to go, too, Bones," Leila said, calling Crispin by his vampire name instead of the one he'd been born with. "What I have to say is for Ian alone."
Crispin's features drew together until he duplicated Vlad's scowl. "I hardly see why that's necessary."
Vlad's sharp laugh sliced the air. "If I couldn't convince her to change her mind, you think you have a chance?"
Crispin looked as if he did. Before he could open his mouth, Ian pushed him toward the door. "Don't start a row, mate. Don't know what you're fussing about. I can tell you what she says afterward."
"You didn't before." Crispin's voice was tight. "You refused despite that refusal endangering your life."
Phantom pains stabbed the back of Ian's head. He managed not to flinch. He'd shared much of what he remembered about the past month with Crispin, but not this.
"Things have changed," Ian replied. What Crispin didn't know, he couldn't fret about. "Go on. The faster you leave, the faster we'll have answers."
Crispin looked at Leila. Her expression hardened into a perfect mask of "you don't stand a chance." He sighed in defeat, then followed Vlad as the Impaler, after a final glance at his wife, also left the room.
"Let's tour the dungeons," Ian heard Vlad say. "I have a sudden urge to stab something with a hot poker."
Leila shut the doors, cutting off whatever Crispin's response was. Ian waited until he was sure Crispin and Vlad were far enough away, then said "Spill," to the lovely brunette.
"What's the last thing you remember from the time you spent helping me and Vlad?" Leila asked him.
"Driving away while wanting to kill your husband," Ian replied, shrugging. "Don't know why. I can't remember much of the month after that, either, except for the slivers shoved into my mind a few days ago from a creature I'm fairly certain was the Grim Reaper. But those memories mostly consist of the woman who married me, then fled."
And ignored his repeated calls and texts in the three nights and four days since. Why? Another clear memory he had was of Veritas shouting "Don't go!" at him with the same blindingly intense emotion he felt for her. Yet she'd abandoned him when he'd been at his weakest, and he had no idea why.
"If you have more to add, be quick about it," Ian went on. "You already cost me two days looking for her by insisting this meeting be in person."
"This isn't the kind of news you relay by text or over the phone," Leila said softly.
"Does it have to do with Dagon?" When Leila's eyes widened, Ian grunted. "Crispin told me Veritas warned him that a demon named Dagon was after me. Happen to know what I did to brass him off?"
Leila looked away. "No. But Dagon really hated you, and you avoided him with a warding spell until you thought Mencheres had been murdered-"
"Murdered? By whom?"
Leila edged away from the new harshness in his tone. Then a sparking line of white extended from her right hand; a reminder of the voltage running all through her body. The lights in the room also briefly dimmed as she pulled power from that, too. She was readying herself in case he attacked.
Must be very bad news, indeed.
"A group of necromancers had the power to kill me," she replied in a steady voice. "They told Vlad they would unless he killed Mencheres for them. Vlad faked Mencheres's death to buy time to find them, but you were there when Vlad made the supposed execution video, and you didn't know the person Vlad killed was only glamoured to look like Mencheres. So, when you saw what you thought was Mencheres's body, you…you cut off your protective ward to summon Dagon. He came, and you sold your soul in exchange for Mencheres's life." At that, her voice cracked. "I saw it, but I couldn't stop you. I'm so sorry, Ian. So very, very sorry…"
She kept speaking, reiterating apologies, regrets and other platitudes he paid no attention to. He was too stunned by sold your soul. He would've sworn she was lying, except his vampire sire, Mencheres, was one of the few people in the world he would have sold his soul to save. And had, if Leila were to be believed.
This must be why his blood tasted wrong. He hadn't told Crispin this, either, but since he'd woken up in that whorehouse four days ago, his blood had been altered. He'd hoped there was another reason aside from being branded by a demon who now owned his soul. Apparently not.
After everything he'd overcome in his life, he'd been taken down by a simple trick involving a glamour spell? Gales of harsh laughter broke from him. Leila backed away, her electric whip growing until it coiled at her feet.
"No need," he finally managed. "I've never harmed someone for merely being the bearer of bad news."
"And Vlad?" she asked in a cautious tone.
Another burst of bitter laughter left him before he controlled himself. Oh, he would like to kill Vlad, but he couldn't. His own fault was glaringly clear. "I should've sensed the glamour Vlad used on the poor bloke he killed. I also should have verified that Mencheres was dead before bargaining away my soul. I didn't do either, so that's on me, not Vlad."
Leila's whip disappeared back into her hand. Then she sprang forward, taking his hands. "Once again, I am so sorry."
Ian jerked away from her pity. Leila gasped, then her eyes narrowed and she tried to run her right hand over every inch of his skin that wasn't covered by his clothes.
"Stop that." What sort of pity-pawing was this?
"It's gone," Leila said with shock. She got in a few more swipes before he held her wrists in front of her. She only rubbed his hands with her fingers, repeating "It's gone."
"What's gone?" Her sanity, clearly.
"Everything! Take off your pants. I need to see if that's still there, too."
Ian rolled his eyes. "It is, and while I would've found it hilarious to cuckold Dracula under his own roof a short time ago, I'm not interested now-"
"Neither am I," Leila interrupted. "But I am interested in seeing if you still have Dagon's demon brand on your groin since nothing else on your skin is the same."
Ian loosened his grip on her wrists. "Explain."
"You remember that I pull psychic impressions from people when I touch them with my right hand?" At his impatient nod, she went on. "When I touched you months ago, I saw your worst sin, same as when I touch anyone for the first time. Your skin was also littered with emotional imprints from other people, but now, they're all gone." She tapped him with her right hand for emphasis. "Makes you wonder what else might be gone, right?"
Could he have somehow gotten out of the soul deal? Ian let her go and unzipped his trousers. Leila knelt down, whisking the hem of his shirt out of her way. At the same moment, the drawing room doors opened, revealing Vlad and Crispin.
Ian began to laugh. "For once, I can honestly say this isn't what it looks like."
"I imagine it's not," Vlad replied coolly. "Were you examining his cock because you suddenly decided you were in the market for erotic piercings, darling? If so, I would have modeled some for you. I'm a much better subject."
Ian snorted his disagreement while Leila sputtered, "I was looking for demon brands, not that!"
"Yes, so could someone either look under my cock or hand me a mirror?" Ian interjected. "I'm flexible, but even I can't bend that far."
Leila backed away, flustered. Crispin strode over, frowning as he bent down. "No brand of any kind," he said after a moment.
"I'm telling you, it was there," Leila insisted. "I saw Dagon put it on Ian when he sealed their soul bargain!"
Crispin rose to shoot a horrified look at Ian. "You bargained your soul away to a demon? Why?"
"What you'd expect – more power," Ian said, giving Leila a warning glance. He couldn't have word of his real reason reaching Mencheres. His sire didn't deserve that pain.
"But now the brand's gone," Leila said. "So is the original memory of Ian's worst sin and a bunch of other stuff. I need to check the rest of him to see what else is missing. Take off all your clothes, Ian."
Ian drew his shirt off and stepped away from his crumpled trousers. Then he couldn't help himself – he winked at Vlad over Leila's shoulder as she began to run her right hand over his naked body. Vlad glared at him, but not a hint of fire or smoke escaped him. Must be secure in their relationship.
Leila was brisk yet thorough. When she was done, she said, "Not only is the demon brand gone, there's no psychic evidence that it was ever there. In fact, your whole body reads as new."
"I'm more than two hundred and fifty years old," Ian reminded her.
"Your skin isn't," Leila said bluntly. "It's so new, there are only essence imprints from four people on it. You left one, Bones, when you were very worried about him. Cat left a worried one, too, and the essence trails by Veritas are practically screaming with worry and regret. Lastly, some terrifying creature left one on your head, but aside from that, you're a blank slate, and unless you were recently skinned or you somehow re-grew a whole new body, I have no idea why."
Those phantom pains stabbed him in the head again. For a terrifying moment, he felt swallowed by darkness. Then his vision returned and he saw Crispin glance away as if he knew something he didn't want to admit.
"Mate," Ian drew out. "Have something you want to add about the story you fed me concerning how I spent my last month?"
"I might have left a few pieces out," Crispin began.
Ian was gripping Crispin by his collar before Leila could finish gasping "Holy crap, you can teleport!"
"What?" Ian bit out.
"She said it was safer if you didn't know," Crispin hedged.
Crispin had been hiding the reason why Veritas had left him? "Know what?"
Now Crispin's gaze didn't waver. "Four days ago, Veritas called me and Cat to retrieve your mostly-withered body from an abandoned amusement park. You were surrounded by dozens of demon corpses. Don't know how either of you survived such an attack, but Veritas said that your marriage was a sham, your memory was gone and more powerful demons would be after her. She made us promise to feed you lies about your whereabouts this past month, saying you would only be safe if you stayed far away from her."
She'd left him to protect him? And Crispin, who definitely should have known better, had let Veritas face that danger alone while stalling Ian's attempts to find her? He'd roast Crispin's arse and shove the burnt pieces down his throat! But first…
Ian pushed Crispin away, then turned to Leila. "Your psychic abilities include finding people in the present through essence trails, do they not?"
She sighed. "Yes. Come here."
Leila placed her right hand on Ian's cheek. The voltage she emitted made his jaw ache, but he didn't flinch. After several minutes, Leila dropped her hand. "I can feel Veritas, but I can't see her at all."
Of course not. With demons after her, Veritas had cloaked herself from every tracing spell imaginable. He hadn't married a fool.
He teleported out of there without another word, leaving Crispin and the rest of them behind. Sod his mate's attempt to protect him. Sod Veritas's fear for his safety, too. He wasn't about to lose her by playing it safe.
Don't go! her pained shout rang again in my mind.
"Don't fret," Ian muttered. "I'm coming."
Chapter One
Three weeks later
I dropped out of the dark Egyptian sky, landing near a Jeep that stood out like a neon sign against the sea of sand around it. Unlike the famous section of the Valley of the Kings, this stretch on the western edge wasn't popular with archeologists, tourists, or anyone except criminals.
Lucky for me, my job was hunting criminals.
No one was inside the Jeep, but it was overloaded with what appeared to be ancient Egyptian funerary artifacts. I walked around to the back, and saw a small stone slab half pulled back from a hole in the ground. Ah, a hidden tomb. Two distinct voices came from it as well as lots of odd, swishing sounds.
Grave robbers. I hated grave robbers.
I pulled out a sharp silver knife and a double-pronged bident made of demon bone. Now, I was armed to fight two out of the three supernatural species that existed. Right before I jumped into the hole, I lit my gaze up with vampire green.
Two men looked up at me in surprise. At first glance, they were normal middle-Eastern men, but then their eyes turned glowing red. Demons. And the ground around them slithered in every direction.
Snakes. I hated those even more than grave robbers.
I landed on the nearest demon, knocking him down while ramming both ends of my bone weapon through his eyes. His eyes burst into flames as death cut his scream short. I yanked the bident out and immediately flew up, leaving the other demon to smack into the wall instead of me. Before I could stab his eyes out, too, he teleported away.
He reappeared on my right, fist flying. I ducked under the punch, then pain exploded in my head from a blow to my left. Damn demons and their ability to teleport.
"You'll pay for murdering Malfeous," he snarled before flinging several cobras at me.
Dick!
I fought my urge to shake them off me. Their bites wouldn't kill me, but he could. I kept both weapons at the ready, spinning in quick circles so he couldn't sneak up on me again. He reappeared in front of me, swinging one of the tomb's ancient axes. I threw myself backward, but not in time. My throat burned and blood splashed his face from the deep slice the ax made. When I hit the ground, the impact made new pain erupt in the back of my head.
Good. More pain meant the ax hadn't cleaved all the way through or I wouldn't feel anything. Being dead was painless, or so all the ghosts I knew had claimed.
The demon grinned and licked my blood. Then shock replaced his sneer at its taste. "What-?"
I hurled my silver knife into his open mouth, pinning his head to the wall. Then I flew at him, shoving the bone bident into his eyes until I felt the tips hit the wall.
His eyes exploded, smoke and blood pouring out. The sulfur scent choked me, but I shoved the bident in harder. Relief overtook battle exhilaration as he began to shrink into the skeletal state of true death.
I yanked my weapons out and whirled, ready in case any other demons teleported in. After fifteen minutes, I tucked the silver knife into my belt. That wouldn't kill demons. Only bone of their own brethren would, and now, I had plenty more to make new weapons with.
I tore the arms off the two demons, throwing them out of the hole above me. Then, I began to explore the tomb. Time and dust had faded the paintings and hieroglyphs on the walls, but I saw the falcon-headed god Horus in one scene and the green-skinned god Osiris in another. There were more paintings showing scenes from the life of the deceased. There should have been various personal effects, statues, treasures and other ceremonial items, too, but the tomb's inner hall had been stripped. That explained the overloaded Jeep.
The seals on the doors of the inner chamber were broken, too. I went inside, angry but not surprised that both artfully painted coffins containing the mummy had been breached. Only the clay jars containing the mummy's internal organs were left. Then I smelled something unexpected. Fresh blood.
I nudged a mass of cobras aside to reveal the body of a young woman opposite the sarcophagus. Her skin was the same golden bronze color as mine and she had long black hair that covered her face. When I brushed it away, I swore.
I'd been tracking her since I hacked into all the recent medical records posted online with a program a hacker friend of mine had created. I was searching for a very specific type of psychosis: people who claimed they came from another time, and who had no modern records to prove otherwise.
I winced as I looked at her body. Large gashes covered her torso, but the wounds weren't sloppy. They were precise, avoiding vital organs or arteries in order to deny her a quick death. Beneath the blood, I saw markings inked onto her body. I rolled her over, revealing more markings hidden beneath her. As soon as I did, dark magic crawled across my skin with the unsettling sensation of dozens of spiders.
A nearby cobra suddenly reared up and struck me in the face. Annoyed, I flung it aside, only to have another one bite my leg. Enough! I grabbed as many as I could and flew out of the tomb. Once outside, I let them go. It took several more trips before I was through, but I was glad to get rid of them. They must have been brought in to add to the poor woman's terror. Fear was a powerful ingredient in dark magic, and someone had performed a horrific ritual on the slain woman.
I went back to her body, using my clothes to clean her blood off the symbols. I recognized a few, but I didn't know the others, and I knew a lot of magic. I took out my mobile, snapping pictures of them. Then, I bent down next to her, closed my eyes, and released the hold I had on my deepest senses.
The magic used to perform the ritual hit me first, choking me with a sickeningly familiar taste. Dagon. The smell of her blood, fear, and the sulfur stink from all demons had been too strong for me to scent my worst enemy before, but I could taste Dagon's magic now, and it was all I could do not to vomit.
I swallowed hard and pushed past it, searching to see if she had other magic traces within her. Death had left almost nothing behind, but then Dagon's magic soured my senses again, though far fainter this time.
She'd had some of Dagon's power deep within her. I knew only one way that could have happened. She'd been telling the mental health facility she'd escaped from the truth. She wasn't from this current time. She was from long before it.
Maybe that's why she'd been spotted running into this dismal part of the desert. It was a wasteland now, but a few millennia ago, it had been part of a prosperous city, and when people were frightened, they tended to run home.
I sat back with a frustrated sigh. Had Dagon murdered her because she was one of the newly-resurrected people that had been freed when the souls Dagon hoarded inside himself had been released? Dagon was spiteful, but there was one thing demons valued even more than payback. Power.
I traced the markings again. A lot of power had been siphoned from this woman with her gruesome death. From the look and scent of her body, I'd only missed saving her by hours. Earlier this evening, Dagon might have been right where I now knelt, weakened, unsuspecting and oh so killable, if I'd only been a little faster getting here…
But Dagon had gotten away. The other demons with him almost had, too. If I hadn't had a birds-eye view of the Jeep while flying over the desert tonight, I never would have found her, and I'd been tasked with finding all of the newly-resurrected souls…except the one I most wanted.
Pain rolled through me, familiar and relentless. It burned until I looked at the slain woman with the darkest kind of envy. She was out of reach of the pain I couldn't escape from. It made me actually glad I was now as mortal as any other vampire. It meant this awful ache would end when a lucky stab through my heart with silver finally killed me.
But before that day came, I had a vow to fulfill.
I hadn't been able to save this woman, but I wouldn't leave her where she'd been murdered. I picked her up and flew her out of the tomb. Then I dug a new grave using my hands since I'd brought weapons with me, not a shovel. Still, with the soft sand and my supernatural strength, it didn't take long.
Once she was properly buried, I said a prayer asking the gods to show her mercy. Then I stared at her makeshift grave, that aching part of me wondering if I'd soon be like her: dead and rotting in an unmarked grave somewhere.
If so, I hoped my last thoughts were of Ian. I wanted to remember his cocky grin, his quick wit, his bone-deep loyalty and his ferocious courage. Most of all, I wanted to relive what I'd felt when I was in his arms. I'd never before felt so completely exposed yet wholly accepted. Cherished. Maybe even loved, if we'd had more time…
With a hard swipe, I dashed away the tears that snuck down my cheeks. I couldn't let myself dwell on Ian. If I did, I'd run back to him no matter that my presence would draw all the demons after me right to his side. I'd already gotten Ian killed once. I wouldn't let that happen again.
Yes, I might end up dead and in an unmarked grave before this was over, but there were benefits to being over four and half thousand years old. If I didn't explode the way I normally did when I was killed, I was still so old that my body would probably turn straight to dust. No rotting in a grave for me.
As the modern saying went, I just had to look on the bright side.
Chapter Two
I spent the night in the desert on the off chance that Dagon might come back to the tomb. He couldn't teleport anymore. My father, the former Warden of the Gateway to the Netherworld, had removed that ability from him, so Dagon would have to walk up or drive up like everyone else.
He did neither. In the end, I drove the Jeep far away from the tomb and left an anonymous call about it to the Egyptian Ministry of Antiquities. They'd make sure the relics were properly cared for. Dawn ensured that no demons would be around since they couldn't tolerate the sun, and I went back to my hotel.
I opened my door and was immediately mobbed by a flying gray bundle. I caught Silver, hugging the Simargyl to my chest. He made happy yipping sounds despite him being a supernatural creation instead of a canine. Still, Silver resembled a large dog, if you didn't look close enough to realize he was covered in downy feathers instead of fur. And, of course, there was the very un-doglike aspect of his wings.
"I missed you, too," I told Silver, giving him another hug before setting him on the floor. Silver looked expectantly behind me at the closed door, his wings wiggling with hope.
"No," I told him, fighting the new crack in my voice. Seeing Silver still waiting for Ian to come through the door was another kick to my heart.
"No," I said again, more firmly this time. Silver's wings drooped as he walked away, giving the door a last glance before he resigned himself to it staying closed.
"Hungry?" I asked to distract Silver.
It worked. He followed me, wings wiggling happily again. I ordered room service as I took off my ripped, bloody clothes and wadded them into a plastic bag. I'd throw them away where they wouldn't be found later. For now, I put on a robe and waited. Silver wasn't the only one who was hungry.
Twenty minutes later, Silver was devouring his plate of sautéed vegetables and I was wiping a stray drop of blood from my mouth. The room service attendant had no memory of feeding me, of course. He'd only remember that I was a good tipper.
I was on my way to the shower when my mobile chimed, indicating a new text. I ignored it, anxious to get the stench of death, blood and dark magic off me. My phone chimed a few more times. I continued to the bathroom. I had taken a leave of absence from my job as Law Guardian, so it couldn't be work related, and most of my closest friends were dead. If I were looking on the bright side of being a currently-on-leave workaholic who'd outlived nearly everyone I cared about, I'd say that meant I could get back to whoever was texting me when I was damn good and ready.
I showered, taking my time. After that, I dropped my glamour, losing the blue-eyed, petite blonde appearance I normally wore. When I looked into the mirror, I now saw my real image of a taller, curvaceous woman in her mid-twenties with silver eyes and long, almost white hair streaked through with gold and blue. I dried my hair, put on a robe and went back into the other room. I'd log in a few more hours of online research trying to find the next resurrected soul before I allowed myself to sleep. This was my life now. It might be emotionally empty, but at least it was productive.
Silver was on the bed, his gaze following me with drowsy expectation. He was waiting for me to cuddle him before he fell asleep. Cuddling Silver would be the highlight of my day, but first, I picked up my mobile.
Nine unread texts. My stomach clenched. Only Ian left that many in a row, though I never read them. My father assured me that all of Ian's memories of me had been wiped from his mind, so I surmised that Ian kept calling and texting because someone had told him we were married.
He needn't worry. I was getting the few people who'd witnessed the ceremony to "forget" it and thus nullify it. Until then, I didn't need to torture myself by listening to Ian's voicemails or reading his texts, though I'd accidentally caught "I'm warning you" from him yesterday before I hit delete.
He had nothing to threaten me with. Ian couldn't hurt me more than he already had if he made it his life's goal to try. Seeing his dead body had ripped my heart out. Weeks later, I was still trying to put myself back together.
But these texts weren't from Ian. Serious charges have been filed against the Council because of you, read the first one from Xun Guan, my oldest friend and a fellow Law Guardian. Come in at once. The next one was from Felix, another Law Guardian. You must appear before the Council immediately to answer charges involving you.
What? I scrolled to the next one from Thonos, the council's official executioner. Your presence is required. The man who claims to be your husband has refused to leave until the charges he's brought against the Council regarding you have been addressed.
"He what?" I shrieked.
That scared Silver so much, he flew up and hit the ceiling. I was too shocked to comfort him. I scrolled through the remaining messages, their pertinent parts burning into my brain.
Ian is accusing the Council of forced spousal abandonment…
Claims the Council is keeping you away from him in violation of our laws and your will…
Refuses to leave until you present yourself to confirm or deny these charges…
"You arrogant, reckless maniac!" I raged, hurling my mobile across the room. It shattered and I cursed myself next. Now, I had to use someone else's phone to call and beg the Council not to kill Ian before he did something to merit a death sentence, if he hadn't already.
"How could you go to the Council?" I continued to fume as I threw my clothes on. "Bones told you our marriage was a fake! And you never cared about the law. Why would you do this?"
I'm warning you.
Ian's partial text flashed across my mind. So much for thinking he had nothing to threaten me with! But how could I have guessed that he'd sue the highest ruling court of vampires? Here I was, running all over the world fulfilling the vow I'd made in order to bring Ian back from the dead, and he was daring the Grim Reaper to come back for seconds!
Now, I had to go to the Council, talk them out of whatever retribution they were planning, then abandon Ian all over again. It would hurt less to tear my guts out and stomp on them.
But I had no choice. I couldn't leave Ian at the Council's mercy. I also couldn't ignore a direct summons from the Council. If I did, I might as well resign as Law Guardian on the spot.
I ground my teeth until my jaw crunched. Ian wanted a meeting, probably to have me formally renounce our marriage so there'd be no doubt in anyone's mind that he was a free man?
Fine. He'd get his meeting, and I hoped I could convince the Council to let him live long enough to regret it.
Chapter Three
The rugged limestone peak of Mount Lycabettus jutted above Athens, Greece like an imperious stone giant. I remember when people said that this spot was created when the goddess Athena accidentally dropped a mountain after receiving bad news. Later, it was said that this was the home of fearsome wolves, hence its play on the word lycos; Greek for wolves. Both legends had it wrong. As was often the case, the truth was much stranger.
Mount Lycabettus was the official location for the ruling council of vampires. Oh, the council had other, lesser courts across the continents, but this was where all eleven members of the Council presided when court was in session, and they only all came together when the charges were truly severe.
Like, for instance, the entire council being sued by a vampire known more for snubbing the laws than following them.
I began my climb up the worn stone steps that led to the modernized amphitheater at the top. The cable car wasn't running tonight since none of Mount Lycabettus' famed attractions were open. The surrounding city of Athens might be as boisterous as ever, but the silence on the mount was almost eerie. Normally, this was a bustling tourist attraction with its rich history and unparalleled views of Athens. Now, it was as quiet as the grave.
No demon should be stupid enough to attack the vampire's highest court while it was in session. Still, I scanned my surroundings with every upward step. Had news of this lawsuit reached Dagon? It might have. Vampires were as prone to gossip as any species. If Dagon had heard of tonight's events and decided to risk an ambush, I was without weapons to fight him since defendants could hardly arrive armed to court–
Wait, what was that? I tensed when I heard it again. Ian's voice, his British accent as smooth as ever. Hearing him was its own form of assault, making me stop so I could take a moment to collect myself. You can do this. Come on!
I resumed my climb, my pace brisk. I was almost at the top of the mount when I stopped again because I heard something even more unlikely than an approaching horde of demons. Great gods above the earth and below it, was that the Council laughing?
"…then I landed next to him, dropped the warlord at his feet and said, 'is this the sod you're looking for?'" Ian was saying, followed by fresh bursts of laughter.
Somehow, Ian had he gotten the normally-dour Council to sound like a bunch of merry drunks at a comedy club! I'd underestimated his charm, and I shouldn't have. Even back when we first met and I was only using Ian as bait to draw out Dagon, he'd charmed me, too.
And now, I had to act as if I cared nothing for him.
I entered the amphitheater, my gaze draw to Ian as if pulled by an invisible force. The last time I'd seen him, his hair had turned white from his death and his face had been more bones than features. Now, his hair was back to its lustrous, deep auburn shade and his profile showed his flawless alabaster skin, a hint of his high cheekbones, the line of his chiseled jaw and part of his dark, winglike brow.
As if sensing my stare, he turned toward me. I looked away so I didn't have to meet his eyes. Still, my brief glimpse branded itself onto my brain.
He'd dressed for the occasion, wearing an ebony suit that draped over his body so perfectly, it had to be handmade. He had a white shirt underneath it, the complicated silk knot at the neck held together with a jewel that winked crimson when he turned. Seeing him so whole, so gorgeous, so alive made my throat burn, my chest tighten and my eyes sting.
Horrified, I realized I was about to cry. I'd done everything I could to prepare myself, and one look had razed me.
I dug my nails into my palms until I felt blood. The slight pain wasn't much, but I clung to it. I would not humiliate myself by crying in front of Ian and the entire council! I'd picked my navy skirt suit because it was elegant yet somber; the right balance for court. Now, its dark color concealed the blood I'd drawn, and the perfume I wore to hide the scent of my emotions covered its faint scent.
When Ian drawled, "My runaway bride, here at last," I dug my nails in harder, then took in a breath to steady myself.
Big mistake. His cognac-and-caramel scent invited me to breathe it in until he filled me, and being so near to him meant his aura brushed mine as if his power were stroking me.
Somebody, kill me now.
To distract myself further, I took in the surroundings I'd ignored before. The seats of the amphitheater surrounded the stage and reflected the moon's pale, silvery rays back at us as if they were additional lights. Those seats were empty since the only people sitting were in eleven large thrones at the center of the circular stage. Hekima, one of only four women on the council, nodded at me. Her salt-and pepper hair was in its usual severe bun, but her brown eyes were warm. Out of all the council members, I liked her the most.
I smiled at Hekima before giving a more formal nod to Haldam, the official spokesperson for the Council. Then I inclined my head at the remaining nine council members before turning my attention to the other people on the stage.
Mencheres, Ian's sire, was here. His long black hair hung down his shoulders like silk scarves, and his obsidian gaze was accusing when it met mine. Don't blame me, blame Bones for this! I wanted to retort. I'd told Bones to protect Ian and ensure that he kept a low profile. Simple instructions, but with this lawsuit, Ian had practically painted a target on his back before firing himself from a canon during a demon fireworks display.
At least Mencheres loved Ian. That meant I could count on him. Ian would just kill his way out of here if the council called for his death, but I had friends here that I didn't want to see harmed. Mencheres's formidable powers plus my own abilities meant I could get Ian away without any bloodshed.
I looked away from Mencheres to Xun Guan, my longtime friend and former lover. Her expression became hooded as she glanced between me and Ian. I responded with a slight shake of my head. No, that shake told her. I'm not changing my stance about denying my marriage.
Xuan Guan tilted her chin. Message received, that slight gesture said. Then she turned away, showing only her lovely profile and her jet black, high-swept hair.
I moved on to Thonos, the council's official executioner. His unruly black hair was pulled back in a knot, so Thonos must not have gotten the news that man-buns were out. I nodded at him, then flicked my gaze to Julius, Priscilla, Gan and Vachir. My sense of foreboding returned. The Council had been laughing, but things could turn deadly fast. They'd certainly prepared for it, having six of their strongest Law Guardians here.
"Honorable judges," I greeted the Council. "I present myself as requested."
Their mirth disappeared. "Veritas," Haldam said, stroking the long white beard that matched the snowy hair trailing down his back. "You have been apprised of the charges against us. Before we proceed, we need to first establish if this man," he nodded at Ian, as if I needed reminding who he meant, "is truly your husband?"
I chose my words carefully. "No, though he has reason to believe that he is-"
"Such as remembering the ceremony?" Ian interjected.
My gaze swung to Ian as if he'd yanked on it. Gods, his eyes, staring into mine with an intensity that belied the carefree yet cocky slant to his mouth. Yes, there was recognition in them. Somehow, Ian remembered me, and not just as the coldhearted bitch he'd thought I was before we'd partnered up to take down Dagon months ago!
I was about to fling myself into his arms when I realized how much was missing. Ian might know me more than he had before everything had started between us, but not as much as the last time we'd been together. I'd never forget the way he'd looked at me during what should have been the final moments of his life. Now, everything that had been in his gaze then was gone.
My hope vanished. Nothing had changed. I was still a demon target, and he wasn't the same Ian who'd died in my arms.
"Your memory is a delusion born of too much Red Dragon combined with an enemy's spell," I said, dismissing him without another look. "For a short time, I, too, believed that I'd bound myself to him in marriage while under the effects of the same drug and spell," I continued, returning my attention to the Council. "Fortunately, that belief proved to be false."
"Bollocks," Ian said silkily.
I didn't swing around to look at him again, but it was close. What in the seven hells was he doing? I was handing him his freedom while also giving him a plausible excuse for his reckless lawsuit. All he had to do was shut up and take it!
"We were under the effects of a spell," I repeated, my tone sharpening. "One that was cast on us as we finished dispatching the last of the Red Dragon dealers in New York several weeks ago. That's why we believed ourselves to be married, and why we repeated that mistaken belief to Xun Guan and her trainees."
"Then why was I with you in the first place?" Ian asked in that damnably caressing tone.
I ground my teeth before I forced my jaw to relax. "You took me to inform me of a possible Red Dragon dealer. By the time I confirmed your suspicions, we were attacked, necessitating you to act as my backup despite you being a civilian."
"I arrived too late to assist," Xun Guan offered. "When I came upon Veritas and this civilian, she had already killed the Red Dragon dealer and the source, as well as several of the dealer's associates."
"But Ian and I had been forced to drink large quantities of Red Dragon in order to get to them," I added. "That, combined with the spell I later found out had been cast on us, resulted in our compromised mental states and false memory of being married. Due to my advanced strength and age, my memory of the true events returned over the next several days. His memories," I shrugged as if unconcerned, "clearly still have not."
"Ian," Mencheres said. "Perhaps you should consider this clarified version of events?"
Ian ignored his sire. "A question for you, honorable judges." His tone was carefree, but I caught the edge that said he was deadly serious. "Is there any precedent of a vampire marriage being annulled if both parties were intoxicated or under other mind-altering influence when they made their vows?"
"There has never been an accepted annulment process for a vampire marriage," Haldam replied, which was true despite it being infuriatingly archaic and unfair.
"We don't need to concern ourselves with that because we're not married," I all but growled.
He flashed me a grin that didn't fool me. His turquoise-colored gaze was sharklike. "You have another definition for when two vampires cut their palms and claim each other in front of witnesses, one of whom is glaring at my back even now?"
"How do you remember that?" I burst out, noticing that Xun Guan was indeed glaring at Ian.
"More pertinent is whether he speaks the truth," Haldam said, to sounds of agreement from the rest of the Council.
I went with the only response I could. "As I said, we were both extremely intoxicated plus reeling from the effects of a spell. It's no surprise that our memories differ."
Ian's hand swept toward Xun Guan. "She wasn't drunk or spelled. Ask her if we bound ourselves together that night."
How do you remember that? I screamed silently this time. He couldn't remember everything. If he did, he wouldn't be trying to prove a marriage he'd wanted no part of when it had happened.
Haldam waved Xun Guan forward. She came, reluctance rounding out the straight lines of her posture. Please, I tried to convey during the brief glance we exchanged. Please don't confirm what he just said!
"Xun Guan." Haldam's commanding voice filled the amphitheater. "Did you witness a binding marriage ceremony between Veritas and this vampire? Or did you not?"
Xun Guan straightened to her usual, regal posture. My hopes plummeted. I might have gotten her to agree to "forget" what she'd seen as far as keeping silent in the face of my denials, but lying to the Council? She wouldn't, not even if she believed I'd made a terrible mistake while very drunk and spelled, which is what I'd told her. Xun Guan loved me, but she loved the law more. She always had. It's why I'd never been able to share my secrets with her.
"Yes," Xun Guan said in strong, if strained, voice. "Yes, I did witness that, honorable judges."
The vampire world's most notorious bachelor had just succeeded in proving the validity of our marriage to the highest court in vampire society. Now nothing but one of our deaths could end it. Why had Ian, of all people, done that?
***
Preorder your copy of WICKED BITE at: Amazon, Apple Books, B&N, BooksAMillion, Kobo, IndieBound