A NEW Night Huntress novella in the HEX ON THE BEACH anthology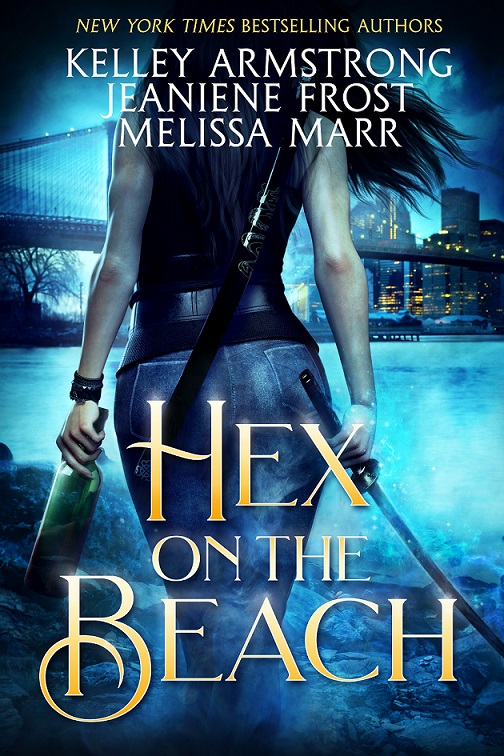 Releasing July 1, 2021
Girls Night Out has never been so much fun–but what are they going to do with all these bodies?
New York Times and USA Today Bestselling Authors Kelley Armstrong, Jeaniene Frost, and Melissa Marr deliver a sexy summer read with this novel-length anthology containing three all-new stories from their Cursed Luck, Night Huntress, and Faery Bargains worlds. Kennedy, Cat, and Gen are just trying to enjoy their respective getaways, but when immortals, vampires, and witches come out to play, things are bound to go awry. Let the supernatural hijinks begin!
Pre-order #Ad Amazon, B&N, Apple Books, Kobo, or your favorite retailer.
"HEX ON THE BEACH is a hoot with a wide array of baddies, and a superb collection of paranormal female dynamos." Fresh Fiction
Excerpt from HEX ON THE BEACH:
GODDESS OF SUMMER LOVE by Kelley Armstrong:
The goddess of love sets her sights on the Bennett sisters for a little Memorial Day matchmaking. The plan is to resurrect a local unsolved mystery for the sisters—and their love interests—to solve. But, of course, nothing goes according to plan.
I do not know how I became the goddess of love. Oh, I understand the "goddess" part. I am immortal, and I possess certain powers, and in ancient Greece, "deity" was the only language they had to describe us. We were lucky to be born in that world. A monotheistic culture has far different words for such a thing, as Denny—Dionysus—discovered when he over-imbibed in Inquisition-era Spain and started showing off his powers. Marius—Ares—had to ride to his big brother's rescue, roping me into it because Athene decided a little pyre-burning might teach Denny to hold his liquor. Yes, Athene still goes by Athene, and dear Lord do not spell it Athena. She once snuck a chisel into the British Museum to fix a statue.
No, I understand why the appellation of goddess. It's the "love" part I've never quite fathomed. Goddess of beauty, yes, and that is no show of ego. I know how I look, and if Fate had given me some say in the matter, I would have denied that particular gift. I suppose "love" arises from that. What else is a beautiful woman good for?
My powers have nothing to do with love. Or sex, though I am very fond of it, and rather good at it, as one might certainly hope to be after three thousand years of practice. No, I lack any powers of love or sex or fertility, and yet one can even find twenty-first- century sects that worship me in hopes of receiving those blessings.
I have no dominion there, and so after centuries of confusion, I did the only thing I could. I slammed down my banner and claimed the territory for myself. Aphrodite aka Venus aka Vanessa. Patron deity of lovers. Matchmaker extraordinaire.
And I am about to do what I do best.
***
DAQUIRIS AND DAGGERS by Melissa Marr:
A fun spa weekend away with friends in a city free of monsters, what could be better? Gen's necromancy had been on the fritz, so a recharge sounds perfect–until she arrives in San Diego to discover that either the spa is too steps beyond weird or there's magic afoot.
Shoes left behind, wearing the least comfortable woven footwear I'd ever put on, we hobbled through the garden toward the spa. Weirdly, this was our second time walking outside, and we still hadn't seen another soul.
"Is the spa always this empty?" I asked.
"Empty?"
"You know, no guests. Empty."
He gave us another vacant smile. "We are at capacity, madam. Our guests are simply enjoying the benefits of a peaceful existence."
"Okaaaay." I glanced at my friends. They weren't buying it either.
We walked in silence that felt eerie now, and that creeping feeling of dread didn't relax when we stepped into a vacant spa.
"I'll leave you in the care of your personal spa guide." The man turned and left—after collecting our footwear.
"Select a pair of spa shoes," the vacant-eyed spa guide said as she approached. "They are separated into size bins."
We looked at each other as we collected our shoes. This time, we were given what appeared to be pea-soup green, tissue-paper "shoes." They would do exactly nothing to protect our feet.
"Seriously?" Christy whispered.
"They're crafted of pressed leaves," the vacant-eyed spa guide said. "They'll melt into the pools or protect your feet at the spa. When they fully vanish, it's time to step out of the steam." She gave us a wide-eyed smile. "Isn't that clever? You don't even need to watch the time. We like our guests to be freed of all responsibility."
I'd never wanted a sturdy pair of sandals as much as I did today.
"They melt?" Sera echoed.
"It opens your pores, so when you depart the spa center you can absorb the earth," the smiling woman added.
"So, we'll be naked, wet, and barefoot?" Christy prompted.
"Isn't it wonderful?" the woman said.
I think we were all too horrified to answer. This was turning into a vacation focused more on torture than relaxation.
***
A GRAVE GIRLS' GETAWAY by Jeaniene Frost
Vampire Cat Crawfield Russell is looking forward to a little down time with her best friend, Denise. But when witches crash the party, a fun getaway turns into a paranormal showdown.
Denise and I kept walking, chatting with an openness we hadn't managed in a while. Calls, texts, and video chats were great, but they didn't beat the joy of being together.
Soon, we reached what was left of the tide pools. I slowed my stride to avoid slipping, and then caught Denise's shoulder when she almost stumbled on the uneven rock.
"Want to head back to the street and call a Lyft?" I asked.
"Or you could fly us over these," she pointed out.
I could, but vampires had kept their existence hidden from humanity because we avoided public displays of power. Still, it was pitch dark, and the nearest hotel was a good mile away. I sent my senses outward. Nope, I didn't hear anyone else along the beach…wait. I strained my senses even more.
There. Someone was in the caves tucked into the bluffs bordering the beach and the sea. If I was human, I wouldn't have heard the low murmur of voices that almost blended with the sounds of the surf, and I really wouldn't have caught the new tang to the air before the sea spray snatched it away.
Still, that brief, sharp new scent was unmistakable, especially to a vampire.
Blood.
"Earth to Cat," Denise began.
I pressed a finger to my lips in the universal gesture for silence. Then, I leaned in and whispered, "Stay here. Something's wrong," against her ear.
Maybe that blood was from a normal crime, or maybe I wasn't the only person out here with supernaturally great hearing.
I flew toward the sounds and the smell of blood.