Book one in the Night Rebel series. Out now.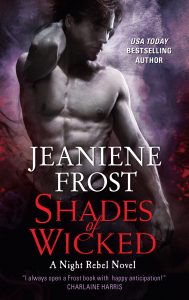 The Rule Breaker
Master vampire Ian is unrepentant, shameless…and every shade of wicked. He's made one too many enemies in his two centuries of existence, including Dagon, a demon who now lays claim to his soul. Ian's only chance to escape Dagon is to join forces with a Law Guardian, but he's never been able to abide by the rules for long.
The Law Maker
Veritas' normal role is police, judge and jury to reprobates like Ian. But she has her own ax to grind with Dagon, so if she can use Ian as bait…well, all's fair in law and war. As they scour supernatural hotspots to perfect their trap, Veritas soon realizes Ian's devil-may-care, roguish image hides something much more powerful. And Ian discovers that Veritas has shocking secrets of her own. As they're drawn to each other with a passion as intense as their peril, either love or justice will prevail. But each will have devastating consequences… Order: (#Ad) Amazon, B&N, IndieBound, Apple Books, BooksAMillion, Kobo or Malaprops.
"A flawless blend of high-stakes romance and action-packed paranormal adventure…Sexy, breathtaking, not-to-be-missed paranormal romance." KIRKUS, starred review.
"The legion of fans for Frost's super popular, darkly twisted Night Huntress titles will be thrilled by the first book in her Night Rebel series…Wild, magically enhanced sex and bloody, bone-pulverizing battles will keep readers turning the pages." BOOKLIST.
"SHADES OF WICKED is everything Jeaniene Frost fans hoped for and much more." FRESH FICTION
"Pulse-pounding action with some of the best characters you'll have the pleasure to read about…Ian and Veritas had me hooked from page one and addicted for more. The next installment can't come soon enough." UNDER THE COVERS BOOK BLOG
"SHADES OF WICKED is a roller coaster ride of everything you'd love in a paranormal story. Secrets, lies, battles, insane sex (good gravy Frost has an outstanding imagination when it comes to creative sex, never doubt that!) and an ending that will leave you going 'whoa'!" SCANDALICIOUS BOOK REVIEW
"With Ian's devil-may-care attitude, and Veritas's single-minded focus on her mission, the pairing off of these two is as delightful as it was unexpected." ALL THINGS URBAN FANTASY
Order: Amazon, B&N, IndieBound, Apple Books, BooksAMillion, Kobo or Malaprops.
Read the first three chapters plus additional excerpts of SHADES OF WICKED below. You can also listen to an audio clip from Chapter One HERE.
Chapter One
This had better be the right whorehouse.
It didn't look like the seedier brothels I'd recently been to. This three-story structure could pass as the meeting place for an elite social club. Despite its unexpected prettiness, if I had to wade through another flesh-fest only to turn up empty-handed again, I wouldn't be responsible for what I did to my quarry when I finally found him.
To vent my aggravation over weeks of fruitless searching, I kicked the door open. Politeness had been wasted at the last several establishments anyway. No smart proprietor willingly gave up a well-paying client, and I'll say one thing for the bordello-loving vampire I was after: He obviously paid well.
To my surprise, I didn't see anyone in the elegant foyer. Brothels usually had several prostitutes lingering around the entryway to welcome new customers. I was further surprised when I didn't hear sounds of carnal activity coming from the upper floors of the house. I pulled out my mobile and checked the GPS pin. Yes, this was the right place. What's more, it certainly smelled like sex, once you got past the choking scents of various perfumes and colognes.
But where was everyone?
Faint vibrations in the floor made me stride toward the hallway. Ah, so the party must be downstairs. I followed the strongest scents of perfume until I found a staircase that descended two floors. It ended at a locked door that I also kicked in. No point in being dainty now.
Noise blasted out. The basement must have been soundproofed for me to miss it before. Now, I wished I couldn't hear what was going on. A boisterous chorus assaulted my ears, repeating over and over. Thunder and Blazes, the favorite opening song of the former Barnum and Bailey circus.
And I had walked into a circus, I saw now, although one without any real animals. About a dozen naked women and men frolicked on the ground, doing woefully inadequate impressions of the creatures their full body paint represented. No work ethic, I thought when three faux lions appeared more interested in petting each other than in more realistic fights for dominance, and don't get me started on how they ignored the two faux gazelles that walked by them.
The dozen or so prostitutes dressed in clown suits showed more dedication for their roles. They emerged from a fake car in the far corner of the room, some falling forward in rolling somersaults once they exited, some tripping each other with comedic exaggeration, and some blowing up balloons into explicit body parts that they then graphically connected.
An eruption of fireworks yanked my attention to the other side of the room. They were going off around what looked like a throne, haloing its occupant in a blaze of sparks, fire and smoke. The mini pyrotechnic display was so bright, I couldn't make out the enthroned person's face, but when he called out, "Act Eight will now begin!" I heard a distinct English accent.
Then the smoke cleared enough to show a tall man wearing a blue circus-ringleader jacket. The smoke still concealed him from the waist down, but I didn't need to see more to know I'd finally found my target. The vampire who'd blazed a trail through a dozen whorehouses in only two weeks had a face as beautiful as an angel's, not to mention that his fire-and-umber hair was as distinctive as his looks. When he got off the throne, revealing he wore nothing beneath the ringleader jacket, I realized those weren't Ian's only notable attributes.
For a moment, I stared. What vampire in his right mind would pierce himself with silver there?
I was the only one shocked by the silver piercing through the tip of Ian's cock. Everyone else stopped what they were doing and rushed toward him. Even the glitter-covered acrobats leapt from their swinging perches near the ceiling, gracefully landing near the pile of limbs that now formed around the red-headed vampire.
It wasn't enough that I had to be burdened with a vampire so mentally deficient that he'd willingly given himself a case of perpetual cock burn. He also had to be depraved enough to indulge in carnival-themed orgies. I wasn't about to find out what the rest of Act Eight entailed. I made my way to the growing flesh pile and began flinging people aside, taking care not to throw them too hard. Their heartbeats meant they were human, so they couldn't heal the way my kind could.
"What's this?" Ian asked in an annoyed manner when I reached the bottom of the bodies. Then he let out an appreciative noise when I yanked him up with none of the care I'd shown the other people.
"Why, hallo, my strong blonde sweeting." Now he didn't sound annoyed at all. "Are you the surprise I was promised?"
Why not let him believe that? "Sure," I said. "Surprise." And I grabbed him by the cock. I had one more thing to verify before I went any further.
Ian chuckled. "That's the spirit, poppet."
I dropped to my knees. I wasn't about to do what he thought. Still, this act allowed me to zero in on my goal with the least amount of resistance from him. Once I got a good look at the smoke-colored brands near the base of Ian's groin, I released him. Only one demon branded people with these particular markings, and it was the same demon I'd been after for thousands of years.
"Ian," I said as I straightened. "Say good-bye. We're leaving."
He laughed outright. "I don't think so. You might be lovely, but two's lonely, while a dozen is a party."
I gave a disparaging look around. "No great loss. The clowns were fine, but none of your faux animals fought each other or even attempted to jump through the fire rings."
At that, he gave the animal-painted prostitutes an accusing look. "You didn't, did you?" Then, his eyes suddenly narrowed as he looked back at me. "Wait a moment. I know you."
We'd only officially met once before, so I hadn't thought he'd remember me. Someone with his tendencies had to have crossed paths with vast numbers of blonde women.
"Veritas, Law Guardian for the vampire council," I confirmed. Then my hands landed on his shoulders. "And as I said, you are coming with me."
His eyes changed from their natural vivid turquoise into glowing, vampiric emerald. "Leave it to a Law Guardian to try and ruin a perfectly good orgy. Sorry, luv, I'm not going anywhere. Now, take your hands from me before I remove them."
He couldn't mean that. Merely striking a Law Guardian was enough to garner a death sentence, if the council was in a testy mood. Only the vampire council itself was above us in undead society. That's why I ignored his threat and tightened my grip.
"There's no need for empty threats—"
The next thing I knew, I was thrown several meters away. I blinked, more startled by his quickness than by his reckless disregard for the punishment his actions merited.
"No need?" he repeated, contempt edging his tone now. "I remember the last time I saw you. I'd say your complicity in the murder of my friend's daughter more than qualifies as a need."
She isn't dead.
The words rang in my mind, a comfort I drew on whenever I thought back on that awful day. But if Ian didn't know that the child's supposed execution had been nothing more than a clever ruse . . .
"That was the council's decision, not mine," I said, my voice roughening from the memory. I'd nearly lost my position as Law Guardian arguing against the girl's execution, but fear and bigotry had made the council unmovable. At least they hadn't succeeded in taking her life as they'd intended to.
Ian snorted. "Sleep better telling yourself that, do you? You make my sins look forgivable, and that takes some doing."
"Enough." How dare he judge me? "Now, come."
His brows rose, as if he couldn't believe I'd spoken to him the same way some people called their dogs. Well, if he insisted on acting like a beast, I'd treat him like one.
"All of you, leave," Ian said to the prostitutes, who'd been watching us with more boredom than interest. They'd probably thought our exchange was more role-playing. "My compliments for the day's entertainment, but now it's over. Go," he stressed when some of them hung back instead of joining the ones that began to file out the door.
I bit back a disbelieving laugh. "Are you getting them out of the way because you're intending to fight me?"
Ian flashed a smile that increased the intensity of his unusual beauty. "You must not have done your research if you thought I'd come willingly."
The silver from his piercing must have gotten into his bloodstream and damaged his brain. That was the only explanation. "I'm more than four thousand years older than you."
"Really?" he said with mock surprise. "Here I was thinking you didn't look a day over twenty, little Guardian."
I'd been older than that when I was changed into a vampire, but his guess was a common mistake. People put far too much emphasis on appearances. "Is 'little guardian' supposed to be insulting? If so, do better."
"Not being insulting," he replied in an easygoing tone. "But if you're half my weight, I'd be surprised."
Yes, I currently looked more delicate than formidable. Even if that were true, it wouldn't help him. With age came strength, and I had thousands of years on him. "Stand down, Ian, and I won't punish you for attacking me."
"Why don't you try begging me to stand down?" he suggested. "Make your plea interesting enough, and I might consider it."
I was done negotiating. I plowed into Ian hard enough to shatter the bones in his upper body. To my surprise, he did nothing to block the blow. Instead, he flung me upward with a strength he should never have had. I hit the ceiling with such force, I went all the way through. For a stunned moment, I stared at him through the hole my body made in the floor.
"Stop now and perhaps you're the one who won't get punished," he said in a pleasant tone.
I suppressed the urge to immediately charge him again. Never underestimate an opponent twice, if you're lucky enough to survive the first time. My vampire sire, Tenoch, had taught me that. Following Tenoch's advice had saved my life many times, so I pushed back my urge to retaliate.
Ian was wrong—I had done my research on him. It hadn't revealed anything unusual except for a voracious sexual appetite, an open disdain for rules, and a penchant for collecting the rare and expensive. My previous assault should have left him on the ground, not whistling along to that awful circus tune while looking more bored than concerned.
Maybe his unusual strength came from the demon brands? They did more than act as a leash between Ian and the demon who'd seared them onto him. Over time, those brands would also endow Ian with some of that demon's strength and power. Ian had only been branded for a few weeks. Not nearly long enough for him to manifest parts of the demon's strength or abilities.
I'd find out his secret later. Right now, I needed to take him down, and thankfully, I had some surprises for him, too.
I gave Ian a level look. "My turn."
His smile grew into a grin. "Come and get me, little Guardian."
Chapter 2
I didn't jump down through the hole above him, which was what he would have expected. Instead, I made a new hole in the floor on the other side of the room. Ian leapt back to avoid my instant grab, then kicked me during the split second my back was turned. I sprawled forward, but even as he pounced, I spun away, leaving him to hit the floor instead of me. Then I jumped onto his back and clamped my legs around him to hold on.
He began to buck at once. I tightened my grip until his ribs broke. He didn't slow. I began to whack the back of his head, using strength I normally kept dormant.
His head rocked from the blows, though he still bucked hard enough to throw us both around the room. Those demon brands might not be the source of his bewildering strength, but they must be causing him to heal even faster than a vampire's normal swift regeneration. Soon, I was gripping him just to keep from being thrown off. Then he began to fly, smashing me against the walls, the ceiling, and the floor, all while bucking like a crazed, rabid bronco.
My bones began to break and my head rang after being repeatedly bashed against various hard surfaces. If he were anyone else, I would kill him, but I needed Ian alive. And cooperative. Maybe his brains hitting the floor would help with that last part.
I whacked his skull even harder to force him to the ground and hold him there. It took a lot of effort, which was why I kept punching his head while shoving his body against the carpet. I couldn't allow him to get enough leverage to start flying again. If he did, I might have to reveal powers I'd rather he not know about and . . . wait. What was that sound?
I stopped hitting Ian to listen more closely. It almost sounded like . . . no. He couldn't be.
"Are you laughing at me?"
He was, and now his chuckles sounded louder since they were no longer competing with the noise from our fight. I also realized that the long, hard object I'd felt near my foot was not a concealed weapon. He wasn't just amused by my attempts to beat his skull open—he was aroused by them!
"Your bouncing up and down on my back plus all this rough chafing is really doing the trick," Ian said, still chuckling. "Soon, I'll have to pay you along with the rest of the whores. In fact, if you take requests, a bit more effort on your downstroke, luv—"
I threw a punch that should have sent my fist all the way through his head. His neck bent at the last second while the back of his body surged up. Too late, I realized the trap. My fist ended up flying past his head while the rest of me was catapulted off him.
Before I could regroup, he leapt on top of me. In the next instant, he was holding me down, and I felt the distinct burn of silver stabbing me between the ribs.
Damn him! He'd managed to goad me into recklessly acting without thinking again. If my legs hadn't been pinned by his, I might have kicked myself for being so stupid.
"Don't move," Ian said in a conversational tone. "I don't want to kill you, but I will if you force me."
"Where did you get that knife?" I hadn't been so distracted before that I'd forgotten to frisk him.
"From my jacket."
"Liar. I felt you for weapons when I was on top of you."
"Was that what you were doing?" His lips twitched. "Thought you were feeling around for something more interesting."
At my contemptuous look, he shrugged and said, "You didn't feel the knife before because it was only a small silver ball a few moments ago."
My eyes widened. "You're admitting to a Law Guardian that you used magic to transform a silver ball into a knife?"
"Did I forget that using magic is a death sentence for vampires?" Ian used his free hand to mime clutching a strand of pearls. "And so is striking a Law Guardian. Dear me, I've condemned myself twice! Please, have mercy!"
"Now you're begging?" I let out a soft snort. "Don't bother. I'm still going to punish you for what you've done."
He laughed. "I have a knife in your heart and you're still threatening me? I don't know whether to keep laughing at you for your delusion or applaud you for your optimism."
"If you'd listen instead, you could learn how to prevent Dagon from taking possession of your soul in two years."
Nothing in his expression changed, though suddenly, I felt as if I were staring at a different person. A hard, dangerous one that I'd vastly underestimated. Then Ian flashed another carefree smile at me – and shoved that silver knife deeper.
I gasped when it pierced my heart. Ian tutted as if I was a child who'd merely stubbed my toe. "I warned you not to test me. Now, tell me what you know about my deal with Dagon."
Silver twisting through the heart was one of the few ways to kill a vampire. It felt as if hot lava was being poured into me. Ian hadn't twisted the blade, but the majority of my physical strength left me. Despite that, I kept my reply steady.
"I know I'm your only chance of escaping the deal you made with Dagon. If he's dead, he can't collect your soul."
Ian let out a scoff. "If Dagon could be killed, I'd have done it myself decades ago."
"I can kill him," I replied, and though it might be a long shot, it was still the truth.
He rolled his eyes. "Hate to be rude—actually, that's not true, I love being rude—but I'm far less powerful than Dagon and I bested you inside of five minutes."
"You didn't best me. I stopped beating on you when I realized you liked it."
"Most enjoyable part of our time together," he agreed. "But now I'm bored, so let me simplify things. I'm going to bash your brains in. Try to stop me, and I'll twist this knife. Cooperate, and by the time your head heals, I'll be gone and you can go back to scaring young vampires into obeying the ridiculous restrictions you call laws."
Bashing my brains in would indeed work to incapacitate me. It was the same thing I'd been intending to do with him. His fist clenched. Before it could connect, I released an ability only one other person in the world knew I had.
Power flashed out, filling the basement in a blink. Ian's expression showed the beginnings of disbelief before it, his fist, and everything else suddenly froze. Even the countless dust particles in the air now hung in suspended animation instead of floating in lazy, aimless circles.
I was the only one unaffected as time itself paused within the confines of the basement. That was the upside. The downside was the power that kept boomeranging back into me, hitting my body with invisible, painful waves before arcing out to fill the room again. Between that and the silver in my heart, my nerve endings felt like they were being hit with a blow torch. I couldn't maintain this for long, so I had to make it count.
With Ian frozen, I used his hand to pull the knife free from my heart. Then I uncurled his fingers from its hilt and tucked the blade into my back pocket. Finally, I shoved him off me.
"That's better," I muttered once I felt my heart heal. Then I flipped Ian over and got to my feet. When I unfroze him from this moment, I wanted my face to be the first thing he saw.
It was tricky unfreezing a person from time without dropping my hold over the entire room. That's why I started slow and only released Ian's head. His eyes widened when he realized he was now in a completely different position than he'd been before, then narrowed when he tried to move the rest of his body and couldn't. When he glanced around and saw the whole basement trapped in a state of suspended animation, they widened again.
"Bugger me blind," he said softly. "Aren't you full of surprises?"
He had no idea. "As I said, I'm your only hope of keeping your soul. Dagon might be able to freeze time, but I have that ability, too. That means his power won't work on me, and I can also use my power to free anyone he's caught in his time web."
I left out the part where Dagon's abilities were far more advanced than mine. I could freeze time in small spaces, but I couldn't hold it for very long. Dagon could freeze time for days, and I'd heard he had once done it to an entire town.
Ian didn't have to know that. All he had to know was that he needed me. I could imagine the wheels in his mind turning as he processed that. Once again, he didn't let his real emotions show. They were hidden behind his half smile. The most real emotion I'd gotten out of him was his eyes widening. And his erection, I supposed.
"If I release the rest of you, will you listen, or attempt to fight me again?" I continued.
"Listen," he said, with a new, impish smile, as if he found the prospect amusing.
"As I was saying, we have something in common, Ian . . . what is your last name?" I hadn't been able to discover it, and I normally had extensive dossiers on the people I hunted.
"No need for formalities. They're only for people impressed by the superficial and that's neither of us."
He was right, which surprised me. I hadn't expected us to have anything in common except a hatred for Dagon.
"Then as I was saying, you want Dagon dead because that's the only way out of your deal with him. I want Dagon dead for reasons that don't concern you. I propose a temporary alliance so both of us can achieve our goal, but let me be clear: You would have to follow my lead and my rules. Do you agree?"
His impish smile never slipped. "Before I answer, tell me, how did you get this amazing ability? I searched for decades looking for someone of our kind with a hint of it, yet found nothing."
You don't want to know how I can do this, I thought grimly. And if you ever find out, I'll have to kill you.
"That's not important. What is important is that I can use it to counter Dagon's time-freezing on both of us, and that means we can kill him. Do we have an agreement or not?"
"Of course," Ian replied, as if there was never any doubt.
His tone was sincere and his bright turquoise gaze never wavered, but all my instincts told me he was lying. Even if I didn't have those, everything I'd learned about Ian said he'd never give another person this much control over him. He must be intending to double-cross me the first chance he got.
Well, I had plans I wasn't telling him about, too.
"Good," I said, and released the power, which felt like it had been frying my every nerve ending. At once, heat blew from the vents again, dust particles swirled, and that oppressive pain left me.
Ian stood up and stretched as if relieving a kink. The motion almost concealed him taking in a deep breath, but I noticed because I'd been expecting him to do that.
I hid my smile. No, you don't smell sulfur or anything else that would indicate another demon's presence. I really am the one who stopped time the same way that Dagon can.
When he turned back to me, his cocky half smile had returned. "Now that we have an accord, where do you want to begin?"
"By leaving," I said promptly.
Ian swept out both arms, drawing the jacket back to fully display his naked body. "Fine by me, but most people prefer that I wear trousers out in public."
I found my gaze drawn downward, then quickly diverted it back to his face. He was smirking, which was the same as saying, Ha! Made you look.
It was nothing to look at a naked man. To do so and then glance away guiltily? What was the matter with me?
Maybe it was my circumstances. The brands Ian carried were my ticket to trapping Dagon—a feat that had eluded me for millennia. Now that it was within my grasp, I was feeling emotions I hadn't allowed myself to feel for a long time. That must be it. In any event, I needed to get them back under control.
That's why I crossed my arms and gave Ian a deliberate look from the top of his head down to his toes. Then, I met his eyes so that he could see he had no effect on me this time.
"By all means, get dressed, but only after you take a shower. I don't need to tell you what you smell like."
"Over two dozen whores?" he supplied.
"Exactly, so use plenty of soap."
He winked. "Looking for an excuse to watch? Just ask, and I might let you."
I was about to tell him I'd rather watch paint dry. Then, I caught myself. Clever. I'd been about to insist that Ian shower as far away from me as possible, giving him an excellent opportunity to escape or to conjure up more magic against me.
"In fact, I would like to watch," I said, arching my brow. "Unless you're going to claim that you're suddenly shy?"
His gaze narrowed. Icy fingers skittered up my spine. In all my years, I'd never felt that unless I was in the presence of someone truly dangerous. Everything on paper said that Ian shouldn't be, yet right then, I knew I could never drop my guard around him. If I did, I might not live long enough to regret it.
Then Ian smiled. It was so flirtatious and relaxed, I almost believed I'd imagined his hidden dangerousness. Almost.
"Shyness is a virtue, and you'll be glad to know I have none of those."
With that, he swept me a bow that managed to look elegant despite his being clothed only in a circus ringleader jacket. We might both be pretending that this was a real agreement instead of a race to see who could use the other person first, but I knew better. For now, though, I'd keep up the pretense.
And since I was currently pretending that I wanted to watch Ian shower . . . "After you," I said, and followed him up the stairs.
Chapter Three
Ian went to one of the second-level bedrooms as if he were very familiar with it. He probably was. Judging from what I'd seen, he'd been at this brothel for at least two days. That mock carnival in the basement certainly hadn't been set up in a mere afternoon.
He stripped off his jacket as soon as he crossed the threshold. I made sure to keep a close watch on his hands as I followed him into the bathroom. I couldn't allow him to magically fabricate another weapon. There were plenty of things in this room that a highly skilled practitioner could use.
Ian's dossier revealed that he had spent time in the company of witches and mages, but it posited that he'd done so for excitement and socializing. Wrong and wrong. Most practitioners would've needed to recite an incantation in order to get the power to transmute one type of object into another. Another way would be to draw several specific magical symbols to create the necessary power. Ian had changed a silver pebble into a knife without a single word or scribble, and he'd done it while I was beating his skull half in.
If that wasn't impressive enough, tactile magic was one of the highest forms of the craft. That's why I couldn't take my eyes off his hands. He'd need to use at least one of them to conjure up more of that kind of magic. Right now, he wasn't doing anything threatening. He stepped beneath the shower spray and closed his eyes as that first blast of water hit him. Then, he washed his hair, his movements brisk and efficient. When he picked up the body wash, however, he slowed down, working the liquid into a rich lather before running his hands over his body.
Did he think I'd never seen a man make a show out of washing himself before? I had, and even the most seductive of them had always been a little too obvious, a little too sleazy. Women were much better at this form of manipulation, but if he wanted to give me something to look at, let him.
After a few minutes, I had to give Ian credit—he was good. He didn't attempt to meet my eyes to gauge the effect of his actions. He also didn't go right for his groin as most men did. Instead, he acted as if I wasn't even there while he started with his arms, washing each with smooth, sweeping strokes that emphasized the muscled elegance of his limbs. Then he moved on to his chest, soaping it with a languid thoroughness that highlighted every ripple, hollow, and chiseled inch.
He gave the same unhurried attention to his lower body, his hands running down the tautness of his abdomen before sweeping over the hard globes of his ass. Those hands lingered over the thicker muscles in his thighs before moving down to his well-defined calves. Even his feet weren't neglected.
Somehow, the never-ending sweep of his hands started to feel hypnotic. If I were a few thousand years younger, I might even start to imagine how each muscle, hollow, and sinew would feel if I were the one touching him. Or notice how his muscles appeared even more defined when the water washed away another swath of suds, or how his skin glistened beneath the bright lights in the shower stall.
Or fixate on how the thick appendage between his legs was growing as if also longing to feel the touch of those slow, skilled hands.
When I realized I was staring, I gave myself a hard mental shake. Again, I'd underestimated him. Ian was obviously as skilled at using his body as he was at using magic. That, or I wasn't as immune to his decadent beauty as I'd assumed. Whether it was my newfound compromised emotional state or my extended bout of abstinence, I didn't know. Either way, I had to keep my focus on both his hands. Not just the one currently slicking suds over the impressive appendage between his legs.
"I say, you're looking in all the wrong places now."
His voice held the silkiness of honey along with the lure of wine, but deadly potions could also taste sweet. My careful watch on his other hand revealed his true intentions. He wasn't trying to seduce me. Like a magician, he was drawing my gaze one way while the real trick was about to take place somewhere else.
I gave a pointed look at his left hand, which was creeping behind his back. "Keep both your hands where I can see them."
His smile changed into a scowl. "You're no fun at all."
He wasn't even trying to deny that he'd been about to fling a spell at me. I'd take that roundabout honesty as progress.
"Law Guardians aren't supposed to be fun," I noted dryly. "We're supposed to be good at our jobs, and despite a few slip-ups already with you, I am. Even if I couldn't stop time, there's still no spell you could fling at me that I haven't defeated a thousand times before."
He smiled again. For the first time, it seemed genuine. "I take that as a challenge. Let's make it interesting, shall we? If I use a spell on you that you're unable to defeat, you'll drop your requirement that I follow your lead on our quest to kill Dagon. Instead, you'll follow mine."
He hadn't been following my lead as it was, but damned if I'd let him off the hook. Plus, his arrogance could be useful. Good to know I wasn't the only one letting emotion cloud my judgment.
"How long are you giving yourself to attempt this supposedly unstoppable spell?"
"Two weeks."
Perfect. If all went well, I would be done with him by the time he tried it. "Fine, if you agree to stop trying to escape or trick me until this grand attempt. And when you fail to hit me with a spell that I can't defeat, you'll follow my lead plus give me three unquestioning acts of obedience."
"Done," he said at once.
He seemed so confident. He even smiled with the kind of anticipation I'd seen only on gladiators right before they struck a killing blow. Was it possible I'd made another mistake? He'd already surprised me several times today.
But no. He couldn't best me in this.
"Done," I said after a slight pause.
His smile turned sly. "How shall we seal this new accord? A blood oath?"
As if I'd assume his shedding a few drops of blood would suddenly make him honest. "Something else. Hold out your hand."
He arched a brow but extended a still soapy hand. I closed my fingers around his, not surprised that his flesh felt far warmer than a vampire's normal temperature. His time in the shower had heated his skin, and now, that water would provide me with what I needed to ensure an oath he couldn't break.
Water was one of the main natural elements of the world. That made it powerful, if one knew how to extract that power. I did since I had a special talent with water. I hadn't wanted to use more of my hidden abilities today, but if I didn't, I'd soon be fighting off attacks from my duplicitous ally in addition to the ones that would be coming from Dagon.
A ripple of energy flashed through the room when I began to speak in an ancient language, the first one I'd learned. That energy settled on our joined hands. Ian hissed when he felt it.
"What are you doing? And why are you speaking Sumerian?"
I wasn't about to answer either of those questions. In truth, I hadn't expected him to recognize the long-dead language. Not that it mattered. These words weren't significant.
Ian tried to pull his hand away. The spell I was creating trapped him. It wrapped around me, too, feeling inside us for the promises we'd both just made. When it found them, it tightened our hands together. Then I felt its energy crest before it slid beneath my skin to dissolve inside my bones.
Once it did, I opened my eyes. "Now neither of us has a choice about keeping our latest promise. The spell found them, and if one of us were to renege on them, it would rot our bones faster than either of us could heal."
Ian's eyes were lit up with emerald, and the muscle ticking in his jaw showed how displeased he was by this turn of events. But when he spoke, his voice was light, and instead of trying to pull his hand away, his fingers now caressed mine.
"A Law Guardian who practices forbidden magic. How irresistibly hypocritical of you."
***
SHADES OF WICKED releases October 30th. You can pre-order yours at Amazon, B&N, IndieBound, Apple Books, BooksAMillion, Kobo or Malaprops.
Want more? Read additional snippets from SHADES OF WICKED here and here.