Night Huntress, book six.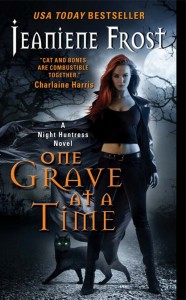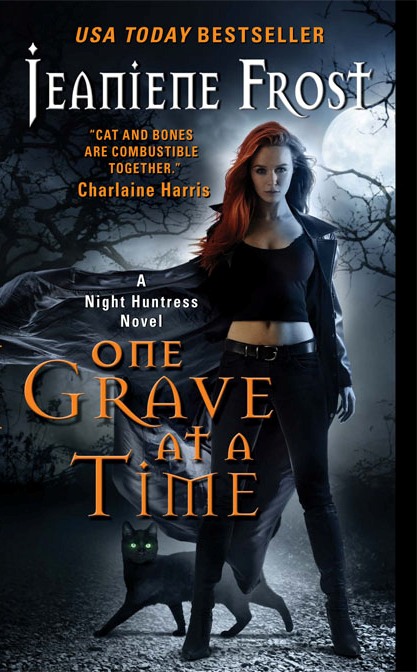 How do you send a killer to the grave when he's already dead?
Having narrowly averted an (under)world war, Cat Crawfield wants nothing more than a little downtime with her vampire husband, Bones. Unfortunately, her gift from New Orleans' voodoo queen just keeps on giving–leading to a personal favor that sends them into battle once again, this time against a villainous spirit.
Centuries ago, Heinrich Kramer was a witch hunter. Now, every All Hallows Eve, he takes physical form to torture innocent women before burning them alive. This year, however, a determined Cat and Bones must risk all to send him back to the other side of eternity–forever. But one wrong step and they'll be digging their own graves.
Order yours at: (#Ad) Amazon | B & N | B-A-M | Apple Books | IndieBound | Powells
For downloadable wallpaper of the cover and stepback, go here.
Audio book is available! Go here for details.
Reviews
"A distinctive blend of darkness and light, Frost will ignite your curiosity, stimulate with sexual tension and keep you entertained with razor sharp wit in her paranormal world."
— Shannon, Suspense Magazine
"From the very beginning, I was held captive by the world of the Night Huntress…I am Kimberly, and I am a newly discovered Night Huntress addict."
— Kimberly, CoffeeTime Romance (full review here)
"As Cat's journey continues, Frost's fans are assured of plenty of sexy sizzle along with their doses of extreme jeopardy."
— Jill M. Smith, RT Magazine, Top Pick!
"Cat and Bones have still got it! Another great book in the Night Huntress series."
–Amber, Awesomesauce Book Club
"The newest addition to the Night Huntress series continues to provide us with the humor, action and the steaminess fans have fallen in love with in the past books…fans of the series will not be disappointed with the continuation of the story and will most likely be begging for more."
–Jaime, Fresh Fiction
"Every time I think I know all there is to know about Cat and Bones, Ms. Frost creates new layers of depth…Prepare yourself for blood and gore galore, interspersed with tons of dark, witty humor, fierce fighting, and one of a kind romance as you flip the pages of One Grave At A Time."
–Miranda, Joyfully Reviewed, Recommended Read! (full review here)
"Jeaniene Frost's NIGHT HUNTRESS series is unforgettable…ONE GRAVE AT A TIME is a book you could stay up all night reading, and I did. "
–Pamela Lynne, Romance Junkies (full review here)