The NIGHT HUNTRESS series is the New York Times and international bestselling urban fantasy romance series featuring half-vampire heroine Cat Crawfield and British vampire hero, Bones. My heroine and hero have a difficult road ahead of them and they will have to work hard to earn their HEA (happily-ever-after), so their story isn't over with the first book. Hope you come along for the ride!
Out now! THE OTHER HALF OF THE GRAVE. Relive the beginning of Cat and Bones' bestselling love story through Bones' point of view, which reveals a darker, sexier take on their early days, as well as a deeper dive into Bones' past, the vampire world, and other things that Cat didn't see when their story was told only through her eyes in HALFWAY TO THE GRAVE. Cat had her say. It's Bones' turn. Get yours at #Ad Amazon, B&N, Apple Books, Kobo, or your favorite retailer.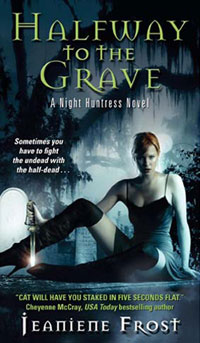 HALFWAY TO THE GRAVE, Book One, Night Huntress series. Click HERE to learn more.