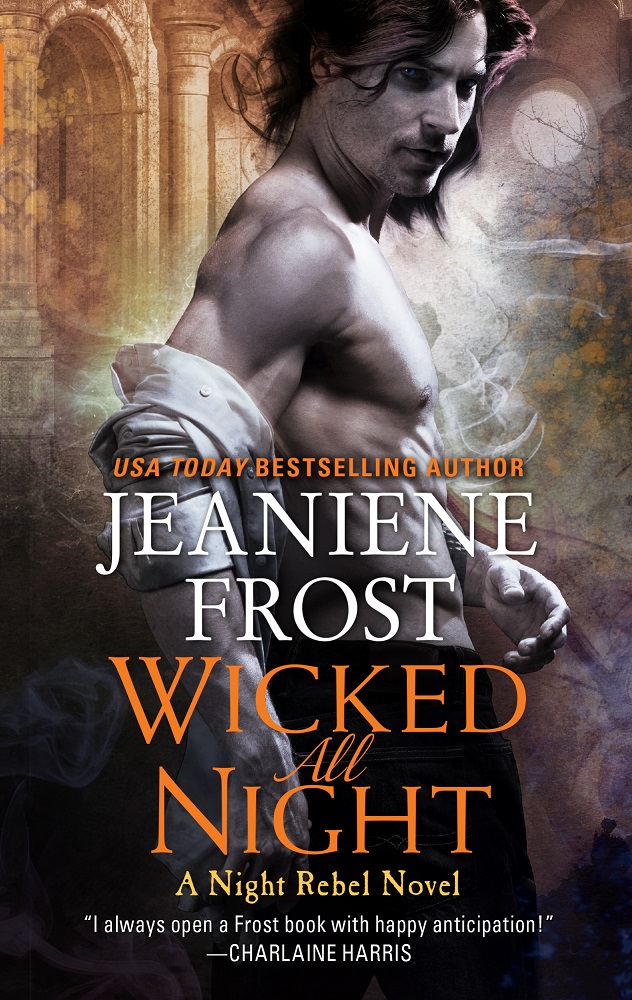 February 23, 2021
Set in New York Times bestselling author Jeaniene Frost's Night Huntress World, ancient deities are poised to wreak havoc, unless vampires Veritas and Ian can stop them … in this thrilling Night Rebel novel!
A gift from the gods…
Veritas and Ian have finally defeated their worst enemy, but the power it took to pierce through to the netherworld has unexpected consequences. Soon, Veritas is forced to rely on the last person she trusts—a golden deity named Phanes, who seeks far more than a temporary alliance with the beautiful vampire.
Can unleash hell…
But a supernatural escape soon pits Veritas and Ian against beings seeking to rule over mortals once again. Now, they must rally friends and foes alike—if the vampire council doesn't execute Veritas first. Plus, a wedge between Veritas and Ian threatens to destroy their love. Can they stand together against the unearthly powers about to be unleashed? Or does their love—and humanity—not stand a chance?
Pre-order: (#Ad) Amazon, B&N, Apple Books, Kobo, BooksAMillion, IndieBound, or your favorite retailer.
"Delivers all the sizzle, sass, and suspense that make this paranormal world such a thrill." Publishers Weekly, starred review, on the Night Rebel series
"Some of the best sex in contemporary romance…[an] original and entrancing series about a world of vampires, demons, and gods." Booklist, on the Night Rebel series.
READ THE FIRST THREE CHAPTERS:
Copyright, Jeaniene Frost
Chapter One
A week ago, a demon teleporting into my room would've sent me running for the nearest weapon. Now, I barely looked up when the bedroom's shadows suddenly formed into a tall, handsome man with midnight-brown eyes, closely cropped black curls, and skin the rich, dark brown color of smoky quartz.
"Did you bring more blood?" I asked him.
Ashael slid a briefcase across the floor to me. I opened it, relieved to see several blood bags inside.
"Thank you." I hoisted the nearest bag onto the IV pole beside me. This was the last ingredient I needed for my spell. Everything else was in place.
Then, I watched as a thin stream of crimson streaked down the IV line toward the unconscious vampire on the bed. Please, I thought, fighting to hold back tears. Please let this spell work!
Magic flared the instant the blood hit Ian's veins as the spell activated. My nails dug into my palms. Please, please, please . . .
A choked sound escaped me when Ian's half-shriveled arm began to change, transforming from a near-skeletal state into his normal, muscled limb. Very slowly, his body began to follow suit, losing the shocking gauntness he'd had for the past ten days to expand back to his healthy, brawny physique.
"Yes!" I shouted, so relieved my knees felt weak.
We'd finally defeated our worst enemy, but Dagon had had one last, evil trick in store for us. At first I thought everything was great. Dagon was dead, Ian had summoned me away from the vampire council, preventing them from executing me, and we were safe at Mencheres's house in the Hamptons. Sure, Ian was badly injured from Dagon's trap, but Ian was a vampire, and vampires healed from everything except decapitation or silver destroying their heart.
Or so I'd thought.
Turned out, there was one more injury that vampires couldn't heal from: whatever dark magic Dagon had infused in his fucking trap. Ian had borne the worst of its effects since he'd been the one to break us out of it. Or my other nature had protected me from the trap's lingering, deadly magic. Either way, I was fine, but Ian fell unconscious the same day that he rescued me.
He hadn't woken up since, and he hadn't healed from his horrific injuries no matter what spell I used to try to counter the lethal magic. Instead, Ian had only grown worse.
Until now.
"It's working." My voice vibrated from the joy rocketing through me. "Thank all the gods, it's working!"
I'd put all my knowledge, every last one of my magic-infused gems, all my power, and more than a few stolen artifacts into this latest spell. Those last ingredients had netted me some new enemies, but I didn't care. Ian's magic-ravaged body was finally healing. Oh, I couldn't wait until he opened his eyes again! I also couldn't wait to hear his voice, to see his smile, listen to his laugh . . . wait. What was happening?
Ian's body suddenly began to shrink back into itself.
"No!" I grabbed his arm, as if I could physically prevent him from degenerating again.
That meant I felt as well as saw Ian's formerly healed body reduce itself back to little more than tendon-covered bones. His pearlescent skin now also had a grayish undertone, and his thick auburn hair looked faded and brittle, like discarded straw. If anyone saw him, they'd think they were looking at a corpse.
"No!" I screamed, dropping Ian's arm. If I held it any longer, I would break it from how frail it was.
And Ian wasn't frail. He was the strongest, cleverest, bravest, sexiest, most stubborn man I'd ever met. He'd defeated every challenge anyone had thrown at him, every time. He'd even defeated death once, so he couldn't end up destroyed by Dagon's spell, after everything he'd overcome. He just couldn't!
Ashael let out a deep sigh. "I am so sorry, my sister."
Only then did I realize I was crying, the kind of deep, hiccupping sobs that no one wanted to cry, let alone with an audience. I couldn't seem to stop, either. I, widely known as the vampire world's coldest, most unfeeling Law Guardian, couldn't even slow my heaving sobs.
I'd put everything I had into this spell, and it hadn't been enough. Even from the grave, Dagon would win. He'd already made me watch Ian die once. Now, Dagon would force me to watch him die again, unless I somehow found another way to stop the magic that was inexorably killing him.
I would, I swore, swiping at my tears. I'd find another way, or I'd make another way.
Ashael patted my back in a soothing way. As a demon, he probably wasn't used to offering comfort, but despite his lack of practice, he was pretty good at it.
"I'm okay," I said once I'd shoved my pain down enough to speak instead of sob. Then, I changed the subject because if I focused anymore on how this spell had failed, I'd lose it again. "Have you had any luck finding our father?"
It still felt strange to say "our" father. For thousands of years, I thought I had no siblings. Then, a month ago, I found out that Ashael was my half brother, though Ashael's other half came from the demon race, while I was half vampire.
"No. He hasn't responded to any of my summonings."
"How can he ignore both of us?" I asked. "No, really, how? If you draw the right symbols in my blood and called me using my true name, I have to come, and I inherited that from dear old Dad. So, how can he ignore both of us repeatedly blood-ritual summoning him?"
Ashael shrugged. "He is the epitome of the river separating life and death. Who knows what he is capable of?"
"Exactly, which is why we need to find him. Our father might be the only person strong enough to heal Ian."
Everything Ashael and I had tried might have failed, but our father was a netherworld god. He'd raised Ian from the dead before, so healing him should be well within his purview.
"I will find him," Ashael said. Then his dark eyes grew more sympathetic. "But I have no idea how long it will take. If Ian does not survive until then—"
"He will," I interrupted, fighting back a new surge of tears.
Crying didn't help Ian. It only took away the energy I'd need to save him. Ian had never let impossible odds stop him from saving me. I wouldn't fail him now.
Ashael didn't argue. He only inclined his head. "As you say. However, Ian's condition puts you at a disadvantage, since many enemies are after you. The vampire council wants you dead now that they know what you are, and you refused my offer to slaughter them—"
"I still do," I said, though I patted his hand.
A human brother might bring me a bouquet of flowers to brighten my day. My demon brother wanted to bring me a bouquet of my enemies' body parts. Gruesome, yes, but his motivation was sweet, even if his method of showing affection was . . . less so.
"Very well, no slaughtering the council," Ashael said, sounding disappointed. "Their death sentence on you aside, you also have Dagon's allies seeking revenge against you, and you have that other concern."
Other concern. That was one way to describe an unwanted celestial fiancé. But that was also the topic I least wanted to talk about.
"I'll deal with that after Ian is well."
Ashael frowned. "Then you cannot attract Phanes's notice by piercing a hole into the underworld again."
Really? There went my after-dinner plans.
I didn't say it out loud. Ashael didn't deserve my sarcasm.
"Thank you," I said. That, Ashael deserved.
A small smile curved his mouth. "Anything for my sister."
It still felt odd hearing it. But also, it felt a little wonderful, and that was the emotion I'd try to dwell on.
"Are you off again?"
Ashael never stayed long. The salt water in the air from the nearby surf burned him. If Ashael wasn't only half demon, he wouldn't be able to stand it at all. That's why we were still at Ian's sire's house in the Hamptons. Its beachside location made it demon-proof, and none of the Law Guardians looking for me would assume I'd choose a ritzy vacation home for my hideout.
Ashael nodded. "I'm meeting an acquaintance that might have information on our father. I should be back before dawn."
I nodded. Ashael hesitated, and then touched my shoulder.
"I'm worried about you, Veritas. You're so busy caring for him, you're neglecting yourself, and Ian wouldn't want you hovering over him until you wasted away. He'd tell you to sleep, to feed, to take a walk, take a drive, or do something other than stare at him every moment as he sleeps. You know I'm right."
He probably was. But when I slept, I woke up screaming from nightmares where Ian degenerated into dust right before my eyes. Plus, every drop of blood I consumed was one less drop that might help Ian regain his strength to fight Dagon's spell. I knew that, even unconscious, Ian was still fighting. I could feel it in his power, simmering beneath the dark magic that was trying to destroy him. Some days, feeling the faint pulse of his power was the only thing that kept me from going insane.
I couldn't say any of that to Ashael without worrying him more, so I said, "I'll walk on the beach for a bit after you leave. I did that the other night, too, so I'm not only spending my time hovering over Ian."
He smiled. "Good. I'll see you when I return."
I forced a smile in return. "Be safe, and I'll see you then."
He teleported away. My false smile dissolved the next instant.
Still, a few hours later, I went outside to fulfill my promise to him. The nearby ocean called to my celestial-born nature anyway. Waves grabbed at my ankles like frigid fingers when I reached the surf. I didn't mind. The cold combined with the late hour meant that I was alone on the beach. The Hamptons' other residents were either gone for the winter or safely inside their expensive beachfront homes.
When the next wave rushed over my ankles, I used my power to break it into spirals that twirled around me like mini water spouts. Then, when the waves departed back into the ocean, I sent the spirals chasing after them. My ability to control water was more second nature than a learned skill. Very second nature, considering that it came from my other half.
When I was in my mid-twenties, Tenoch, my beloved sire, had turned me into a vampire, but I wasn't human before that. I hadn't known, of course. I'd been enslaved by Dagon since I was too young to remember anything except my first death. Dagon told me he raised me from that death, and from the hundreds—thousands?—of deaths after it. I believed him because Dagon was a powerful demon who could do many incredible things. I only found out decades later that Dagon had nothing to do with my resurrections. My biological father, the Warden of the Gateway to the Netherworld, was the one who'd repeatedly brought me back from the dead. The Warden was also the source of my powers, some of which had scared my sire, Tenoch, so much, I'd suppressed them to the point of forming an entirely separate identity.
For over four thousand years, no one except Tenoch had known what I really was, since being a mixed-species vampire was so illegal that it was punishable by death. No one even knew what I really looked like. I'd concealed my celestial side beneath my rigid, vampire Law Guardian persona, and I'd hidden my true, god-resembling appearance beneath glamour that showed a thin, blonde, young woman to anyone who looked at me. Both disguises had allowed me to lead a safe, solitary life . . . until Ian.
Somehow, Ian had sensed the real me even before we spoke a single word. Later, when circumstances forced me to show Ian what I was, he hadn't been frightened or appalled like everyone else. He'd been intrigued, aroused, and then unstoppable in his pursuit of me. I'd done everything to guard my heart, but I'd failed. By then, I hadn't cared. Falling for Ian might have ripped me in two—literally, considering the emergence of my other side—but it had also been the highlight of my very long life. I'd never known it was possible to be so happy, and now I couldn't bear to lose him. Not again, and . . . what was wrong with the sand?
Seconds ago, it had been grayish. Now, it was every shade of gold. The air filled with golden beams, too, as if the brightest sun were shining instead of the wan streaks from the crescent moon. In the next instant, lights were suspended in the air like multitudes of tiny stars.
It was stunning, but I all I could think was Oh, shit!
I'd seen this before, and it had heralded the arrival of the very last person I wanted to see.
I flew toward the cottage, only to smack into a muscled chest before I'd made it two meters. Suddenly, I was held aloft by two burly arms framed by huge golden wings.
"My bride!" said my unwanted celestial fiancé.
Chapter Two
I looked down at Phanes. Black hair fell over his gold-colored eyes, his skin looked like gold-dusted bronze, and his features were so ridiculously beautiful, most people who saw him would be tempted to stop, drop, and worship.
That's what the ancient Greeks had done, presumably. Phanes didn't just mean "to shine." It was also the name of a primordial Greek god, according to the Orphic cosmogony.
A smug half smile curled Phanes's mouth as I continued to stare at him. Big ego, I added to the list of things I knew about him, such as his ability to teleport and how when we'd first met, he had plucked a restraint spell off me as if it were mere lint. But Phanes was wrong if he thought I was admiring him. I was assessing his dangerousness.
Eight out of ten, I decided. Jaw-dropping looks aside, Phanes's wings were a dead giveaway that he wasn't human, yet he did nothing to hide them. Instead, he flaunted them.
If there was one thing my four-thousand-years-plus had taught me, it was that when a creature was this at ease while unarmed and alone in a foreign environment, then that creature was powerful. Worse, my magic bounced right off Phanes, as did my blood-ripping abilities. Whatever ran through his veins—assuming he had veins—wasn't blood or any other liquid I could manipulate.
"Put me down," I finally said.
To his credit, he did. Gently, too.
Potentially not a sadist, I added to my list.
As soon as I touched the sand, it swirled into golden flowers of every variety, until the beach looked like a magical garden. The air was also now so thick with that non-corporeal form of gold dust that I could no longer see the cottage.
Good gods, if any neighbors happened to be up at this hour and looked outside, they'd call the police! Or assume someone had slipped them LSD. Or both.
"Could you please stop making everything look like gold?"
Phanes waved, and the beach, sand, and air returned to normal. "Why did you flee from me before, my bride?"
He crossed his arms over his bare chest as he waited for my reply. He'd been bare chested the first time I'd seen him, too, though thankfully, his aversion to clothes didn't extend to pants. I would have bet they'd be gold, too, but his pants were as black as his hair and made of a material I didn't recognize.
I ignored his question because I had one of my own. "How did you find me?"
Ten days ago, he'd tracked me down because he felt it when I'd used my darkest power to kill Dagon. But I hadn't used that power since I'd killed Dagon, and it's not as if I'd left Phanes a forwarding address.
"Indus told me where you were," he replied.
Indus? Who . . . ? Oh, right, Indus was the ruler of Leviathan—scary, psychic creatures that formed from seawater and could drown anyone they touched. But how did the Leviathan ruler know where I was?
"You've got to be kidding me," I said, putting it together. "Indus tracked me just from my splashing around in the surf these past few nights?"
A sly smile curved Phanes's mouth.
"If you had only splashed? No, Indus could not have felt that. But you used your power on the water. That, he felt."
Great. Now, every time I used my power over water, it sent a metaphysical GPS notification to the Leviathan's ruler? That was a complication I didn't need.
"How impressive," I said in a cold voice. "Especially since the last time I saw Indus, he was halfway around the world. Or is he closer now?"
Phanes cocked his head. "I answered two of your questions, yet you haven't answered mine. Why did you flee from me before?"
It took all my willpower not to glance at the cottage behind us. According to my brother, if Phanes found out that his "fiancée" was married, he'd kill Ian. I'd seen Ian defeat powerful enemies before, but never while unconscious.
I couldn't let him know about Ian. Fortunately, I had another aspect of the truth to answer with.
"I don't know how things work in your world, but here? People don't get to show up and tell someone they've never met before that they're engaged. That's why I left. I'm not property to be promised to another without my consent."
Interest sparked in his gaze. Not the reaction I wanted, but it could have been worse.
"You wish to be won over by me first, then?"
Not in the slightest. But if pretending that bought me time and got Phanes away from Ian . . .
"Yes. You must prove you are worthy of my consideration. I propose a quest. Find and bring me"—Gods, what? What?—"the thirteen crystal skulls from ancient Mesoamerica, famed for their mystic qualities," I finished, then fought a groan.
That's the best I could come up with? Served me right, for falling asleep to that Ancient Aliens episode the other morning!
Phanes's brows rose.
I hid my inner cringe behind a straight face. "You don't find this quest too far beyond your abilities, do you?"
He flashed me a brilliant smile. "If the crystal skulls were genuine, it wouldn't be. But since they're a fable, what you're actually doing is trying to get rid of me."
Dammit! Either Phanes was very clever, or he had access to human television.
"I wonder if the reason has to do with all the energy you're sending toward the house behind me?" he went on.
Ice exploded through my veins. I don't remember summoning my darkest power, but all of a sudden it was there, turning the air around me to shadows of obsidian, while my gaze lit the night with a new silver glow.
"Don't," I said in a voice that now echoed in an eerie way.
A slow smile lifted Phanes's mouth. Then, he spread out his hands while his wings dipped as if they were bowing.
"Daughter of the Eternal River," he said in a newly formal tone, "I mean you no harm."
I wasn't worried about me. I was worried about the vampire who was still near death from what it had cost him to save me. The darkness around me grew with the thought, until I felt its edges touch the very netherworld itself.
"Daughter of—" Phanes began again.
"Veritas."
My voice was sharp, but it was my voice again. What I felt for Ian was so strong, it broke through even this.
"Veritas." Phanes held my gaze. "I've lived too long to fail to recognize love when I see it, and I see it every time you send your energy toward that house. Stop," he snapped, flying back when my darkness surged toward him. "I mean its occupant no harm! I do not want our engagement either!"
Oh?
I reined in my power until it no longer sought out Phanes. Instead, it swirled around my feet like inky clouds.
Phanes folded his wings inward the way a bird did when it landed on the ground. Unlike a bird, however, Phanes's wings looked like they disappeared entirely into his back.
"If you didn't want this engagement, why did you come looking for me?"
His approach was wary, but he still didn't look afraid. "When I felt your power, I was honor bound to seek you out."
Bullshit. Just like an annoying text, Phanes could've ignored that.
"So noble," I mocked. "Now, what's the real reason?"
That earned me a reluctant smile. "I wasn't the only one who felt it when you used your power to punch a hole through the veil separating this world from the netherworld. So, if I had failed to respond, others would know, and breaking my pledge to the Eternal River would have consequences."
That, I believed, especially if this match had been my father's idea. You didn't piss off the Warden of the Gateway to the Netherworld without having it come back to bite you.
The darkness around me disappeared as I powered all the way down. "Well, then, good news, Phanes. You can go back home and tell everyone that I released you from our betrothal. If my dad doesn't like that, he can take it up with me."
"I wish it were that simple." Phanes sounded like he was gritting his teeth. "But only your father has the authority to release me from my oath."
Not me, the intended bride? Of all the sexist bullshit–
"And I can't get to him where he is," Phanes went on.
Hope surged in me. "You know where my father is?"
Phanes gave me a surprised look. "You do not?"
If I did, would I be asking? "No, so where is he?"
For a second, all expression cleared from Phanes's face. He may as well have been one of the many statues the Greeks carved in honor of their gods. Then, that blankness disappeared, and the smile he gave me was as beautiful as the rising sun.
"He's an inmate in the bastion of the netherworld."
Chapter Three
Guilt blasted through me. As warden, it was my father's job to send souls to their final destination in the netherworld, and he only ferried the souls meant for the netherworld's version of "the bad place." But when my former enemy, Dagon, had hoarded Ian's soul inside himself after Ian died protecting me, I begged my father to free Ian instead of sending him on to the afterlife. My father had, but he'd also inferred that he might lose his position as warden for it.
He hadn't said his punishment would be so much worse.
My father's part of the netherworld contained the darkest souls that this world—and others?—had to offer. I could only imagine those souls' sadistic delight at discovering that their former warden was now a prisoner, like they were.
And I could do nothing about it. I could pierce a hole into the netherworld, but only souls could cross over, and here I was, fresh out of the ability to be resurrected after I died. My head sank into my hands.
I couldn't save my father, and thus far, I'd been unable to save Ian, either. For all my power, I had never felt more helpless.
"I might know a way to get your father out."
My head snapped up.
Phanes rubbed his knuckles under his chin, as if he hadn't just dropped a bombshell. Then, for effect, his wings reappeared and extended to their full breadth, until they wreathed him in twin arcs of gold.
"Enough with the theatrics," I said. "How?"
He smiled. "Come with me, and I'll show you."
Not a chance. "Tell me here and now."
"No."
My eyes narrowed in warning.
Phanes only smiled wider. "You wouldn't believe me without seeing it yourself, so I won't waste my time telling you. And you can only see it if you come with me, so"—a wing extended toward me as if it were a hand—"again I say, come with me."
I might want to save my father from the netherworld's version of jail—and try to get him to heal Ian, plus officially end this betrothal—but I wasn't about to leave Ian behind.
Unless . . . no. No. It was too risky.
Find a way or make a way, I'd sworn earlier.
Well, this was a way. It was risky, but everything else we'd tried had failed. Ian might not survive much longer. Doing nothing was just as risky, if not more so.
"I'll go with you," I told Phanes, a desperate sort of recklessness setting in. "If you do something for me first."
Phanes gave me a sardonic smile. "Another fake quest?"
"No." My voice turned hoarse as hope and fear roiled within me. "This quest is very real."
He crossed his arms. "What is it?"
"Like you said, it's easier if I show you."
I led Phanes to the cottage, leaving the door open behind me but not inviting him in. Did he, like demons, need an invitation before he could enter a private residence?
No. Phanes crossed the threshold as if he owned the place. Then, he followed me into the bedroom, taking in the IV pole and the prone vampire on the bed without comment. I said nothing, either, but my pet, Silver, looked at Phanes and let out a soft growl.
I didn't know if it was a natural reaction from the Simargl at the sight of a far bigger winged creature, but I decided to add my own warning, too. A silver glow shot from my eyes as I looked at Phanes.
Harm him and you die, my look told him.
His lips curled in acknowledgment.
I pulled back the sheets, showing most of Ian's injuries, though I kept his left hand covered. That ancient horn that adorned it used to belong to Cain, the first of all vampires. More important, it was powerful in a way that defied explanation. It hadn't escaped my notice that the only part of Ian that had healed was his fingers, where the horn was still wrapped around them like a pair of brass knuckles.
Phanes studied Ian with cool appraisal. No sympathy softened his features, but no hostility marred them, either. So much for Ashael's warning that Phanes would kill any romantic rival for me. If anything, Phanes looked bored as he stared at Ian.
Good. I didn't need Phanes to be interested in Ian. I only needed his ability to tear magic off.
I tried not to let any of my desperate hope show. "Can you see the magic that did this to him?"
"Yes." His eyes lifted to mine. "It's very old and very powerful."
Of course it was. Dagon had used his best stuff to take me and Ian down.
"I'm surprised he survived such magic," Phanes went on. "He is, after all, only a vampire."
His dismissive tone rankled, but I ignored it. "When we first met, you plucked a spell off me, so I know you can tear magic from people. My quest for you is simple: tear the spell off him that's wasting him away."
His brows rose. "That magic was hardly the same as this."
"I don't care. If you tear the spell from him, I'll come with you. If you don't, then I won't, and if you do him any harm, I'll kill you."
Sometimes, a warning look wasn't enough. This was one of those times.
Phanes's arrogant half smile returned. "You must love him very much. How unfortunate. I'm much more powerful, and much handsomer, too."
His ego wouldn't quit, would it? "Ian endured every one of the injuries you see to save me. He even died for me once. Can you do better than that?"
"No," he said, and then paused as if surprised by his admission.
Interesting. "You don't care for anyone enough to die for them, do you?"
His arrogant smile remained, but for the briefest moment, something flashed in his gaze. It vanished before I could decipher it, but its presence was telling. That question had made him feel something he hadn't wanted me to see. Under other circumstances, I'd wonder what. Now, I didn't care. I only wanted him to heal Ian, or get out.
Phanes gave Ian's injuries another calculating glance. Then, he moved closer.
I tensed but forced myself not to stop him. Still, it took all my effort to let a dangerous creature?—lesser deity?—something else?—near the man I loved. By the time Phanes ran a hand over Ian's vastly shrunken torso, my cartilage was cracking from how tightly my muscles were clenched.
What if I'd made a terrible mistake? What if Phanes's apathy over our engagement was a ruse, and he was about to murder Ian—?
Phanes suddenly grabbed Ian so hard, I heard countless bones break. I lunged at Phanes, but he swatted me away with both powerful wings. I smacked against the bedroom wall, then immediately lunged at Phanes again. I could barely see him because my otherworldly power had darkened my vision, but I could feel him, and only Ian's nearness kept me from opening a chute to the netherworld right beneath Phanes's feet.
"Get away from him," I snarled.
Phanes let go of Ian to grab me in mid-lunge. It took both his arms and all the strength from his wings to hold me.
"Veritas, stop. Look! The spell is now gone!"
Ian groaned. The sound stopped me in mid-grapple. I hadn't heard any part of Ian's voice for over a week.
I let go of Phanes to stare at Ian.
Muscles and sinews formed on him, filling out his skeletal arms, the awful caverns in his sides, and his formerly shrunken torso before racing to his legs and swelling them with healthy flesh, too. In the time it took me to suck in a choked breath, Ian's body had returned to its normal, well-muscled state, complete with his pearlescent skin and his sunset-hued hair.
I tensed, waiting for it to backfire, and his body to return to that awful, partially skeletized state. Several seconds ticked by. Ian still looked whole and healthy. Silver began zooming around the room while letting out excited yips.
Then, Ian groaned, and sat up.
I fought a sob as I flung myself next to him on the bed.
"Ian? Ian! Can you hear me?"
His eyes cracked open, their vivid turquoise shade even brighter than I remembered. Or maybe it only seemed that way because it felt like an eternity since I'd seen his eyes.
"'Course I can hear you," he murmured. "You're shouting."
I tried to say something else, but it came out as half laugh, half sob. He was healed, gods, fully healed and awake! If I died now, I'd die happy.
His eyes opened all the way, though he still looked a little drowsy, as if his comalike state had left him sluggish. Then his fingers brushed my cheek, and his brows drew together.
"Why are you crying? And who's the wanker with the wings?"
Phanes muttered something in a language I didn't recognize. Then he returned to speaking in an ancient dialect of Greek.
"I've held up my end of our agreement, Veritas."
Yes, he had. Ian was healed, awake, and the air around him was starting to crackle with energy as his power regenerated, too. I was so relieved, I started to tremble.
I allowed myself another moment to stare at Ian while feeling his hand on my cheek. Such a little thing, yet the emotions it generated couldn't be measured.
I couldn't leave him now! Not yet!
But a promise was a promise. Besides, I couldn't risk Phanes taking back this incredible healing if I reneged on my part of our agreement. Nothing was worth that, not even the pain it caused me to pull away.
Ian sat up straighter. "You smell upset. What's wrong?"
"Veritas," Phanes said again.
"Sod off, or I'll rip you in half," Ian snapped.
Any moment, the last bit of mental sluggishness from Ian's coma would lift, and he'd realize who Phanes was. We had to be gone by then.
"I've got to go do something," I said in a voice husky from regret. "But I love you, and I'll be back soon, I promise."
I held out my hand to Phanes right as recognition darkened Ian's features. The look he shot Phanes then was pure murder.
"Wait. I know who you are—"
He never finished the sentence. Phanes took my hand, and at his touch, Ian and the rest of our surroundings disappeared.
***
Hope you enjoyed getting a taste of what's next for Ian and Veritas! Remember, WICKED ALL NIGHT releases on February 23rd, and you can preorder yours from (#Ad) Amazon, B&N, Apple Books, Kobo, BooksAMillion, IndieBound, or your favorite retailer.