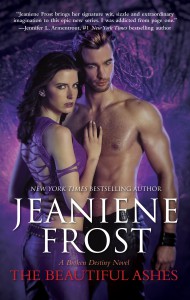 Book one in the Broken Destiny series.
Sometimes, falling in love really is the end of the world…
Ivy has always seen things that she cannot explain. Strange things. Otherworldly things. But when her sister goes missing, Ivy discovers the truth is far worse—her hallucinations are real, and her sister is imprisoned in a realm beyond Ivy's reach. The one person who can help her is the dangerously attractive rebel who's bound by an ancient legacy to betray her.
The fate Adrian has fought to escape is here – but he never expected the burning need he feels for Ivy. With destiny on one side and desire on the other, Adrian must help Ivy search for the powerful relic that can save her sister. Yet he knows what Ivy doesn't: the truth about her own destiny, and a war that could destroy the world. Sooner or later, it will be Ivy on one side, Adrian on the other, and nothing but ashes in between…
Order yours from: (#Ad)Amazon | B & N | B-A-M | Apple Books | IndieBound | Powells
"Frost's fast-paced paranormal romantic thriller is a pure stunner…Frost skillfully balances passion and peril in an attention-grabbing story that's exciting from the first page. The mythos is intriguing and inventive. Readers will hungrily anticipate the next installment." – Publishers Weekly (starred review)
Listen to an audio excerpt here.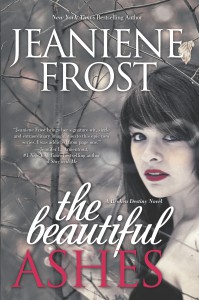 Trade paperback edition, also available from Amazon, BAM, Powells, B&N, Indiebound, or your favorite retailer.
Reviews
"Jeaniene Frost brings her signature wit, sizzle and extraordinary imagination to this epic new series. I was addicted from page one."
– #1 New York Times bestselling author Jennifer L. Armentrout.
"Jeaniene Frost is blessed with a creative soul."
– #1 New York Times bestselling author Sherrilyn Kenyon.
"The first book in the Broken Destiny series is a fast-moving tale that refuses to let up until the end…Books don't get more fun or action-packed than this!"
– Romantic Times, 4 stars.
"Reluctant readers as well as fans of the Twilight books and other paranormal romances will eat this one up."
– School Library Journal
"If you prefer nail-biting, other-worldly suspense, and adventure with your love story, this one's for you."
– BookPage
"Jeaniene Frost will win your hearts with The Beautiful Ashes."
– Fresh Fiction. Full review here.
"…captivating romance and adventure all wrapped into one thrilling ride that will bind you until it drops you at the very last page."
– The Book Whisperer. Full review here.
"The Beautiful Ashes was a non-stop, action packed, mind twisting storyline. Frost masterfully builds this world within worlds with so many twists and turns I'm still reeling. "
– Beth, Tome Trender.
"The Beautiful Ashes is a great start to a new urban fantasy series by Jeaniene Frost. I thoroughly enjoyed it."
– Paranormal Kiss.
"Demons, angels, gargoyles, monster hellhounds, and ancient biblical legacies are all found here. Take a chance and find out who wins this battle of good and evil."
– Manhattan With A Twist.
"I was hooked from the very first page; the wait for the next book is going to be painful."
– Sharon, Obsession with Books. Full review here.
"Putting this book down once I began was near impossible…You don't need to be a fan of the new adult genre trend to enjoy The Beautiful Ashes. Come for the romantic chemistry, stay for the adventure."
– Chelsea, Vampire Book Club. Full review here.
"The action starts literally from the first page and almost never lets up…I'm in for the next in the series."
– The Book Nympho. Full review here.
"…the world, characters, and writing were excellent, as always….THE BEAUTIFUL ASHES was sometimes gory, rarely sweet, and 100% Jeaniene Frost!"
– Carmel, Rabid Reads. Full review here.
" There's plenty of action and interesting adventures….I never wanted to stop reading this book and was crabby when I had to go do some real life things."
– Anne, Yummy Men And Kick-Ass Chicks. Full review here.
"The Beautiful Ashes is a story that highlights all the things Ms. Frost does oh-so well, the easy-to-devour fluidity of the writing style combining with a determined underdog of a heroine to ensure we do everything in our power to keep reality from infringing and robbing us of our reading time."
– Jenny, Supernatural Snark. Full review here.
"THE BEAUTIFUL ASHES will introduce us to a world of myth and mayhem. An intriguing start to what should be a promising series."
– Annie, Under The Covers book blog. Full review here.