As most of you have heard, Up From The Grave is the last Cat and Bones novel. I just finished revisions on it, so yesterday, I started the first novel in my new "Realmwalker" series. That will be a romance with paranormal elements, but as it's not related to my Night Huntress series, it won't have any vampires in it. It's also considered New Adult instead of Adult. What's the difference, you ask? Well, definitions vary, but the simplest is that New Adult features protagonists between the ages of 18 and 24. For a long time, having a character in that age bracket was a hard sell to publishers because (generally) they were considered too old to for the Young Adult market and yet not settled/mature enough for regular Adult readers.
New Adult isn't much of a switch for me since you could say I've been writing NA for years. Originally, Cat was 19 at the start of Halfway to the Grave, but when I signed with a publisher, I had to age her up to 22 for the reasons stated above. If I'd been shopping Halfway to the Grave now, the Night Huntress series would've probably been published as New Adult, although since Cat jumps over five years in age by the fourth book, in Destined For An Early Grave, she would've technically been too old.  In that case, maybe I would've been asked to age her down (I will never fit neatly into genres/markets, it seems! :))
Anyway, since the first novel in the Realmwalker series (still untitled) has a 20 year old heroine, it's being published as a New Adult. As I mentioned in a previous post,  I've had this story in my head for years , but due to several reasons, I haven't been able to write it until now. Yesterday, I typed the two scariest words in the English language for me – Chapter One – but it's already Chapter Two time, so onward and upward.  Untitled Realmwalker Book One is tentatively scheduled to release fall of 2014.
Also coming out next year will be the final Vlad and Leila novel, still untitled at this time, too. That's one of the reasons why I haven't said who's next in the Night Huntress universe – I don't know yet. I have story ideas, and yes, Ian's is among them, but two completed books from now, who knows which character will be clamoring the loudest in my head? If it's Ian, then I'll get the brain bleach ready and write what he has to say *wink*. If it's another character, then he or she will be up instead. Since I read books for characters (meaning a book can have a wonderful plot, but if I don't connect to the characters, it's a DNF for me), it's probably no surprise that I write "character first" too. No exciting plot idea can compensate for me not being wholly invested in who I'm writing about, so that's why I have ideas for books, but no firm answer as to who they'll feature yet. Whichever character it turns out to be, I promise to let you know as soon as I do.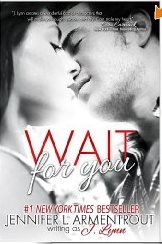 Speaking of reading for characters, as a treat for finishing Up From The Grave, I took a couple days off and read.  If you haven't checked out WAIT FOR YOU by Jennifer L. Armentrout yet, I very much recommend it. The paperback version comes out next week, but the ebook is available now, and Cam is a hero you won't want to miss. The only warning I have is that you may want to have two things handy while reading: cookies and tissues. Cam's description of his fresh baked chocolate walnut cookies almost sent me running to the store in my pajamas, and Avery's brave struggle to get over a horrible event in her past had me sneaking to wipe away tears before my husband saw them and poked fun at me.
And now, to my usual question for readers when I start writing a new book – got any music recommendations for me? I write while listening to music and I started a playlist for Realmwalker 1, but I've only got an hour's worth of songs. I prefer rock and alternative, with a little pop or rap thrown in for good measure. Examples of bands I like are Three Doors Down, Breaking Benjamin, Within Temptation, Kings of Leon, The Fray, Coldplay, Florence and the Machine, Vertical Horizon, Staind, Pink, One Republic, Adele, Sarah McLachlan, Smashing Pumpkins, Shinedown, Imagine Dragons, Lifehouse, Jars of Clay, Katy Perry and Seether. So, am I missing any great bands?