HEX ON THE BEACH is almost here, and in addition to the fabulous stories by Kelley Armstrong and Melissa Marr, you also get my new Night Huntress story, A Grave Girls' Getaway. If you haven't already read the first three chapters to see what's cooking with Cat, Bones, Katie, Denise, and more of the gang, go here. If you've already read that and you want another sample, I aim to please! Another excerpt is at the bottom of this post. Before we get to that, here's the playlist I listened to while writing A Grave Girls' Getaway. As many of you know, listening to music helps me concentrate while I write, and listening to the same songs helps keep me focused on that particular story. Usual disclaimer: there's no hidden meaning for the book in these songs, unless I note a song with an asterisk. Some songs are recent hits, some are retro, and some are in between. Also, music tastes are as personal as reading tastes, so if you don't like some of the bands/songs, no problem! Just please don't tell me that I shouldn't like them, because if a song/band is listed, then I do, and no arguing on your part will change my mind :).
The layout is artist name: songs. Artists are in alphabetical order for ease of reading, but this isn't the order that I listened to while writing because I am not that organized.
Dave Crowder Band: Sometimes
Dua Lipa: Don't Start Now
Duncan Lawrence: Arcade
Elle King and Miranda Lambert: Drunk and I Don't Wanna Go Home*
Eminem: Venom
Halsey: Without Me
Ingrid Andress: Lady Like
John Mayer: Heartbreak Warfare
Katy Perry: Daisies
Kygo & One Republic: Lose Somebody
Lizzo: Good As Hell
Miley Cypress & Stevie Nicks: Edge of Midnight/Midnight Sky remix
Niall Horan: Nice To Meet Ya
Nicki Minaj: Starships
Nico & Vinz: Am I Wrong
Olivia Rodrigo: Drivers License
Passenger: Sword From The Stone
Queen Herby: Bad Bitches
Remedy Drive: All Along
Sia: Cheap Thrills
Tate McRae: You Broke Me First
Taylor Swift: Exile
The Script: The Last Time
The Weeknd: Blinding Lights
Tom Grennan: Little Bit of Love
Tones And I: Dance Monkey
X Ambassadors: Renegades
Young Summer: Waves The Rolled You Under
Zoe Wees: Control
*I played I'm Drunk And I Don't Wanna Go Home on repeat while writing the below. You'll soon see why, heh. Before I give you context for this scene, SPOILER WARNING: you'll find out about a subplot from A Grave Girls' Getaway in this, so if you hate to know any subplots in advance, don't read on. If you're still reading, then you don't mind mild spoilers, so in the below, Cat's been struck with an immobility spell, and Denise has called in the half demon, half demigod Ashael for help.
Excerpt, A GRAVE GIRLS GETAWAY from HEX ON THE BEACH. Copyright Jeaniene Frost. All rights reserved.
"I can give her something to weaken the immobility spell so she can move again," Ashael went on.
If my hands could have shot out to indicate consent, they would have. Do it! Whatever it is, bring it on!
"But she won't be good for much after that, and it's very important that you kill whoever hexed you both," he finished.
"Why won't Cat be good for much?" Denise asked, echoing my own thought.
His smile was as bright as sunshine. "She'll be too high."
I stared at the demon. Now I knew what he intended to give me to counter the spell. His blood.
Demons weren't just the inventors of magic; they were the walking embodiment of it. That's why spells didn't work on them. Their blood also had a unique effect on vampires, and by unique, I mean that vamps who drank demon blood ended up more wasted than a frat boy after a drinking contest.
Still, being wasted would be an improvement over my current state. Besides, Ashael was only half demon. His other side was of an indeterminate celestial nature, so maybe his mixed blood wouldn't get me as trashed as straight demon blood would. Even if it did, Bones had once managed to win a fight to the death while sky-high on demon blood.
If he could do it, I could do it.
I stared at Denise, hoping she could intuit my answer.
She sighed. "I don't like this, but…Cat says yes."
Ashael rolled up his sleeve while grabbing one of the broken bottles I'd telekinetically hurled at him. Then, he came toward me with a wolfish smile.
"In that case, my lovely redhead, I hope you're thirsty."
Being born half vampire meant that I'd only been drunk once, after a ghost had tricked me into chugging an entire bottle of uncut moonshine. Not even my half-vampire nature had been enough to make me immune to half a gallon of 180 proof "white lightning," as it turned out. Still, despite my relative inexperience with being intoxicated, I felt prepared to deal with the wonky side effects of Ashael's blood.
Oh, what a sweet summer child I was!
The first splash shot past my lips and went right down my throat. If my muscles still worked, I would've gagged.
Be a little more gentlemanly when shooting your load, Ashael!
At least I didn't need to worry about my lack of ability to swallow. With how forcefully his blood came out, it felt like it went straight into my stomach, and…wow, this rug was so thick. And lush. Had it always felt like this? And the colors in this room were so vivid, especially when reflected in the lights from all the broken glass.
"Beautiful," I sighed, and then squealed in delight.
I was talking again! Sure, I'd dribbled blood to say the words, but who cared? I wasn't wearing this dress again anyway.
"More," I said next, and grabbed Ashael's wrist.
"Uh, if she's moving now, is that enough?" Denise asked.
"No," I garbled out before Ashael could answer. Every swallow made the world more beautiful, warm, and glorious.
"Slow down, Cat," I heard Denise say.
I loved her, but she seriously needed to shut up.
Ashael's dark curls brushed my face as he bent near my ear. Even that slight touch felt like silk trailing over my skin.
"Last swallow, little vampire," he murmured, his voice curling around me like warm, dark waters.
"No," I said, my inhibitions drowned. "Eat you…all night."
Ashael's laugh was more decadent than the richest dessert. "If circumstances were different, I'd let you, but alas."
Then, his wrist was gone, and that addictive flow stopped.
I tried to yank his wrist back and ended up only grasping air. I leapt up to see Ashael on the other side of the room, wagging a finger at me.
"Ah ah ah, my lovely one. You're cut off."
I lunged at him, and then staggered in surprise when the floor rose up to trip me.
"Stop it," I snapped at the floor.
It undulated in response, taunting me. I stomped on it, and it surged up with an abrupt wave that knocked me flat.
Asshole.
Denise rushed over. "Cat! Are you okay?"
"Fine," I said, brushing her aside. This was between me and the floor, and I was kicking its polished driftwood ass.
I stomped up and down on it with all my strength. Planks cracked and gave way. When I was ankle-deep in the floor's wreckage, I howled in victory.
Take that, motherfucker!
"Cat…" Denise sounded worried, but she shouldn't be. I'd beaten the floor, so it couldn't attack her next.
"Don't bother trying to reason with her," Ashael said. "She's too high. Give her a few minutes to adjust to the effects of my blood. She'll be better by then."
"I'm fine," I told Ashael. "In fact, I'm fabulous."
His grin was annoying in its smugness. Should teach him a lesson. Make him bleed a little…and then lick his blood.
"She's, ah, growling," Denise said with concern.
Ashael waved. "Pay it no mind. Now, care to tell what happened that caused you two to run afoul of a sea god?"
***
Hope you enjoyed the excerpt! Once again, A Grave Girls' Getaway is in the HEX ON THE BEACH anthology releasing this Thursday, JULY 1st.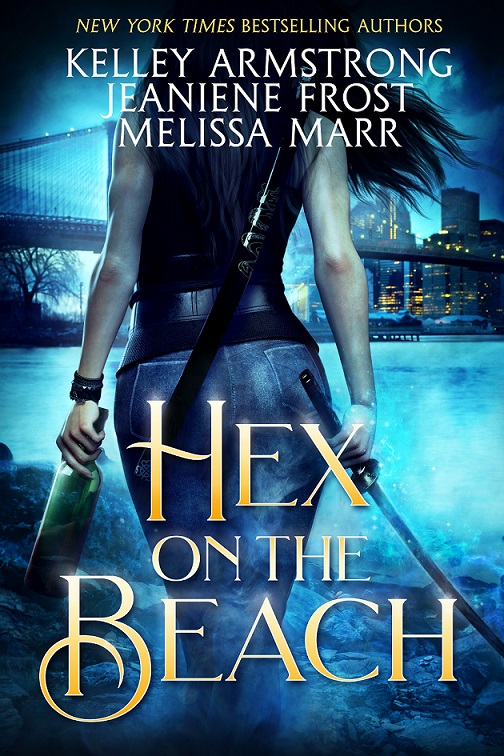 Girls Night Out has never been so much fun–but what are they going to do with all these bodies?
New York Times and USA Today Bestselling Authors Kelley Armstrong, Jeaniene Frost, and Melissa Marr deliver a sexy summer read with this novel-length anthology containing three all-new stories from their Cursed Luck, Night Huntress, and Faery Bargains worlds. Kennedy, Cat, and Gen are just trying to enjoy their respective getaways, but when immortals, vampires, and witches come out to play, things are bound to go awry. Let the supernatural hijinks begin!
"HEX ON THE BEACH is a hoot with a wide array of baddies, and a superb collection of paranormal female dynamos." Fresh Fiction
Get yours at #Ad Amazon, B&N, Apple Books, Kobo, or your favorite retailer.