The HEX ON THE BEACH anthology is finally here, and with it, my story A Grave Girls' Getaway, a brand-new Night Huntress novella that answers the question I've been asked countless times: what are Cat and Bones doing now? How are they handling being parents? What about Denise and the rest of the gang? Do they all still hang out? Are they still getting into trouble? *wink* You'll soon find out! If you want to read the first three chapters, go here.
You'll also get two amazing stories from Kelley Armstrong and Melissa Marr, so get your copy now: #Ad Amazon, B&N, Apple Books, Kobo, or your favorite retailer. A limited number of signed print copies are available exclusively through Murder By The Book while supplies last. Murder by the Book is also hosting a virtual release party on July 14th with me, Kelley Armstrong, and Melissa Marr, where we'll be chatting about all things paranormal, taking your questions, and giving away prizes. Click here for more information.
Note: Because we all have different audio publishers with different schedules, HEX ON THE BEACH is only available in print and ebook at this time. Audio editions of each novella will release separately at a later date.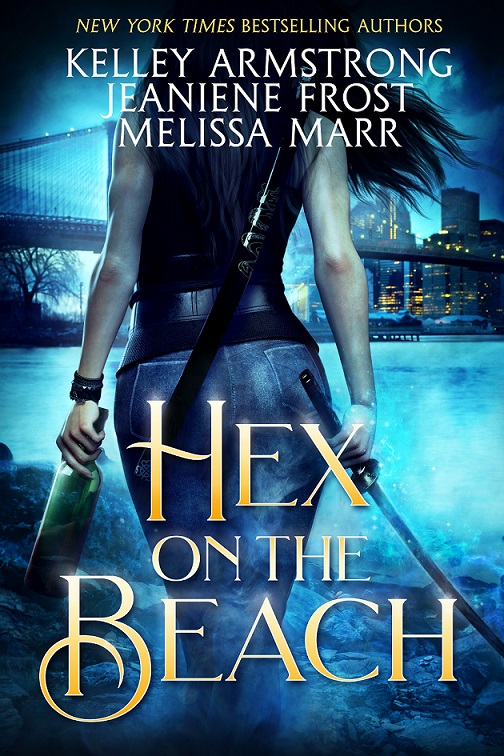 Girls Night Out has never been so much fun–but what are they going to do with all these bodies?
New York Times and USA Today Bestselling Authors Kelley Armstrong, Jeaniene Frost, and Melissa Marr deliver a sexy summer read with this novel-length anthology containing three all-new stories from their Cursed Luck, Night Huntress, and Faery Bargains worlds. Kennedy, Cat, and Gen are just trying to enjoy their respective getaways, but when immortals, vampires, and witches come out to play, things are bound to go awry. Let the supernatural hijinks begin!
"HEX ON THE BEACH is a hoot with a wide array of baddies, and a superb collection of paranormal female dynamos." Fresh Fiction
To celebrate HEX ON THE BEACH's release, I'm holding a contest giving away my two favorite things: books and money! Bff Ilona Andrews is hosting the giveaway on her blog, so to get all the details and enter for your chance to win, go HERE.
Happy reading, and good luck in the contest!