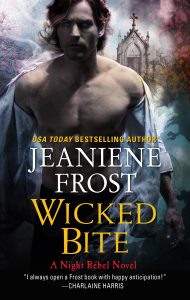 I was going to wait until after I'd completed my copy edits to post this, but I kept getting emails that said (paraphrased) "Can we pleeeeeez have the third chapter nowwwwwwww?"
*grins* Yes, you can.
I've also revised the prologue and first two chapters that were already posted, so I'm deleting the old versions and putting the new, updated version all in the same place. So, click HERE (full link: http://jeanienefrost.com/night-rebel-series/wicked-bite/) to read the prologue and first three chapters from WICKED BITE, the second Night Prince novel. I hope you enjoy seeing what trouble Ian has gotten Veritas into now :).