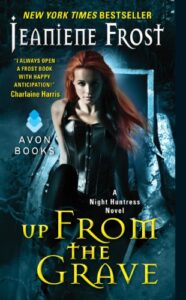 First up, a sale alert! UP FROM THE GRAVE, the final Cat & Bones book, is only $1.99 in ebook for a limited time. Publisher Weekly gave UP FROM THE GRAVE a starred review and called it "Splendid and satisfying." #1 New York Times bestselling author Charlaine Harris said "Cat and Bones are combustible together." I say, "If you haven't tried it yet, give it a shot while it's cheap!" 🙂
Get yours: Amazon, B&N, Apple Books, Kobo or your favorite retailer.
But I've already read it, some of you might be saying. I need something NEW to read, Jeaniene!
I've got you covered, too, and it features my favorite supernatural creature of all: Vampires!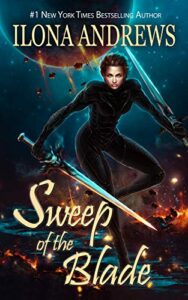 SWEEP OF THE BLADE, by the fabulous Ilona Andrews, came out yesterday. From the back cover:
Maud Demille is a daughter of Innkeepers.
Once a wife to a powerful vampire knight, Maud and her young daughter, Helen, were exiled with him for his treachery to the desolate, savage planet of Karhari. Karhari killed her husband, and Maud—completely abandoned by his family—has spent over a year avenging his debts. Rescued by her sister Dina, she's sworn off all things vampire.
Except… In helping Dina save the world, she met Arland, the Marshal of House Krahr, one of the most powerful vampire houses.
Maud Demille has never run from a fight, especially if she's fighting for a man she loves. House Krahr will soon discover that there's a lot more to Maud than they're expecting.
I could rave about this book and Ilona's writing in general, but many of you don't trust my objectivity because you know that Ilona is my BFF. So, allow me to direct you to the 60+ glowing reviews on Amazon for SWEEP OF THE BLADE, if you want more objective squeeing ;).
Get yours: Amazon, B&N, Apple Books, Kobo, or your favorite retailer.