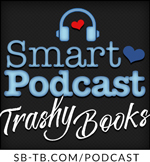 A little over a week ago, I had the pleasure of speaking with Sarah from the Smart Bitches, Trashy Books blog in a podcast interview. Now, I say *I* had the pleasure honestly, but poor Sarah had to listen to me ramble, lose my train of thought mid-question, and say "you know" every other sentence. Still, she managed to keep me on topic enough to answer questions about writing, my favorite characters, the paranormal genre, the publishing industry, my embarrassing fangirl moments, favorite TV shows, and more.
You can listen to the podcast HERE (full link: https://smartbitchestrashybooks.com/podcast/360-the-first-draft-has-bad-breath-and-bedhead-an-interview-jeaniene-frost/)
There's also a "Read the Transcript" link in the post, too, so you don't have to hear my somewhat-shrill voice if you don't want to ;). Thanks so much to Sarah for having me on her site, and for her patience in herding me back onto the topic at hand (my editor feels your pain, Sarah! Heh.) Also, big thanks – and my apologies – to Garlic Knitter, who transcribed the entire interview, and as you'll see – or hear – that was no easy task.