Got back Tuesday night from the Romantic Times convention in Columbus, OH. Yes, trains take a lot longer than flying, but they're worth it for my peace of mind. If I wrote a blog on all the awesome people I met and the fun I had, it would take pages and pages of description while still leaving a ton of details out. So instead, I'm going to share images. Hey, a picture is worth a thousand words, right? And from these, I think you'll be able to tell that I had a total blast.
From left: Jocelynn Drake, me, Vicki Pettersson, and Melissa Marr. Day one at RT. Note we all look rested – and we're smiling because food and drinks were forthcoming.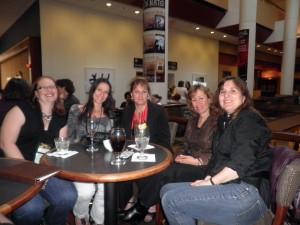 Harper authors meet up Thurs night. From left, Jocelynn Drake, Jamie Rush, Jamie's mom, Pamela Palmer, and Lavinia Kent.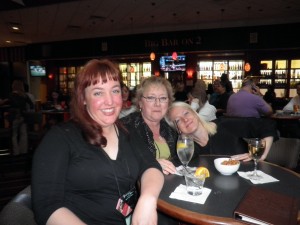 More from Harper authors meet up. From left, Rachael Herron, Victoria Alexander, and publicist Pam Spengler-Jaffee.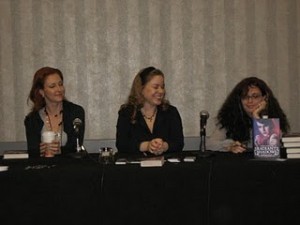 On the Paranormal Melting Pot panel. From left, Vicki Pettersson, me, and Melissa Marr (who was trying to disguise how enthralled she was at the moment, lol)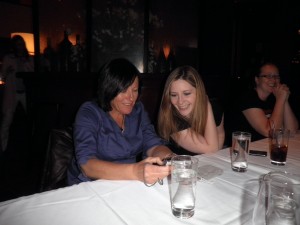 Later at dinner, Keri Arthur shows Rachel Vincent the different pics she'd been snapping while Jocelynn Drake looks on.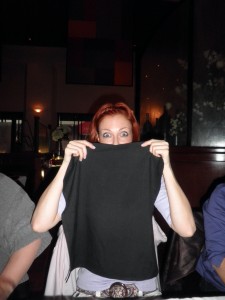 Vicki Pettersson, showing her best frightened look (possibly brought on by her glass being empty ;-).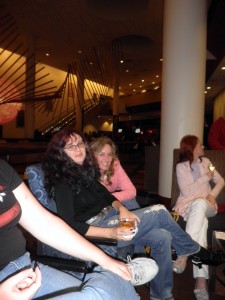 Back at the hotel lobby, Melissa Marr and Patrice Michelle agree to pose for a pic…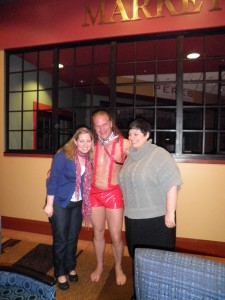 …and boy, was I glad I had my camera with me, because THIS shot of Allie Carter and Holly Black posing with an, um, interestingly-dressed man was too good to miss.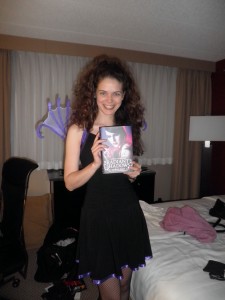 Jennifer Lynn Barnes, decked out to go to the Faery Ball. Don't hate her because she's sweet, beautiful, and a Yale graduate. Hate her because she wrote the best damn werewolf novel I've read in years (Raised by Wolves) and because, well, her hair is evil. Just ask Holly Black ;-).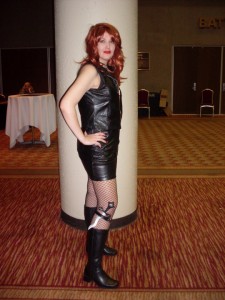 At the Vampire Ball, friend and Night Huntress fan Raven went as Cat for the festivities. LOVE the boots and the knife strapped to the leg!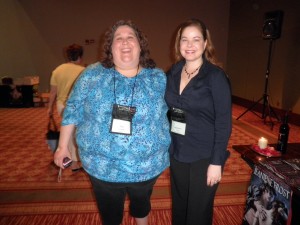 Me before the Avon mixer with friend Kim Castillo.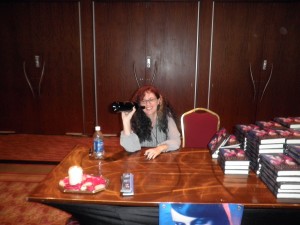 Melissa Marr, excited about her bottle of "vampire wine" at the Avon/Harper mixer.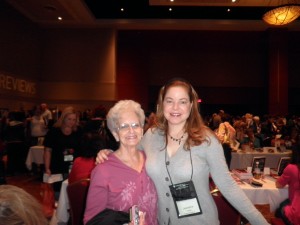 Me at the Saturday Book Fair with my mother's friend all the way back from childhood, Susie.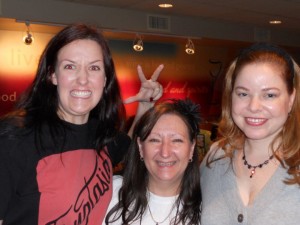 Raven (without her Cat costume, but still looking fierce!), Debi, and me at the Charlatan party Saturday.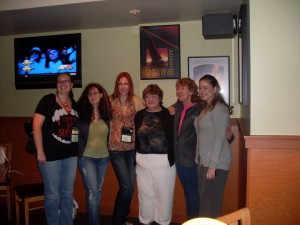 At the Charlatan party. From left, Jocelynn Drake, Melissa Marr, Vicki Pettersson, Charlaine Harris, Jeanne Stein, and me. Confession: I fangirl babbled so much when I met Charlaine that I'm surprised she didn't call security, but I expect she's used to that response by now ;-).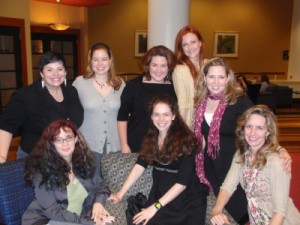 Last pic before everyone left the next day. We're smiling, but if you look closely, you can probably see dark circles under all our eyes. RT was great, but sleep? That's for when you get home, lol. From top left: Holly Black, me, Carrie Ryan, Vicki Pettersson, and Allie Carter. Bottom from left: Melissa Marr, Jenn Barnes, and Patrice Michelle.
Again, it was an awesome time. Thanks so much to all the readers who stopped by my panels, the signings, or who just chatted with me in various other locations. Thanks to RT for another great convention, to Patrice Michelle and Richelle Mead (who ran the Paranormal Romance and Urban Fantasy track) for fitting me in on panels, to Pam Jaffee and Avon for the Dusk til Dark mixer (where food, drinks, and over a thousand books were given away!). Thanks to Mona from Paperback Dolls for the fun interview (I'll post the link once I have it), and to old friends and new who made the down time fly by with laughter. I hope to see everyone again at a future convention!