I'm happy to report that in a few short days, the wait for the next Cat and Bones novel will be over. That's right, THIS SIDE OF THE GRAVE, Night Huntress book five, releases on February 22nd. As a reminder, if you want to get a peek at what's in store for Cat, Bones, and the gang, you can read the first 20% of the book here.  
I'll be on the road for the release, so please check my schedule to see if I'll be in your area.
Saturday, February 19th,  2011 Group signing with Nora Roberts, Grace Burrowes, Mary Burton, Stephanie Dray, Jeaniene Frost, Pamela Palmer, Mary Burkhart Reed, and Vaughn Ripley. Special early release date of THIS SIDE OF THE GRAVE and Pam Palmer's HUNGER UNTAMED for this event only. More details here.
Turn the Page Bookstore, 12:00pm to 2:00pm
18 North Main Street
Boonsboro, MD  21713
Tuesday, February 22nd, 2011 Signing with Jeaniene Frost and Pamela Palmer.
Books-A-Million  7:00 pm to 9:00 pm
757 Brookwood Village
Birmingham, AL  35209
.
Wednesday, February 23rd, 2011 Signing with Jeaniene Frost and Pamela Palmer.
Garden District Book Shop, 5:30pm to 7:00pm (more details here.)
2727 Prytania Street
New Orleans, LA  70130
If you're not in one of those cities, but you still want to attend a signing, there's a way you can. On February 19th at 10:30am EST, a signing with me, Nora Roberts, Grace Burrowes, Stephanie Dray, and Mary Burton will be telecast live online. Ask us questions during the event, order personalized copies of our books, or just listen in. Click the picture below for details, or you can go here. 
.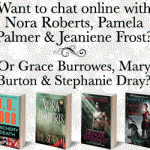 .
.
.
 .
.
Thanks so much, everyone. Hope you enjoy the book!