As you know, I have a book coming out at the end of this month. It's my 8th published novel, so I've been through pre-release jitters several times now. To anyone thinking those jitters must decrease with each subsequent book, at least for me, the answer is no. I'm just as excited and OMG-I'm-gonna-puke nervous with this book as I was with my debut novel. Author Ilona Andrews hilariously referred to this condition as PAD: Prerelease Authorial Disease. I'm also trying to finish ONCE BURNED, Vlad and Leila's book, and getting frustrated because thus far, I am unable to get in 2 – 3K new words each day. Instead, I'm hovering at around 1 – 2K new words each day, which means the book will take longer to finish. On the other hand, I had a few trusted friends read the first several chapters and their feedback was very positive, so at least slow progress doesn't mean the book sucks. It just means that some books take longer than others to write. I already know this, so you'd think I wouldn't let it frustrate me, and yet it does. Ilona has a term for that as well – DAD: Deadline Authorial Disease. So right now, my mental state is, shall we say, interesting ;-).
Someone recently asked me to describe the emotional rollercoaster I feel while writing a book and/or waiting for one to hit the shelves. As I've mentioned in the past, I have very vivid dreams that I frequently remember (my debut novel was inspired by a dream, in fact). In this case, I think sharing a recent dream that I had will best illustrate some of the symptoms of that oh-so-unbalanced combination of PAD and DAD.
Here goes:
The other night, I dreamt that aliens landed on earth. Nothing remarkable there – many movies and books have been based on this premise. But in this dream, the aliens landed, got a hold of my Night Huntress series, read it, and then decided to end their lives because of how awful it was. Their leader was angry and held me responsible since it was my crappy series that led to his people's mass longing for death. Therefore, he decreed that I would have to slaughter them since I drove them to their irreversible despondency with my bad writing… but there was a catch. No one knew what weaknesses the aliens had, so I'd have to figure out how to kill them myself. Out of spite, their leader wouldn't tell me. If I failed to discover their weakness and kill them within a set time frame, I'd lose my own life. I woke up in a cold sweat still wondering if decapitation would work on aliens, or if their heads would grow back.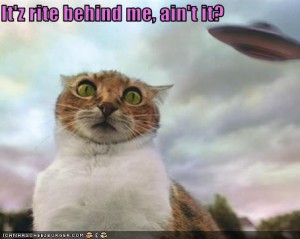 *grin* That, in a nutshell, is my brain on PAD and DAD. I might have used other dreams for plot ideas, but I think we'll all agree that I shouldn't use this dream as a basis for a future book ;-).