I had a great time last week with Melissa Marr and Kelley Armstrong as we toured around NC in what we dubbed the Mini Cooper mini-tour. Yes, picture it: Three authors. Three bags of luggage. One mini Cooper. I still have bruises, lol.
But as I said, we had a wonderful time. Our first official signing stop was at Malaprops in Asheville, NC. If you attended the signing, so glad you came out! If you missed it but would like to see it, Avon Books livestreamed the entire event. Go here to watch: http://ow.ly/6dDUy .
The next signing stop was Barnes and Noble in Charlotte. This is the second time I've been to Charlotte for a signing, and thankfully, this time there wasn't a terrible gale outside. We had a great group and it was a lot of fun. We even convinced author Carrie Ryan to join us on the panel! Our final signing stop was Chapel Hill, where I had a wonderful time meeting with several members of Frost Fans before the signing (thanks again for the cupcakes!). The signing itself was also a blast. Thanks so much to everyone who came out to the three events! You made it fun for us.
Aside from the three official signings, we also stopped by several stores along our route to sign stock. So if you're interested in ordering signed books from me, Kelley Armstrong, and Melissa Marr, here are the places where you can find them:
Fireside Books and Gifts, Forest City: 828-245-5188
Flyleaf Books, Chapel Hill: 919-942-7373
Barnes and Noble, Asheville: 828-296-7335    (Does NOT have One Grave at a Time signed)
Malaprops, Asheville: 828-254-6374
Barnes and Noble, Charlotte (The Aboretum): 704-341-9365
Park Road Books, Charlotte:  704-525-9239
Barnes and Noble, Burlington: 336-584-0869
Barnes and Noble, Durham (South Point): 919-806-1930
In addition to One Grave at a Time releasing last week, I had another book come out: Magic Graves, an e-only anthology I did with author Ilona Andrews. Since Ilona and I each have a recurring word in our titles ("Grave" for me, "Magic" for Ilona) it gave us a laugh to combine them with this title. Description: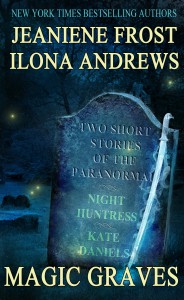 New York Times bestselling authors Jeaniene Frost and Ilona Andrews bring you two short stories of the paranormal.
Jeaniene Frost's story, One for the Money, features vampires Cat and Bones trying to protect a spoiled heiress with a price on her head and an undead hitman on her trail. Previously published in Death's Excellent Vacation. Also includes the first three chapters from Jeaniene's story in The Bite Before Christmas anthology, as well as a sneak peek at ONCE BURNED, the first novel in the new Night Prince series.
Ilona Andrews' story, A Questionable Client, is a prequel to her award-winning Kate Daniels series. In a world beset by magic waves, Kate Daniels works as a mercenary. She is tired, hungry, and there is foul-smelling blood on her boots. All she wants to do is to go home, but when Mercenary Guild offers her a job she can't refuse, she finds herself protecting a man against Russian wizards. Previously published in Dark and Stormy Knights. Also includes the first two chapters of FATE'S EDGE, book 3 in the Edge series, and first two chapters of Magic Grieves, a Kate Daniels novella.
You can order Magic Graves for only $2.99 at Amazon , B&N, and iTunes. More retailers coming soon. Hope you enjoy!
That's it for updates at the moment. Back to writing Once Burned!