Hi everyone! Still busy writing Once Burned, but I finally have my full schedule for New York ComicCon this month. If you're going, you can find me in these places:
Saturday, October 15th, 6pm – 7pm at the HarperCollins booth #944 on  the main show floor.
Signing "A BITE BEFORE CHRISTMAS" (special early release!) and "ONE GRAVE AT A TIME." Books will be available for purchase.
Sunday, October 16th, 1pm – 2pm at the HarperCollins booth #944 on the main show floor.
Signing "First Drop Of Crimson." Free giveaway of book.
Sunday, October 16th at 2:30pm-3:30pm, Room 1A23.
Panel: WE'RE NO ANGELS – The Leading Ladies of SF/F
Beware the women of Sci-Fi/Fantasy…and their kick-ass heroines. Danger just might be these girls' middle names. But no amount of bad guys can keep these ladies from doing what's right. Whether standing up for friends and family, or just plain kicking some ass, these girls don't shy away from a fight. Femmes Fatales on the panel include Patricia Briggs; Alison Goodman, Kim Harrison; Jeaniene Frost; Marjorie M. Liu, Sabrina Benulis and Kristen Painter.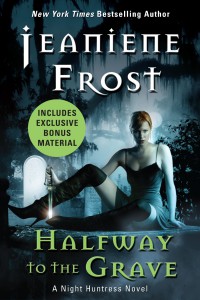 Also, a reminder that the special $1.99 ebook edition of Halfway to the Grave with Bonus Materials is available from now until October 25th. Go back to the beginning of the Night Huntress series with lots of additional bonus material. These include never-before-published scenes featuring a hunt with Cat and Bones, a scene with Bones mischievously tormenting Cat during her makeover, a new sex scene, and an alternate villain at the end. Plus, it also includes the first four chapters of One Foot in the Grave, an excerpt from the upcoming The Bite Before Christmas anthology, and an excerpt from the upcoming novel Once Burned, book one in the new Night Prince series with Vlad and Leila. Ordering links: Kindle, Nook, iTunes, BooksOnBoard, Diesel Ebooks, and Kobo, or check your favorite ebook retailer.
Don't have an e-reader but still want to get in on the fun? You can download software for free to read on your computer or other mobile device. Click here to see how.
That's it for now on my end. Hope everyone is having a wonderful October so far! (and am I the only one who can't BELIEVE it's October already??)