Hi everyone! To my U.S. peeps, hope you had a wonderful Thanksgiving! With the holidays underway, I've been doing some decorating in addition to new writing. What I love: Wreaths and garland that come pre-lit and cordless. Why I love it: Because I'm lazy and I hate stringing lights through that stuff, not to mention my new puppy still has a chewing issue. He's already eaten through the cord on a heated throw blanket and an ethernet cable (the throw blanket was unplugged, which was why he's still here to be mischievous). We've sprayed down everything electrical with Bitter Apple but I still worry about him electrocuting himself when we're out, so anything cordless is high on my Like list this season.
But enough of that. I promised savings in the subject line, so let me deliver. My publisher, Avon Books, is having a "25 Days of Christmas" ebook sale and The Bite Before Christmas anthology is included. So if you haven't already read that, from now through the end of the year, you can for only $.99. If you don't remember what's in that anthology, here's the description again: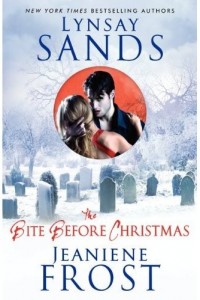 The Gift by Lynsay Sands
Teddy Brunswick knows about the immortals among us. He's worked with them, called them friend—but he never counted on being snowed in with one over Christmas. Katricia Argeneau is a tasty little bundle and she seems to feel the same way about him. Problem is, he's not sure she feels quite the same way. After all, the snowstorm has derailed her blood delivery, which leaves him the only available meal on the menu. . . .
Home for the Holidays by Jeaniene Frost
Cat and Bones are looking forward to a normal holiday—at least as "normal" as it gets for the combustible vampire couple and their otherworldly friends and family. But their yuletide plans are shattered when a stranger shows up and reveals long-buried family secrets that threaten to take a bite out of their holiday cheer . . . and lives.
To read the first three chapters from Home for the Holidays, go here.
But wait, there's more! 🙂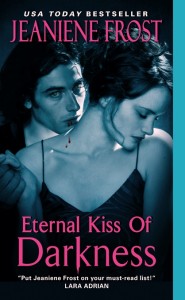 In addition to this deal, I just found out that Eternal Kiss of Darkness will be included as one of Amazon's Kindle Holiday "Big Deal" ebooks. So from December 2nd through December 22nd, you can buy the ebook for only $1.99. This deal is exclusive to Amazon Kindle because they're the retailer so they're the one running their holiday promotions. Remember, the discount doesn't kick in until December 2nd so wait until then to get the savings!
Description:
Chicago private investigator Kira Graceling should have just kept on walking.  But her sense of duty refused to let her ignore the moans of pain coming from inside a warehouse just before dawn.  Suddenly she finds herself in a world she's only imagined in her worst nightmares.
At the center is Mencheres, a breathtaking Master Vampire who thought he'd seen it all.  Then Kira appears—this fearless, beautiful…human who braved death to rescue him.  Though he burns for her, keeping Kira in his world means risking her life, yet sending her away is unthinkable.
But with danger closing in, Mencheres must choose between the woman he craves, or embracing the darkest magic to defeat an enemy bent on his eternal destruction. Read the first 20% here.
And finally, many of you know that I'm a fan of author Ilona Andrews' books. She has a new release out this week, STEEL'S EDGE.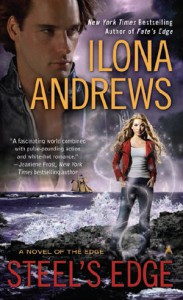 Description:
Charlotte de Ney is as noble as they come, a blueblood straight out of the Weird. But even though she possesses rare magical healing abilities, her life has brought her nothing but pain. After her marriage crumbles, she flees to the Edge to build a new home for herself. Until Richard Mar is brought to her for treatment, and Charlotte's life is turned upside down once again.
Richard is a swordsman without peer, future head of his large and rambunctious Edger clan—and he's on a clandestine quest to wipe out slavers trafficking humans in the Weird. So when his presence leads his very dangerous enemies to Charlotte, she vows to help Richard destroy them. The slavers' operation, however, goes deeper than Richard knows, and even working together, Charlotte and Richard may not survive…
Read an excerpt . Order from: Amazon | Powell's | Indiebound | Borders | B & N | iTunes
I read an early copy and I highly recommend it. As Ilona is my BFF, however, I know bias is possible so here is a write-up on Steel's Edge from USA TODAY:  http://usat.ly/XXXpZ4