Fantasy author Jim Hines' blog has been a place I frequently visit because he has many informative, thoughtful posts on a variety of topics. Sometimes, to illustrate his point, Jim will also go the extra mile and dress up (or dress down, as you can see from the photos below that I copied – with permission – from his posts about how differently men and women are portrayed on UF/PNR covers.) To see more cover adaptations and to read his thoughts on the subject, go here and here. Clicking on all photos will enlarge them.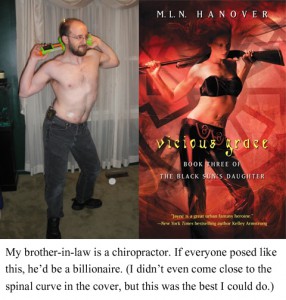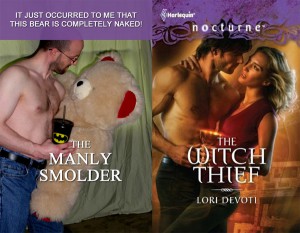 Jim got so many hits on his cover posts that when he wanted to help out a children's charity, he knew what would get people's attention: more cover poses! Below is his redo of At Grave's End, and for the record, with it Jim has proved that he's more flexible than I am. When I first saw that cover, I wondered if it was a real pose or computer-generated, so I got down and tried to duplicate it. I fell over, and I wasn't even wearing heels like Jim was ;-).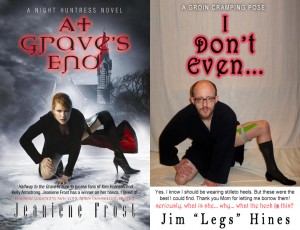 If you think that's classic, you should see the other cover Jim did, as well as his pose-off with author John Scalzi where each of them vie for the best imitation of Vicki Pettersson's The Taste of Night cover. But before you click here to giggle at them like I did (and for the record, Jim's freshly-shaved leg made him the winner in that round for me!) please take a moment to consider donating to the Aicardi Syndrome Foundation. I hadn't heard of Aicardi Syndrome before reading this post on Jim's blog. Below I'm going to copy an excerpt:
"Aicardi Syndrome affects 1 in 105,000 girls born in the U.S. and causes brain malformation, visual problems, seizures, developmental delays, and other medical complications. Most research puts the life expectancy for people with Aicardi between 8 and 16 years… Aicardi Syndrome is incurable, and the Aicardi Syndrome Foundation is pretty much the only source in the United States for funding into research on this condition. The foundation also funds a family conference every two years, paying for hotel rooms, flying in researchers, and even covering many of the meals. It unites families fighting this disease, connecting them to a network of support they might otherwise never find."
Jim's efforts have resulted in more than $5,400 raised for the Aicardi Foundation, and with each new milestone, he's offering more outrageous poses of him and other authors who've generously offered to contort themselves in painful ways for a good cause. If you are interested in donating, the site is here. Email Jim at ASF@jimchines.com to let him know how much you donated so he can keep track of the tally. The more money raised, the more covers he will duplicate. If you were able to give more than $25, Jim asks that you please include a copy of your receipt from the foundation. I donated and I've put in a request for Jim to consider mimicking this cover: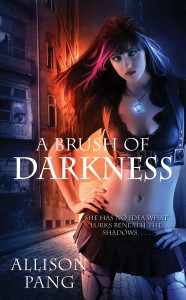 Is it wrong that I want to see another man wearing a push-up bra, torn fishnet stockings, and a short skirt? My husband would probably say yes, but again, it's all for a good cause :).