Since my last post, I've been compiling new songs into a playlist for Cat and Bones #7, title Up From the Grave, releasing winter 2013. Thanks so much to everyone who made suggestions! It's easier for me to write when I have music drowning out other distracting noises, plus I've trained myself to have a Pavlovian response to book playlists: If every time I write, I hear the same set of songs, then hearing those songs gets me into a writing mode faster.
But enough about that. The subject line promised you a giveaway, so let's get to it! I have 10 mass market paperbacks of The Bite Before Christmas anthology up for grabs. In addition to my story featuring Cat and Bones (Home for the Holidays, excerpt available here), you also get a story set in Lynsay Sands' Argeneau vampire world called The Gift.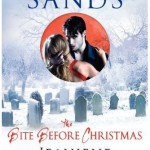 But wait, there's more :).
At the end of the paperback edition of The Bite Before Christmas, you get a sneak peek at a chapter from Twice Tempted, Vlad and Leila's next book, out March 26th. This is a pre-revisions chapter so there are slight changes in the final version (mainly more feelings from Leila about what happens) but what does happen stays the same *cue Evil Author I-know-something-you-don't-know chortle*.
Interested? Here are the rules to enter:
1. Send an email to jeanieneprizes AT gmail DOT com (obviously use the @ and "." in your actual email instead of spelling it out like I did to avoid spammers).
2. Make sure to include your name and the email address you want to be contacted at if you win, if it's not the email you're sending your entry from.
That's it. Contest is open to readers worldwide and it starts now and ends on 11:59pm January 16th. Winners will be announced on my blog the next day and contacted via email. Good luck!