Lots to include in this post, so let's get right to it :). I'm so pleased to release the official book trailer for The Beautiful Ashes, Broken Destiny book one. Once again, I turned to Book Candy Studios to produce the trailer and I love what they came up with.

If for some reason the trailer box doesn't appear above, click here to watch it on my YouTube page. If you want to read excerpts or learn more about the book, I have all of that on this page. You can also preorder your copy from  Amazon, BAM, Powells, B&N, iBooks, Indiebound, Audible.com or your favorite retailer.
Up next are the downloadable wallpapers. For these, I turned to the fabulous Syd Gill, who also created my other downloadable wallpapers as well as my website and Facebook header images. Click the links below to get the best size to fit your computer/tablet: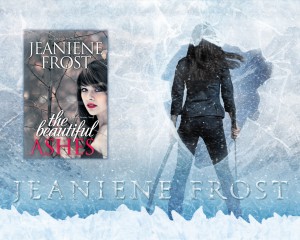 640 x 480
800 x 600
1024 x 768
1280 x 1024
800 x 500 (widescreen)
1024 x 640 (widescreen)
1152 x 720 (widescreen)
1440 x 900 (widescreen)
As a reminder, I'm traveling to several cities to celebrate The Beautiful Ashes release, so if you haven't checked out my Appearance schedule, please do! I might be coming to your city in the very near future.
Finally, I just received my author copies for The Beautiful Ashes, so I'm thrilled to be able to hold a contest giving away the final version of the novel. So, let's get right to that, too!
20 winners will receive a finished paperback copy of  The Beautiful Ashes, Broken Destiny book one.
All winners will be chosen by Randomizer. To enter, please follow the rules below:
1. Send an email to  jeanieneprizes AT gmail DOT com.  (obviously replace the "AT" with an "@" and the "DOT" with a "." in your email.)
2. Make sure to include your name and the email address you want to be contacted at if you win, if it's not the email you're sending your entry from.
3. You can only enter ONCE. Duplicate entries will be deleted.
4. Contest starts now and ends August 14th at 11:59pm Est. Winners will be announced August 15th on my website blog.
 5. International entries are welcome.
Hope you enjoyed the book trailer and the wallpapers. To everyone entering the contest, good luck!