The Beautiful Ashes, book one in the Broken Destiny series, releases today. I've been talking about this book for months, so while I want to let you know that it's now available in print, ebook and audio, I also think it's time to let other people talk about it instead of me, heh. Let's face it: I loved the story enough to write it, so my opinion is, as you'd expect, terribly biased. That's why I'm going to point you toward several excerpts plus some reviews, and let you take it from there :).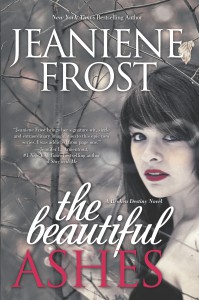 In a world of shadows, anything is possible. Except escaping your fate. 
Ever since she was a child, Ivy has been gripped by visions of strange realms just beyond her own. But when her sister goes missing, Ivy discovers the truth is far worse—her hallucinations are real, and her sister is trapped in a parallel realm. The one person who believes her is the dangerously attractive guy who's bound by an ancient legacy to betray her.
Adrian might have turned his back on those who raised him, but that doesn't mean he can change his fate…no matter how strong a pull he feels toward Ivy. Together they search for the powerful relic that can save her sister, but Adrian knows what Ivy doesn't: that every step brings Ivy closer to the truth about her own destiny, and a war that could doom the world. Sooner or later, it will be Ivy on one side, Adrian on the other, and nothing but ashes in between…
Order from:  Amazon, BAM, Powells, B&N, iBooks, Indiebound, Downpour.com , Audible.com or your favorite retailer.
Read excerpts from The Beautiful Ashes here ,  here , here plus a new except and interview at Maryse's Book Blog here.
Book trailer:
Early Reviews: 
"Jeaniene Frost brings her signature wit, sizzle and extraordinary imagination to this epic new series. I was addicted from page one."
– #1 New York Times bestselling author Jennifer L. Armentrout.
"Jeaniene Frost is blessed with a creative soul."
– #1 New York Times bestselling author Sherrilyn Kenyon.
"The first book in the Broken Destiny series is a fast-moving tale that refuses to let up until the end…Books don't get more fun or action-packed than this!"
– Romantic Times, 4 stars.
"…captivating romance and adventure all wrapped into one thrilling ride that will bind you until it drops you at the very last page."
– The Book Whisperer. Full review here.
"The Beautiful Ashes was a non-stop, action packed, mind twisting storyline. Frost masterfully builds this world within worlds with so many twists and turns I'm still reeling. "
– Beth, Tome Trender.
"The Beautiful Ashes is a great start to a new urban fantasy series by Jeaniene Frost. I thoroughly enjoyed it."
– Paranormal Kiss.
"Demons, angels, gargoyles, monster hellhounds, and ancient biblical legacies are all found here. Take a chance and find out who wins this battle of good and evil."
– Manhattan With A Twist.
"I was hooked from the very first page; the wait for the next book is going to be painful."
– Sharon, Obsession with Books. Full review here.
"Putting this book down once I began was near impossible…You don't need to be a fan of the new adult genre trend to enjoy The Beautiful Ashes. Come for the romantic chemistry, stay for the adventure."
– Chelsea, Vampire Book Club. Full review here.
"The action starts literally from the first page and almost never lets up…I'm in for the next in the series."
– The Book Nympho. Full review here.
"…the world, characters, and writing were excellent, as always….THE BEAUTIFUL ASHES was sometimes gory, rarely sweet, and 100% Jeaniene Frost!"
– Carmel, Rabid Reads. Full review here.
" There's plenty of action and interesting adventures….I never wanted to stop reading this book and was crabby when I had to go do some real life things."
– Anne, Yummy Men And Kick-Ass Chicks. Full review here.
"The Beautiful Ashes is a story that highlights all the things Ms. Frost does oh-so well, the easy-to-devour fluidity of the writing style combining with a determined underdog of a heroine to ensure we do everything in our power to keep reality from infringing and robbing us of our reading time."
– Jenny, Supernatural Snark. Full review here.
"THE BEAUTIFUL ASHES will introduce us to a world of myth and mayhem. An intriguing start to what should be a promising series."
– Annie, Under The Covers book blog. Full review here.
Don't forget to see me at Malaprops this Saturday, if you're in the Asheville, NC area. For the rest of my tour schedule, including stops in TX, TN and VA, go here.