Hi, everyone! I know, I've been bad about blogging recently, but that's because I am thisclose to finishing Bound By Flames, Night Prince book three. In lieu of anything interesting to say (all work and no play DOES make Jeaniene a dull girl ;)) I have freebies for you.
First up, the fabulous Syd Gill has once again made downloadable wallpapers from the cover and stepack, so click the size that best fits your needs and download away!
Bound By Flames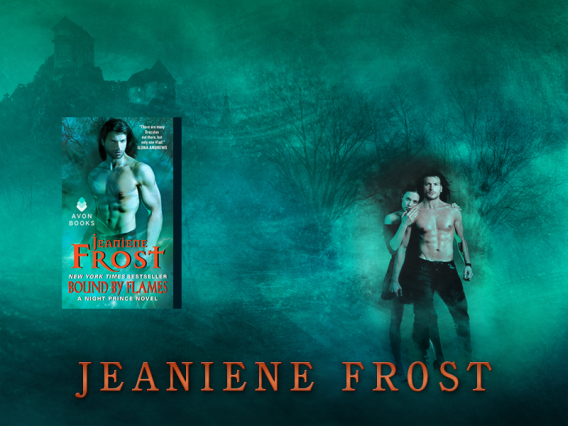 640 x 480
800 x 600
1024 x 768
1280 x 1024
800 x 500 (widescreen)
1024 x 640 (widescreen)
1152 x 720 (widescreen)
1440 x 900 (widescreen)
Second, I have another except for you from the book. If you didn't see the first one I posted a while ago, it's here, and I would recommend reading it before this one for scene continuity since that was the entirety of Chapter One and this is from Chapter Three. Disclaimer: This excerpt is pre-revisions and pre-edits, so there might be some grammar errors, spelling errors and the content might be altered between now and publication. In other words, I'm posting this just for entertainment, so I hope you enjoy :). This is copyrighted material, of course, but if you want to re-post on your blog with book attribution, feel free.
***
"What the hell were you thinking?" Vlad demanded as, moments later, he slammed our bedroom door behind us, too.
"Which time?" I asked, refusing to back down now that we were alone. Playing dead worked when confronted with an angry grizzly, but Vlad was more like a dragon. You either fought back or you got your ass burned off while you ran away.
His gaze turned to emerald as it raked over me. "When you allowed yourself to be alone with another vampire."
He'd already toasted the Joker; wouldn't he be over the ass-grab by now? "I needed him to stick around until I could sneak my glove off and touch him. I didn't think he'd come on so strong with hundreds of people only a curtain's width away –"
Vlad seized me by the shoulders, his hands so hot I half expected my bodysuit to melt beneath them.
"You think I'm angry because he groped you?" Harsh laughter grated out of him. "That might be why I killed him, but it's not why I'm furious now."
"Then why?" I shot back. "Because I didn't leave when you ordered me to?"
"Because he could have killed you!" If our bedroom hadn't recently been soundproofed, everyone in the ballroom would've heard his bellow. "I agreed to let you try your tricks tonight because you promised never to be alone with anyone, yet you went behind a curtain with a vampire I told you was ruthless enough to be in league with Szilagyi. You're lucky he only tried to fuck you instead of stab you through the heart with silver!"
"I was alone with him for ten seconds," I snapped.
"I could kill you a dozen times over in ten seconds," Vlad retorted, his voice lower now. "All the different ways you could die ran through my mind as I watched you disappear. The only reason I didn't explode him immediately was because I didn't know if you were too close."
Some of my anger drained away as I stared into his eyes. They were green with fury, yes, but something else lurked in them. An emotion I rarely saw in Vlad. Fear.
He'd honestly thought my life had been in danger. Oh, Vlad knew I would've fought back if the Joker had made a lethal move, but he also knew the horrible pain of losing someone he loved. Vlad's guilt over his former wife's suicide was the sin I saw when I first touched him. Plus, he did have a point. I shouldn't have let the Joker draw me into a secluded alcove. I'd been in disguise, but a disguise wasn't foolproof and Vlad's enemies had tried to kill me before. One of them had even succeeded. Only Vlad changing me into a vampire after I'd bled out in his arms meant I was still here arguing with him.
"I should have been more careful," I acknowledged, letting out a sigh. "Wanting to catch Szilagyi sooner rather than later made me careless. Aside from the hell he's put you and me through, my family has to stay in hiding until this is over. We might have all the time in the world to take Szilagyi down, but they're human so they don't."
"I don't care," he said with brutal honesty. "If they wish, I can replace every minute your family loses while in hiding, but I cannot replace you."
How like Vlad to say something sweet and infuriating at the same time. Yes, if my family drank enough of his blood, he could add decades to their lifespan. My sister Gretchen might want that, if our hunt for Szilagyi took a long time, but my father wouldn't. He hadn't even spoken to me since he found out I was no longer human.
"Hopefully we won't need that, but either way, next time, I'll be more careful. Promise." I brushed his face, my touch feather light compared to the grip he still had on my shoulders. "I told you before, you won't lose me–"
"You're right, I won't," he muttered, his mouth cutting off the rest of what I was going to say.
I didn't have time to be surprised by his abrupt change in mood. Vlad backed me against the nearest wall, ripping away his emotional shields along with the front of my costume. Rage, lust and love tore through my subconscious, mixing with my feelings until I couldn't tell which were mine and which were his. Not that it mattered. I loved him with the same crazed intensity, craved him more than the blood I now needed to survive – and no one maddened me more than Vlad. We had that in common, too.
His whiplash transition from fury to passion might've frightened me months ago, but now, I could feel all the things he wouldn't allow himself to say. He needed to touch me, taste me, to ease the hated fear he'd felt when he thought I was in danger. His actions might seem more brutal than sensual, but if I pushed him away, he'd stop. Yet with every emotion that seethed through mine, he was urging me not to. Instead, he dared me to respond with the same unbridled intensity, and to free my inhibitions the way he'd freed his previously untouchable heart.
I took that dare, gripping his hair and using those long dark strands to pull him closer.
***
As a reminder, Bound By Flames comes out January 27th in paperback, ebook and audio book. Back cover description and ordering links below:
Play with fire, pay the price.
Leila's years on the carnie circuit were certainly an education. What she didn't learn: how to be a vampire, or how to be married to the most famous vampire of them all. Adjusting to both has Leila teetering on a knife edge between passion and peril, and now the real danger is about to begin…
Vlad must battle with a centuries-old enemy whose reach stretches across continents and whose strength equals his own. It isn't like Vlad to feel fear, but he does…for Leila, because his enemy knows she is Vlad's greatest weakness. As friend and foe alike align against him—and his overprotectiveness drives Leila away—Vlad's love for his new bride could be the very thing that dooms them both…
Pre-order: Amazon, Barnes&Noble,BooksAMillion, Powells, Indiebound, iBooks, or your favorite retailer.