Hi again! Yes, it's been three weeks since I last posted, but it was a busy three weeks. I did four sets of revisions on Bound By Flames (first from my critique partner, second from my editor, third from my copy editor, and fourth making corrections/proofreading the galley pages), plus, sold a house and moved. This week, I'm taking a little breather, although I still have to clean out my inbox and that is a somewhat daunting task. Because it's been a while since I blogged, I've got a bunch of updates, so please bear with me. Vlad and Leila fans, be sure to read until the bottom. As the subject line says, I have some big news for you :).
While I've been busy with revisions and moving, seems some of you have been busy, too! A couple weeks ago, I was so flattered to learn that Up From The Grave had been nominated for a Goodreads Choice award in the Fantasy category. As time passed, it went from being nominated to going into the semifinals until now, it sits in the final round. This nominees and advancements were voted for by readers and that's how the winners will be determined, so here's a huge thank-you from me to you for placing Up From The Grave in the final round! I am in such fabulous company that I don't envy anyone their voting choices, but if you're interested,you can click here to vote.
Up From The Grave was also nominated for a Romantic Times Reviewers' Choice award in the Urban Fantasy Worldbuilding category. Once again, I am so flattered by the nod and to be counted among such stellar company. Only RT reviewers can vote on this award, but to see the nominees in this and other categories, you can go here. Thank you, RT reviewers!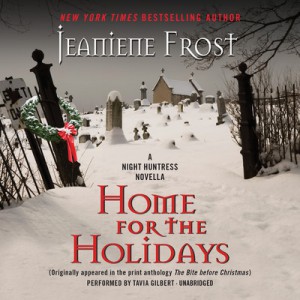 Audio book readers, good news! The audio edition of Home For The Holidays, my Cat and Bones novella that originally appeared in The Bite Before Christmas anthology, is now available in audio. For a refresher, here's the description:
'Tis the season to join Cat and Bones for some holiday cheer in this Night Huntress novella by USA Today and New York Times best-selling author Jeaniene Frost.
They were looking forward to a normal holiday – at least as "normal" as it gets for vampires Cat and Bones and their otherworldly friends and family. But their yuletide plans are shattered when a mysterious stranger shows up and reveals long-buried secrets that threaten to take a bite out of their holiday cheer – and lives.
For those of you who've already read this story, you'll remember that it's the one that contains a big revelation about Bones and Ian, among other surprises. If you want to add this to your holiday shopping, here are some ordering links: Downpour, Audible, iTunes, Ambling Books or your favorite audio retailer.
Finally, as promised, I have some big news about the Night Prince series. I've been asked by many readers, "Why are you ending Vlad and Leila's story at only three books?" and my answer has always been "Because that's how many books it will take to tell their story." Story is what determines series length to me, not necessarily how many books I'm under contract for, because story is the most important thing to me as a writer. Many of you will remember that I ended the Night Huntress series at book seven instead of eight because I had reached the end of Cat and Bones's story earlier than anticipated, as I detailed in this post. Well, *wry grin* once again, it seems that I can't count when it comes to guessing in advance as to how many books it will take to tell a complete story.
About halfway through writing Bound By Flames, I realized that I still had a lot of story left to tell, so I called my editor and said, "How would you feel about Vlad and Leila's series ending at book four instead of book three, if I can't fit everything into this?" Her response: "If you have more story to tell, tell it." Well, as it turned out, I did have more, so now that the third book is finished, I can officially tell all of you that Bound By Flames will NOT be the end of the Night Prince series. There will be a fourth novel to wrap up Vlad and Leila's story. I hope that most of you will be happy to have one more book than originally anticipated, and once I have a title and release date for Night Prince book four, I'll let you know.
.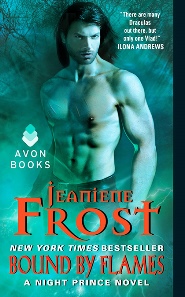 If you aren't already aware, Bound By Flames comes out January 27th and here is an abbreviated description:
Vlad must battle with a centuries-old enemy whose reach stretches across continents and whose strength equals his own. It isn't like Vlad to feel fear, but he does…for Leila, because his enemy knows she is Vlad's greatest weakness. As friend and foe alike align against him, Vlad's love for his new bride could be the very thing that dooms them both…
For a full description plus excerpt links and downloadable wallpapers, go here. Pre-order: Amazon, Barnes&Noble,iBooks, BooksAMillion, Powells, Indiebound
That's it for now. Hope everyone is having a good November so far!