The subject line speaks for itself, so let's get right to it :). Here is the cover for Outtakes From The Grave. Click to enlarge. Haven't heard me mention this before so you don't know what this is? Go here for all the details.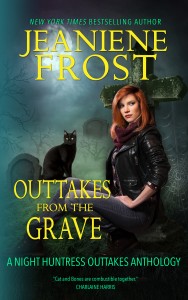 December 22nd, 2015
Indulge your love of paranormal super couple Cat and Bones with this ultimate "director's cut" collection of deleted scenes and alternate versions from the first four novels in the Night Huntress series, complete with author commentary on each selection. Includes: the original beginnings of Halfway To The Grave, One Foot In The Grave, At Grave's End and Destined For An Early Grave;  a chapter written in Bones's point of view; alternate versions of sections of Halfway To The Grave, One Foot In The Grave, and Destined For An Early Grave; the "white wedding" scene between Cat and Bones that never made it into the final books …. and much more!
Special holiday price of $2.99 in ebook from December 22nd though January 5th. After that, the price will be $3.99 in ebook.Learn more here. Preorder Outtakes from the Grave (Night Huntress Book 8)
To get a sneak peek at what you can expect from Outtakes, go here.
Some of you might wonder why we didn't use the same model that's on my other Night Huntress covers, so let me explain. For starters, the model who did the first five covers quit doing book covers, which is why there's a different model on books six and seven. I didn't use that replacement model because I have no idea who she is, and although both me and my agent spent hours looking at red-haired models, we didn't find her. So, we picked this model instead. She doesn't look the same as the other models, of course, but I thought she exuded a little bit of Cat's toughness and attitude, which I loved. We also made the cover "Cat only" instead of showing Cat and Bones to be consistent with the other covers. And of course, I loved having Cat's cat, Helsing, on the cover to keep her company. Who says that only dogs can be a person's best friend? 😉
Now, onto the audio news! I'm very happy to report that there WILL be an audio edition of Outtakes From The Grave. Blackstone Audio, the company that produced the first several audio books in the series, will also be producing the audio edition for Outtakes. We have requested the fabulous Tavia Gilbert to narrate since she's done all my other audio books, so fingers crossed that Tavia will have time in her schedule to do so. Now, we are trying to get the audio book out as soon as possible, but it will not release on the same date as the ebook. I am sorry about that, but it's a much longer process to have the story acted out in narration and produced than it was to have my files edited. As soon as I know the release date for the audio edition, I will let everyone know.
And I have more good audio news: Blackstone Audio is also producing an audio edition of Pack, my werewolf romance novelette that I released in August. No release date on yet, either, so more news once I have it.