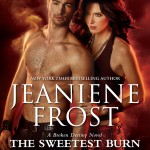 Hi folks. I know that today is April Fools and lots of people are doing gag posts, but this is not one of those. Instead, I wanted to update you on what's going on with pre-orders for The Sweetest Burn, book two in the Broken Destiny series. Some of you might have received notices from your retailer telling you that your pre-order was cancelled. Here's what happened: some retailers had the book set up all wrong in their systems. In an attempt to fix that, an update went out from my publisher to have the book's info re-keyed so everything would be correct. However, due to a glitch, The Sweetest Burn was instead pulled from all the major retailers and the pre-orders were canceled.
Now, thankfully, the pre-order links are back up on Amazon. However, they're not on B&N, Books A Million and Powells because those sites don't list pre-order links for books with release dates more than a year out, and as most of you know, the release date was pushed back to June 2017. All readers who received a cancellation from Amazon for The Sweetest Burn should get another email asking if you would like to reinstate your pre-order. As far as I know, your pre-order will NOT be reinstated automatically. You will have to authorize another pre-order, which protects readers in case they had previously pre-ordered the first time in error, or, if readers have since changed their mind about what format they want the book in (ebook, print, or audio.)
However, if your pre-order was cancelled and you don't get an email from your retailer asking if you want to re-order your pre-order (try saying that fast three times!) you can just re-order it on your own if the link is live.
I know that ordering/re-ordering is a pain in the butt, and I am sorry.  Please know that I so appreciate your patience in this midst of this. But, why express my gratitude to you with only words when I can also do it with free books? So, I'm holding a contest where I will pick 25 winners and each winner can choose one book of their choice from my backlist. Winners who live in the US can choose to receive their book in either ebook or paperback format (international winners can only receive their book in paperback due to ebook restrictions between countries.) Not sure which book you want? Check out my Reading Order to see what's available.
To enter, please follow the rules below:
1. Send an email to  jeanieneprizes AT gmail DOT com.  (obviously replace the "AT" with an "@" and the "DOT" with a "." in your email.)
2. Make sure to include your name, the email address you want to be contacted at if you win (if it's not the email you're sending your entry from) and which book from my backlist that you want.
3. You can only enter ONCE. Duplicate entries will be deleted.
4. Contest starts NOW and ends Wednesday, April 6th at 11:59pm EST. Winners will be announced the following day on my website blog.
Good luck, everyone, and thanks again!