Dear Ilona Andrews,
You've been my close friend for about a dozen years now. I admire and respect you both as a person and a writer. But NONE OF THAT SHALL SAVE YOU, muhahhahahahahahaaa!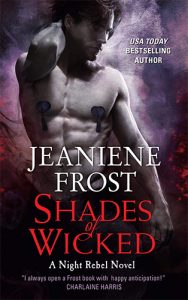 Ahem. Okay, readers, before we get to my vengeance, a recap: On August 8th, Ilona posted this blog. As you see from the photo, she photoshopped tassles onto Ian's nipples. In her blog, she explains that she did it because I refused her tech skills for my website (side note: she was grieving! I was being a good friend!) At the end of the post, Ilona sent me this dare:
"Your move, Jeaniene. Your move."
Ohhhhhhhhhh!!!!
I have so wanted to retaliate, but because I am a good friend, I did not act right away. You see, Ilona had an upcoming release which ended her much-loved Kate Daniels series, and on top of that stress, emotional roller-coaster and normal activity deluge release month always brings, she also had a week-long tour during her release week. Now, tours are exhausting. You usually go hither and yon with very little sleep or food, all while trying to be your best smiling self to readers, book sellers, convention staff, your publisher and everyone else whose path you cross. So, I did not seek my revenge right away. I waited.
HOWEVER…Ilona arrived back home from tour on Monday. She's now had nearly three days to rest, plus she received excellent news about Magic Triumphs last night. It debuted at #2 on the New York Times and #5 on the USA Today bestseller list (side note 2: hooray!) So, she and Gordon are probably relaxing and enjoying the rosy glow of a job well done right now.
In other words, it's my time to strike ;).
Those of you who follow Ilona and I on Twitter might know that we've also had a longstanding debate on whether possums are cute. I'm Team Cute. Ilona is Team Not Cute (she's wrong, of course.) So, now you'll understand the rest of my motivation for the below. Ilona, you bedazzled Ian's nipples and then dared me to retaliate. Behold, Kate has now partially shifted into a glorious, yes-they-ARE-cute possum!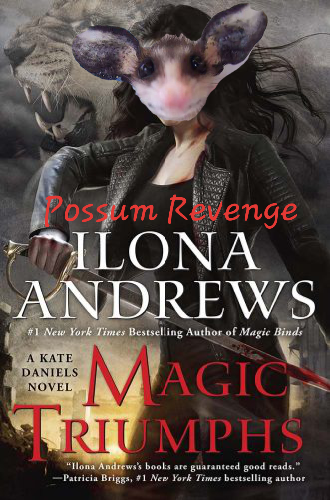 YOUR move now, dear friend. Your move.
Order your copy of Magic Triumphs at: Amazon
| Amazon United Kingdom | B & N | Google Play | Kobo | iBooks | IndieBound | Powells