Hi everyone! Just a quick note to say that I am barreling toward the finish of Wicked Bite, Night Rebel book two, so I am neglecting both my blog and my inbox. If I owe you an email (and I owe LOTS of you emails) I'm sorry and I'll get to it as soon as I can.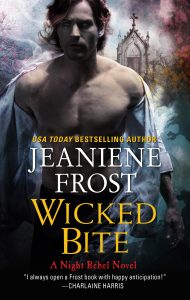 However, in the interim, I have a new newsletter link to share with all of you. Yes, I know – why should you care? Because as a thank-you to my newsletter subscribers, I will be sharing Chapter 3 of Wicked Bite EXCLUSIVELY with them in the next two weeks. I'll share it with everyone widely in a couple months, but if you want it early, sign up for my newsletter by clicking HERE and filling out your info (full link: https://tinyurl.com/y45ywzba).
So, once again, everyone who signs up for my new newsletter now – or who is already signed up for my newsletter, and you might want to double-check because last year's GDPR compliance requirement purged a LOT of you – will get Chapter 3 of Wicked Bite in two weeks verses in a couple months. If you've read the first two chapters, which are here, you'll know that what happens next is going to be good :).
Note: I don't send a bazillion newsletters, so no worries about me clogging up your inbox. I probably only average about six newsletters a year, and they're mostly related to appearances, new releases, special sales or – like this – exclusive early access to chapters, contests and other fun stuff, so, sign up or risk missing out!
That's it from me for now. Gotta get back to this book. If you knew the part I'd left off on *naughty snickers* you'd wonder why I paused to write this blog post at all ;).