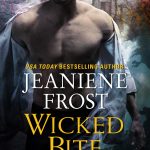 This is going to be another short post because (1) I'm recovering from bronchitis, which laid me out for ten days, and (2) I am almost at the end of Wicked Bite, so that's where my main focus is now that I'm not bedridden with fever and hacking coughs.
I'm getting a lot of questions about the third chapter of Wicked Bite and the newsletter, so I'm doing a Q&A to help clear some things up.
Did the newsletter with the new chapter from Wicked Bite already go out?
Yes, it went out on May 10th.
I signed up on your newsletter AFTER May 10th, but I still want to get the chapter. How do I do that?
Comment below and, after I verify that you're on the newsletter, I'll send it out to you.
I signed up BEFORE May 10th, but I didn't get the newsletter. What happened?
A lot of people previously signed up for the newsletter a while ago, but were purged because of last year's GDPR compliance requirements. Please double-check that you are on the current newsletter by entering your information HERE (full link: https://tinyurl.com/y45ywzba).
I double-checked and I AM on the new newsletter, plus I signed up before May 10th, but I still didn't get the chapter. Why not?
The newsletter might have been caught by your Spam filter. Some readers told me that's where they found theirs. So, please comment below and, after I verify that you're on the newsletter, I'll re-send the chapter to you.
I'm not on your newsletter, but if I sign up now, will I still get the chapter early?
Yes. At the end of the month, I'll do an additional send to newsletter subscribers who signed up after May 10th. You can sign up by clicking HERE and filling out your info (full link: https://tinyurl.com/y45ywzba). I probably only average about six newsletters a year, and they're mostly related to appearances, new releases, special sales or – like this – exclusive early access to chapters, so no worries about me clogging up your inbox every week.
I want the new chapter, but I don't want to sign up for your newsletter. How do I get it?
I'm releasing it publicly at the end of summer, so all you have to do it wait :).
I haven't read the first two chapters and prologue yet, where are they?
They are HERE (full link: https://jeanienefrost.com/night-rebel-series/wicked-bite/)