Hi everyone! Last week, I received some Arcs (advance reading copies) of WICKED BITE, book two in the Night Rebel series. You know what that means – contest time! Not familiar with WICKED BITE? Here you go: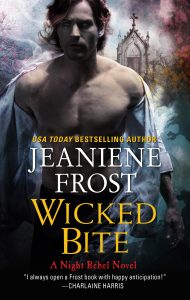 Some promises are meant to be broken…
Veritas spent most of her life as a vampire Law Guardian. Now, she's about to break every rule by secretly hunting down the dark souls that were freed in order to save Ian. But the risks are high. If she gets caught, she could lose her job. And catching the sinister creatures might cost Veritas her own life.
Some vows are forever…
Ian's memories might be fragmented, but this master vampire isn't about to be left behind by the woman who entranced him, bound herself to him, and then disappeared. So what if demons, other Law Guardians, and dangerous, otherworldly forces stand against them? Come hell or high water, Ian intends to remind Veritas of the burning passion between them, because she is the only person seared on his mind—and his soul… Read the first three chapters HERE. Preorder: Amazon, Apple Books, B&N, BooksAMillion, Kobo, IndieBound
And now, to the contest! To enter for your chance to win one of three Arcs of WICKED BITE, please follow the rules below, and yes, international entries are welcome.
1. Send an email to jeanieneprizes AT gmail DOT com (obviously replace the "AT" with an "@" and the "DOT" with a "." in your email.)
2. Make sure to include your name and the email address you want to be contacted at if you win (if it's not the email you're sending your entry from.)
3. You can only enter ONCE. Duplicate entries will be deleted.
4. Contest starts NOW and ends Tuesday, October 22nd.
IMPORTANT NOTE: This is the first of several contests I'll be running to give away Arcs of WICKED BITE. The current contest is open to everyone who follows my blog, but a future contest will be exclusive to my newsletter subscribers only, so if you haven't signed up for my newsletter yet, you can do so here: Jeaniene's newsletter.
Good luck!