Last week, I promised a new giveaway for WICKED BITE, and I'm here to deliver! But you don't just get a chance to win an advance reading copy (Arc) of the second Night Rebel novel. You get a chance to win an advance reading copy AND a box of Godiva chocolates, and even if you don't win, you still get a new snippet, too!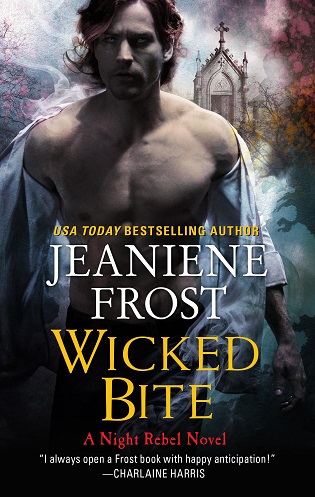 Why the extras? you ask. Because I'm in a good mood!
Why? you ask (you probably didn't, but I want an excuse to tell you :))
Because BOOKLIST had this to say about WICKED BITE: "The second book in Frost's enthralling Night Rebel series, following Shades of Wicked (2018), is hot! hot! hot!…Intensely wild adventures as well as some of the best sex in contemporary romance ensue as they travel the globe, spar with other powerful paranormals, and track down the demon who should not have been able to recover from losing all the souls he had ingested over the centuries. Wit, humor, true affection, passionate relationships, a cuddly pet, and kick-ass fighting both physical and magical are the earmarks of this original and entrancing series about a world of vampires, demons, and gods."
Thank you, Booklist! And now, to the contest. Two winners will receive an Arc of WICKED BITE plus a box of Godiva chocolates. To enter for your chance to win, please follow the rules below. Note: Because of the additional prize of chocolate, this contest is for US residents only.  
1. Send an email to jeanieneprizes AT gmail DOT com (obviously replace the "AT" with an "@" and the "DOT" with a "." in your email.)
2. Make sure to include your name and the email address you want to be contacted at if you win (if it's not the email you're sending your entry from.)
3. You can only enter ONCE. Duplicate entries will be deleted.
4. Contest starts NOW and ends Tuesday, December 17th.
Good luck!
Now, to the new WICKED BITE snippet. Note: I've already posted the prologue, first three chapters, and another scene snippet, so if you haven't read those yet, they're HERE. Also, USUAL SPOILER WARNING: If you haven't read Shades of Wicked, you WILL get spoiled on some plot points from the below.  For context, in this scene, Ian needs something from Ashael the demon. (Remember Ashael from INTO THE FIRE? He's the character I described as even more ruggedly handsome than Idris Elba, which of course isn't possible in reality, but this is fiction, so you're welcome for the mental image :)). Anyway, Ashael has a task for Ian before he'll grant Ian's request, and Veritas is reluctantly left behind while Ian goes to do that task. This snippet will also answer the question I've been repeatedly asked, which is "Whatever happened to [censored]'s character?" *grins* See if you can figure it out. Disclaimers and spoiler-warnings aside, happy reading!
Ashael sat on a sofa in the darkest corner of the condo, which was decorated all in marble, sleek metals, and wrought iron. The only nod to any formerly living organisms was the silk cushions and silk covering on the silvery-gray couches.
"Why would a group of vampires choose an underwater structure to hide an ancient relic in?" I asked when I could no longer stand counting the minutes since Ian had left.
"For one, it's demon proof," Ashael replied, a smile curling his lips. "We can't teleport through significant amounts of salt water. Did you know that?"
I didn't, but I'd be sure to remember that. "What's the other reason?"
A shrug. "It was forgotten by history for thousands of years. Divers stumbled upon it a few decades ago, but none of the humans can agree if it was a man-made structure or a natural formation, so it's not being excavated. Its remote location, strong currents, and sharks also keep most humans away."
No wonder a group of had vampires repurposed it as a vault. It now also made sense why Ashael was so eager to send Ian after the relic. Any other vampire would have to beat their way through the thick stone, alerting the guards. But Ian could teleport in, get the relic, and teleport out. A simple smash-and-grab, if Ashael was telling the truth.
I still didn't trust that he was. Call me jaded, but the last time I'd trusted a demon, I'd ended up ritually murdered for two decades.
"Care for something to drink?" Ashael asked, pouring himself a glass of triple-malt Balvenie scotch.
"No thanks."
A silver knife appeared in Ashael's hand. I tensed, but all he did was press its tip to his wrist. "Something stronger?"
I gave him a level look. "No."
Ashael leaned back, toying with the handle of his knife. "Your concern for Ian is wasted, you know."
From his tone, that wasn't an endorsement of Ian's fighting skills. I let out a short laugh. "Won't you be surprised when he shows up with that relic, then? If you don't already have a spot picked out for it, might I suggest shoving it up your ass."
Instead of being offended, Ashael laughed. Then his chuckles died off and he gave me a sardonic look. "I've seen many women and men smitten by Ian. They all believed they were special to him, too. He's talented that way. He doesn't even have to lie. They simply infer what they want to hear from everything he doesn't say."
"Speaking from experience?" Ashael was gorgeous, dangerous, and powerful; a combination Ian would have found enticing.
Ashael let out an indulgent laugh. "No. My relationship with Ian was strictly business. He's shrewd about not mixing the two. You should have kept it strictly business with him, too."
Why did men always feel entitled to comment on a woman's sex life? "You must have me confused me with someone who gives a shit about your opinion."
The red lights in Ashael's dark brown eyes began to glow. "You might not, but Ian makes you reckless, and you have far too many secrets to be reckless if you want to survive."
I hadn't been lectured this much since my sire Tenoch was alive. "Once again, how is that any of your concern?"
He only smiled. "Have you figured out the real curse of longevity? Boredom. The monotony just wears at you, doesn't it? If you're lucky, every several thousand years or so, you'll find something that rouses your interest. If that something happens to be forbidden, well, all the more exciting, then."
Is that what he thought Ian was to me? An escape from boredom? If I cared, I'd correct his misassumption, but I didn't, so all I did was laugh. "As the kids say, whatever."
"I wasn't talking about you." Ashael's tone sharpened. "I was talking about your father."
Now he had my attention. "What about my father?"
His smile said he knew he'd scored a hit. "Did you never wonder how the embodiment of the river between life and death found himself acting as a lowly doorman by assuming the role of Warden of the Gateway to the Netherworld? Or did you truly believe your mother was the first to rouse his interest enough for him to stray where it was forbidden?"
The embodiment of the river between life and death . . .
Was that what my father was? Ancient Sumerians had worshipped him as Enki, the god of water. Egyptians had revered him as Aken, custodian of the boat that carried the souls of the dead to the underworld. Greeks had called him Charon, the boatman of the river Styx, and every time I'd seen my father, he'd helmed a boat on a river made of pure darkness.
But if that's what my father was, what did that make me? The supernatural equivalent of a Netherworld side creek?
I gave Ashael a measuring look. "How do you know so much about my father?"
Ashael flicked that knife across his wrist, filling the empty glass I'd ignored with his blood. When it was full, he filled another crystal glass with his blood. And another.
"I told you: I'm not drinking that."
"I thought you'd want to check in on Ian," he replied. "He isn't wearing a body camera, so this is the next best thing."
With that, Ashael's power blasted out and his blood rose into the air. It stretched into impossible quantities that took up half the room before forming into a red-coated image of Ian walking down a narrow hallway. From his movements, Ian wasn't underwater, so this part of the monolith's interior must be dry. With his every stride, the blood changed, showing a real-time image of Ian and his immediate surroundings. It was breathtaking—and frightening.
Ashael could spy on anyone this way. Or was he limited in what he could see? Either way, it explained how Ashael knew the location of the relic and how many vampires were guarding it.
Two blood-coated figures suddenly formed and jumped Ian. "Eh, more of you?" Ian said in annoyance before he conjured up a tactile spell. Flung backward, his attackers twitched when they hit the ground as if severely electrocuted.
Ian stepped over them, pausing to kick one that reached out weakly for his ankle before he continued on.
"He didn't kill them." Ashael sounded surprised.
"Why would he?" I asked without looking away.
"They attacked him," Ashael pointed out, as if I hadn't noticed.
Did I really need to explain? Of course I did, mercy was an unfamiliar concept to demons. "They're defending their vault. Ian wouldn't take that personally. He also wouldn't kill people who've done him no wrong if he can defeat them by other means."
Even now, Ian's fingers were moving, forming another tactile spell. When he rounded a corner, another duo of guards lunged at him. This time, he knocked them unconscious before they even touched him, whistling as he hopped over them, too.
He went through another five guards using magic before he entered a sacramental chamber. I'd been murdered on enough altars to know one when I saw it. This was on a raised stone dais, with a mummified-looking body on top of it. A black horn as long as a broadsword rested on top of the remains. Its tip was sharp while its hilt was as wide as my forearm. African bull kudu, I guessed, judging by the horn's double-curves in the middle. In ancient cultures, they'd often been used as weapons.
A quartet of new guards sprang out from the back of the altar. They circled Ian with the precision of hardened soldiers. Ian raised his hand, fingers weaving another spell. They must have realized what he was doing, because they abandoned their formation to lunge at him.
Ian flung the spell, then stopped, knocking only three of the four guards down. He stared at the fourth with his hand still raised.
"Timothy?" he asked in disbelief.
All I saw was a muscled male form coated entirely Ashael's blood, but when he spoke, he also sounded stunned. And British.
"Ian? That you, mate?"
"A better question," Ian said, sounding angry now, "is why you've let me and the rest of your mates believe you're dead!"
***