I'm late posting about this since I'm on the last three weeks of a deadline, but Chapters has just published their interactive, role-playing game version of Once Burned (side note: can you imagine how Vlad would torch me for having an interactive game made with him as Dracula? If he were real, I'd be toast! *snickers*)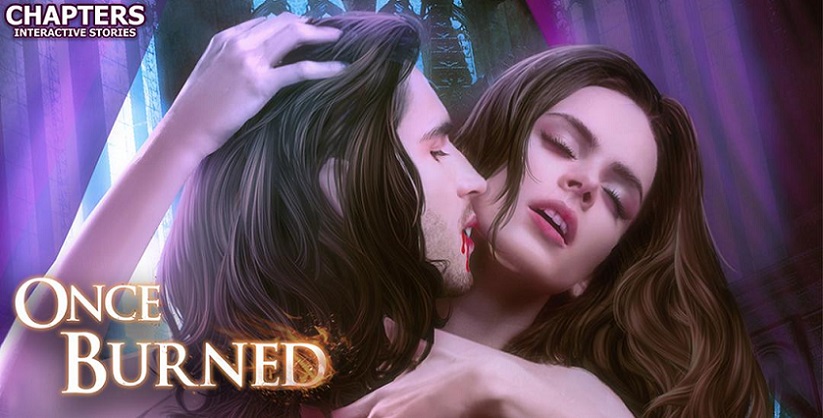 This game is meant to be played on cell phones, and again, it's interactive, so while you role-play as Leila, the heroine of Once Burned, you can choose some of what Leila does based on the options you're provided. It sticks close to the plot of the book, though, so bear that in mind. Also, you can customize what both Leila and Vlad look like (OMG, the different hair styles for Vlad! He'd kill me for letting them cut and style his hair those ways, ha ha ha!) plus other fun options. You can download the Chapters game App for your mobile phone at one of these links:
Google Play (Android): https://play.google.com/store/apps/details?id=com.mars.avgchapters
Apple (iPhone, iPad) https://apps.apple.com/us/app/chapters-interactive-stories/id1277029359
Then, use the Search bar and enter "Once Burned," tap on it, and get to the fun! Chapters has more than just Once Burned available as an interactive game, of course. They feature lots of different stories in romance, fantasy, sci-fi, YA, drama, and more. So, if you need something to help take your mind off things, perhaps try role playing as a character in an interactive game? Warning: there's sound in this game, so turn it down if you don't want to get caught playing while on a work-related Zoom call ;). Also, some of the options have fees attached to them in the form of "gems," so bear that in mind, too.
Chapters has also graciously offered to sponsor a contest to celebrate their release of the Once Burned interactive game. Per their email: "We're providing 100 Chapters gems each to 5 different winners." Gems give you more options in the story, so yay and thank you to Chapters!
Without further ado, let the contest begin. Let's make the rules for this one simple. To enter, just reply in the comment section below. Contest starts now and ends on Tuesday, May 19th. Void where prohibited and/or unavailable, etc.
The 5 winners will be announced here on my blog on Wednesday, May 20th, so be sure to check back. Winners will then be contacted by Chapters with information on how to claim their prizes. Good luck, everyone!