Popping up again because I'm getting a lot of questions about when the next Night Prince book will come out on Chapters, Interactive Stories. Good news! TWICE TEMPTED, the Chapters interactive game story, will release next week on June 15th.
If you didn't see my prior posts, and you're wondering "What game version?" here's a recap: Chapters, an interactive game company, acquired rights for the entire Night Prince series, and they just released their game version of ONCE BURNED last month. This game is meant to be played on cell phones, and you role-play as the heroine, Leila, where you choose some of what Leila does based on the options you're provided (the game sticks close to the plot of the books.) In addition to that, you can also customize what Leila and Vlad look like (messing with Vlad's hair cracked me up, I'll admit, because if he were real, he'd torch me for that.) You can download the Chapters game App for your mobile phone at one of these links:
Google Play (Android): https://play.google.com/store/apps/details?id=com.mars.avgchapters
Apple (iPhone, iPad) https://apps.apple.com/us/app/chapters-interactive-stories/id1277029359
Use the Search bar and enter "Once Burned," tap on it, and get to the fun! Again, Chapters will release TWICE TEMPTED next week on the 15th. Once I find out when they're releasing BOUND BY FLAMES, I'll let you know.
To celebrate TWICE TEMPTED's release on Chapters, they are giving me another 500 "game gems" to give away. Thank you, Chapters! Look for details on that contest next week, and head's up: Part of the contest will be for newsletter subscribers only, so if you want to double your chances to win, make sure you're signed up for my newsletter HERE or click the link at the bottom of this post.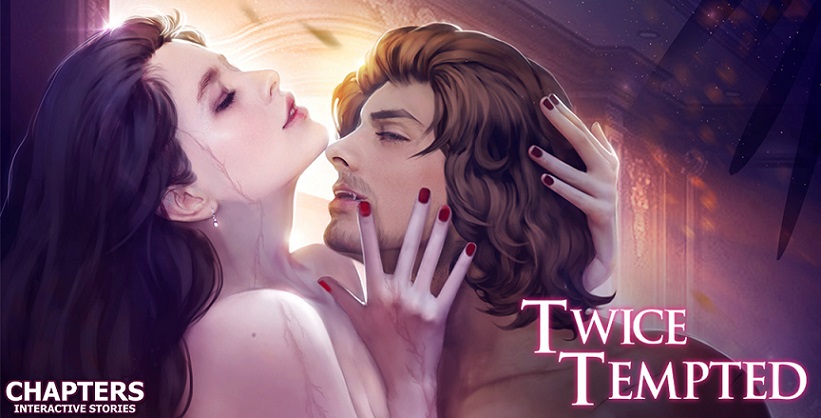 Chapters, Interactive Stories has more than just ONCE BURNED and the upcoming TWICE TEMPED as interactive story games, of course. They feature lots of different stories in romance, fantasy, sci-fi, YA, drama, and more. So, if you need something to take your mind off things, try role playing as a character in an interactive game based on books Be advised, though: there's sound in this game, so turn your phone on mute if you don't want to get caught playing while you're supposed to be working ;). 
That's it from me for now. Back to finishing WICKED ALL NIGHT, and see you next week when I post the new contest!