Happy New Year! I don't know about you, but I'm glad 2020 is over, and I'm hoping for much brighter things from 2021. If you missed my prior post, I'm ringing in the New Year with some news: There will be a NEW Night Huntress story coming in 2021! It will be in the HEX ON THE BEACH anthology with me, Melissa Marr and Kelley Armstrong.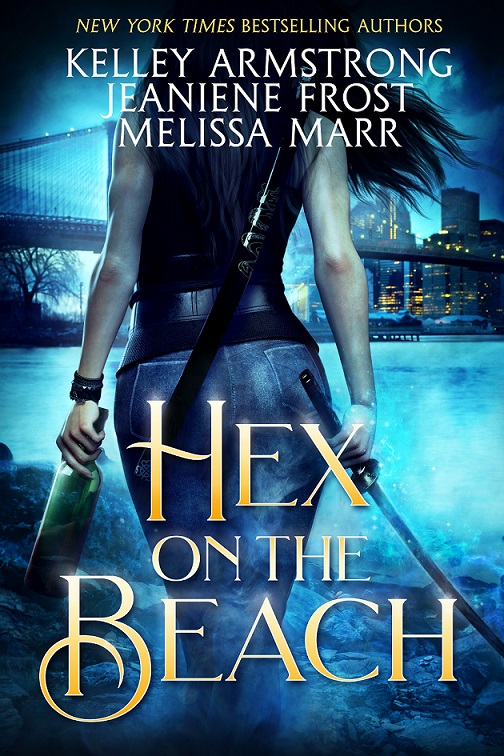 Girls Night Out has never been so much fun–but what are they going to do with all these bodies?
New York Times and USA Today Bestselling Authors Kelley Armstrong, Jeaniene Frost, and Melissa Marr deliver a sexy summer read with HEX ON THE BEACH, a novel-length anthology containing three all-new stories from their Cursed Luck, Night Huntress, and Faery Bargains worlds. Kennedy, Cat, and Gen are just trying to enjoy their respective getaways, but when immortals, vampires, and witches come out to play, things are bound to go awry. Let the supernatural hijinks begin!
Releases July 1, 2021
Pre-order: #Ad Amazon, B&N, Apple Books (more retailers coming soon) OR, if you want one of the special, limited number of hardcovers with bookplates signed by ALL THREE AUTHORS, go HERE ONLY: http://www.melissamarrbooks.com/hex-on-the-beach.html

If you didn't see my prior post, here's a brief Q&A about HEX ON THE BEACH:
Will my local book store carry this?
On their online website, probably. But probably not in their brick-and-mortar stores because most physical stores don't carry self-published books. So, the best way to get this is to order it online via your favorite book store.
I only see ebook right now. Will it be available in paperback?
Yes! Those links will go live later, so check back with your favorite retailer.
Will it be available in audio book, too?
The whole anthology? Not at this time. As individual stories, probably. We're all in the process of securing audio editions of our individual stories, so more on that later.
Is this a whole book's worth of a new Night Huntress story?
No. The anthology itself will be book-sized, but each of the three stories within it will only be novella-sized.
Is this a new Cat and Bones story? Or is it only Cat and Denise?
It's a Night Huntress story, so of course you will see Cat, Bones, and Katie in their new lives after the events of WICKED ALL NIGHT (inserts shameless plug here to read WICKED ALL NIGHT when it comes out February 23rd if you want to know the big change for Cat and Bones since the last Night Huntress book!) However, the main focus will be Cat and Denise having a girls' night out that goes hilariously awry. Don't worry, you'll still get lots of Cat and Bones time, including sexy times, but I've been wanting to showcase the girls having fun kicking ass on their own for a while now, and I can with this story.
Wait, didn't you say you were DONE writing about Cat and Bones?
I did! I made a whole, lengthy blog post about it, in fact, and I meant every word…at the time. Then, years passed and I started getting new story ideas about them, but (1) I was contracted to write other characters' books instead, and (2) I had made SUCH a big deal about being done with Cat and Bones that I felt like I couldn't go back on that "I'm done" post no matter how much I still wanted to write about them.
Then, as many of you know, I started writing an unfinished, serial retelling of Cat and Bones's early days in THE OTHER HALF OF THE GRAVE back in late 2019/early 2020. At the time, I did it just for fun, but I later realized I did it because I missed them so much that I had to write about them, even if it was just in "his side of the story" form. When I posted it online, I was pleasantly surprised to discover that many readers had missed them and wanted more stories about them, too.
It started to feel foolish to not do what I wanted to do, and what many readers wanted me to do, simply because of a post I wrote several years ago. Fast forward to me finishing WICKED ALL NIGHT and wondering "What next?" to Melissa Marr calling me and saying "I have this anthology idea. Kelley's already on board. Want to be in it?"
Yes. Yes, I did.
Again, this isn't an entire new book featuring Cat and Bones. I don't have plans to do another of those yet. But, I have had this particular story in my head for a few years now, and I'm so happy to get to tell it in this format, with friends. I hope that it makes some of you happy, too.
What's next after this anthology?
I'm not sure. I have ideas featuring more familiar vampire characters, but I haven't made up my mind yet.
What did "*" mean when you said "since that's the last Ian and Veritas book for the foreseeable future*" up at the top of this post?
It means that I think WICKED ALL NIGHT is the last Ian and Veritas book as I type this. But, since I apparently can miss characters enough to write about them again even after I tell everyone that I'm done, I've decided against declaring that the Night Rebel series is permanently finished after WICKED ALL NIGHT. Instead, I'll just say that it's done for now. Apparently, I can THINK that I'm done with a series, but that doesn't mean that a series is done with me :).
So, for every reader who chooses to take this new journey with Cat, Bones, and Denise in this story, yay! For every reader who chooses not to because the Night Huntress storyline was supposed to end at UP FROM THE GRAVE, I totally understand, and thank you for taking the journey with Cat and Bones up to whatever book you stopped at :).

That's all the news from me for now. Once again, happy new year, and I hope that 2021 brings everyone a lot of joy. We could all use some extra joy after 2020, right?