First, happy New Year! I'm raising a glass to 2022 with hopes that it's much better than the past two years. Come on, 2022, you can do this! The bar is LOW for showing up your competition.
Speaking of ringing in the New Year, let's get to the contest winners from last week. As usual, all winners were chosen at random, and for privacy reasons, only the winners' first name, last initial, and state/country will be publicly displayed. Winners will also be contacted via email, so check your email address if you see your name and initial below.
First up is the "book of your choice up to $25 in value" winner, who is…
Anne H from Canada.
Next is the winner of the $50 Amazon egift card, who is…
Nikki Marie H from the USA
Finally, the winner of the $100 Amazon egift card is…
Pam M from the USA
Congrats Anne, Nikki, and Pam! Please check your emails for details on how to claim your prizes. Everyone else, there will be another chance for you to win because at the bottom of this post is ANOTHER contest. Once again, there will be THREE prizes for THREE winners, and again, part of this contest is open to international readers*.
Before we get to that, we have another new chapter from the upcoming novel, THE OTHER HALF OF THE GRAVE. If you're new to the blog, I originally published the beginning of THE OTHER HALF OF THE GRAVE as free, partial serial back in 2019, intending it as only a fun glimpse of some early chapters from Bones's point of view. I never intended to turn it into an entire book, but reader response, plus my own enjoyment, convinced me to finish it. So, now you can relive the beginning of Cat and Bones's bestselling love story through Bones's point of view, and trust me, he has a lot to say. Like most couples, he might even remember things a little differently than Cat did in HALFWAY TO THE GRAVE. Details below: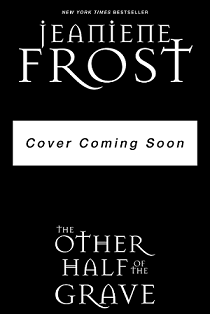 THE OTHER HALF OF THE GRAVE releases April 26th, 2022 in ebook, audio, and print (*due to supply chain issues, print editions might take longer to receive.) Get yours at #Ad Amazon, B&N, Apple Books, Kobo, or your favorite retailer.
Now, originally I had said I'd only be posting new chapters in the month of December, but I've had fun seeing your reactions, so I will post a few more chapters in January and February. I may even post more contests, so stick around for more free reading and giveaway, plus probably the occasional cute pet pics, too.
Finally, to Chapter 20 from THE OTHER HALF OF THE GRAVE. Usual disclaimer: None of these chapters have been through edits yet, so there may be spelling and/or grammar errors that will be fixed upon publication, in addition to other changes. Also, if you missed the previous nineteen chapters, they're HERE.
Copyright Jeaniene Frost. All rights reserved
Chapter Twenty
Cat moaned, and he breathed it in before moving past the satiny fullness of her lips to the richness of her mouth. His tongue caressed hers, and his blood boiled when she dug her nails into his back. Her thundering pulse drowned out the music, and her heat seared him through their clothes. He wanted more, and he ran his hands down her body until he reached her hips. She shuddered when he brought them flush against his, and then let out a sharp sound of need when he sucked on her tongue.
Two dancers collided into them, breaking their kiss and causing Cat to stumble at the rough contact. Bones caught her before she fell, glaring at the careless dancers.
"Watch where you're going!"
They muttered an apology. Bones turned back to Cat and–
Sweet bleedin' Christ, her eyes!
They were glowing bright green from desire. He'd never seen anything more beautiful…or more dangerous, considering where they were.
Bones tucked Cat's head into his chest in a mimic of a bear hug. Then, he half-ran, half-flew them off the dance floor.
Please, let no one have seen her eyes!
So far, no one appeared to. Or, if they did, the music had masked the fact that her now-glowing gaze came with the impossible combination of a heartbeat.
Bones picked the most deserted area of the club; a section by the emergency exit. Then, he put his back to the wall, leaving her facing him and no one else. Now, only he could see the bright glow in her eyes.
Cat didn't seem aware of the danger. She laced her fingers through his hair and pulled his mouth back down to hers.
For an instant, Bones resisted. He shouldn't kiss her again here. He'd narrowly missed outing her as a half breed only moments ago. It would be foolish to risk that again, no matter that her lips were so soft…
Sod it. What was life without a little danger?
He let out a rough groan and covered her mouth with his. She yanked him closer as if craving him as much as he craved her, which wasn't possible. God, she tasted so good, and he couldn't get enough of her little, throaty moans, or her strong grip on his shoulders. If he were human, she'd leave bruises, but he wasn't, so he loved how tightly she held him.
He drew her tongue into his mouth, sucking on it again. She gasped before doing the same to him, until his cock throbbed as if she were sucking on that, too. Her hands left his shoulders to run down his back, kneading muscles that strained with his need. He held her tighter, letting her feel how much he wanted her. She groaned, rubbing against him with wordless demand while her heart pounded so fiercely, it felt like soft blows against his chest.
He needed her naked right now. Those private alcoves were so close…
Bones tore his mouth away.
"Kitten, you need to make a decision," he said, voice strained with lust. "Either we stay here and behave or we leave now and I promise you, if we leave I won't behave."    
He kissed her after saying it. A mistake. It only made him burn more, until he might be the first vampire to die of lust-induced combustion. If he didn't love her to the point of madness, he'd already be propelling her into one of those alcoves, but she deserved better than a public quickie, especially their first time.
"Decide now," he said hoarsely, tearing his mouth away. "It's taking everything I have not to carry you off."
She stared at him, her hands clenched on the folds of his shirt. His were still at her hips, stroking them with light touches that belied his hunger. He hadn't slid them beneath her dress, but from her scent, she was wet, and it was all he could do to stop himself from dropping to his knees to taste her there.
Say yes, say yes!
"Bones." Passion made her voice a soft growl. "Yes…"
A familiar face suddenly caught his eye, followed by a telltale wave of power that announced a Master vampire's presence.
It couldn't be. Not here, not now!
But it was. Bones might not have seen him in years, but he knew him at a glance, and rage strafed his lust.
"Bloody frigging hell, what is he doing here?"
Cat tried to look around, but Bones caught her before she turned and showed anyone else her impossibly glowing eyes.
"Who?" she asked, now sounding confused. "Who's here?"
The nation's deadliest vampire, if Bones was right about him. And the sod was strolling only twenty meters from Cat while her gaze was lit up like twin streetlights.
Bones lowered his voice to a hard whisper.
"Hennessey."
Cat's eyes filled back up with gray. For once, Bones was glad for her pathological hatred of vampires. She'd recognized his name immediately, and it doused her desire faster than a cold shower.
"Sergio said he's supposed to be in Chicago," she said in an equally low tone. "Do you think he lied?"
Now that her gaze was as normal-looking as any human, Bones spun them so his back was to the crowd and she was against the wall. He didn't want Hennessey spotting him.
"Black hair, mustache, thin beard, olive-toned skin, tall, wearing a white shirt," Bones said. "See him?"
Cat leaned forward casually, as if she were just resting her head on his shoulder. "Got him."
"Keep your eye on him, and no, Sergio didn't lie." Of that, he was sure, even if he were still shaking off the effects of extreme lust. "Hennessey must've gotten word that Sergio's gone missing. He knew Sergio was in this area, so Hennessey's poking about for answers. He's no doubt rightly worried about what Sergio said to whomever made him disappear."
Cat straightened, a gleam of a different kind appearing in her eyes. "Whatever the reason, he's here. Let's go for him."
"No."
She blinked at the harshness in his tone. "Why not? He just got dropped into our lap!"
The thought of what Hennessey would do to her made his tone scalding. "You're not getting anywhere near that treacherous sod. You're going straight home as soon as he's away from the door. I'll handle him myself."
Anger drenched her scent.
"For someone who keeps telling me to trust him, you sure don't extend the same courtesy. I thought tonight was a regular job, so I'm all staked out and ready to go, and did you forget that I took on vampires before you? No one had to hold my hand through it. Now, I have training and backup, and you're still telling me to turn tail and run? Don't kiss me like a woman if you're going to treat me like a child."
How the hell did she turn this into something about them?
"This isn't me treating you like a child. Bugger, I clearly don't see you that way! I told you Hennessey's not just a bloke who snatches up a girl when his tummy grumbles. He's in another league, Kitten. He's a very bad sort."
"Then quit arguing and let's go get him," she said instantly. "That's my favorite type of monster to take down."
No. Not now, not ever.
The look in her eyes stopped him from saying it. She wanted this, and no amount of arguing on his part would dissuade her. Quite the opposite. Now that he'd told her how heinous Hennessey was, he didn't trust that she'd leave if he did send her away. More likely, she'd try to take on Hennessey herself. As she'd reminded him, she'd hunted vampires long before him. She would hunt them again whether he backed her up or not. He could no more stop her from that than he could stop himself from needing blood.
He let out a frustrated sigh. "I don't like this at all, but…we'll go for him, if you do exactly as I say."
She smiled, bright as the rising sun. "Of course."
He gave her sour a look. "I mean it, and if anything goes sideways, you hit that panic button."
"Sure," she said in a breezy tone.
God Almighty, he hoped he didn't regret this.
"Go to the bar nearest him. He'll seek you out; your stunning skin is like a homing beacon for vampires. When he does, tell him you're on a bad first date. He'll be delighted to discover the bloke you're dissatisfied with is me."
She laughed. "Oh, I'll be brutal, I promise."
"I have no doubt," he said dryly. "But he's more dangerous than anyone you've taken on before, so do not underestimate him."
Her smile faded, and ice snapped into her gaze.
"Got it."
This was the absolute last way he'd intended their evening to end, but…life seldom failed to surprise.
"Then I'll see you soon, Kitten."
***
I hope you enjoyed the new chapter! Now, to the final December contest. Once again, I'm giving away THREE prizes to THREE winners. Here's the first one:
ONE WINNER will receive any book of their choice (up to $25 in price.) This part of the contest is open to international readers*. If you're a US resident and you win, you can pick either a paperback or an ebook. If you're an international reader and you win, you can pick a paperback of your choice (up to $25 in price) via The Book Depository. *International readers, please first make sure that The Book Depository ships to your country. List of countries HERE.
Here's the second prize:
ONE WINNER will receive a $50 Amazon egift card. This part of the contest is open to US readers only.
And the third "grand" prize is:
ONE WINNER will receive a $100 Amazon egift card. This part of the contest is open to US readers only.
To enter for your chance to win, please follow the rules below.
1. Send an email to jeanieneprizes AT gmail DOT com (obviously replace the "AT" with an "@" and the "DOT" with a "." in your email.)
2. Make sure to include your name, the email address you want to be contacted at if you win (if it's not the email you're sending your entry from) AND YOUR COUNTRY so I know which prize you're eligible for.
3. You can only enter ONCE. Duplicate entries will be deleted.
4. Contest starts NOW and ends Thursday, January 6th at 11:59pm Eastern time. Winners will be announced on my blog the next day. Good luck, and see you in 2022 :).