Lots to get to in this post, so let's dive right in! First, a reminder that you can join me, author Ilona Andrews, and author Scarlett St. Clair in a Zoom panel tomorrow, Saturday December 18th, at 1 pm Central Time (2pm Eastern). We're going to cover topics like Vlad Dracula, the origins of vampire myth, the transformation of vampire from monster to hero, the heroines of vampire genre, and so on.
It shows registration closed, but typically, about 30% of people who register don't show up, so go HERE tomorrow and you'll probably get in.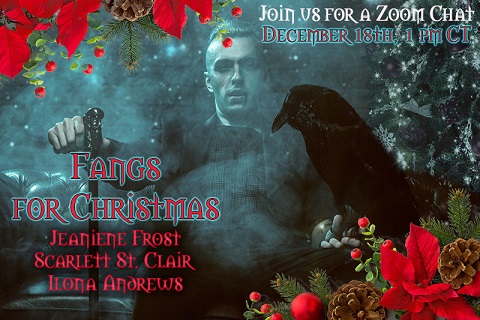 Signed Books
We've partnered with Bank Square Books for this event. NOTE: because of the pandemic, "signed book" in this case means a book with a signed bookplate in it. Bookplate is a fancy sticker with the author's signature. If you would like a signed book by one of the three panelists, you can order it through THIS LINK ONLY. (https://www.banksquarebooks.com/fangs-christmas-book-sales-page)
*Please Note: Orders will NOT arrive in time for Christmas delivery.*
Next up is the winner of last week's contest giving away a $50 Amazon egift card. Winner was chosen at random because I can't be expected to pick between you. For privacy reasons, only the winners first name, last initial, and state will be publicly displayed. Winner will also be contacted via email. Without further ado, the winner is…
Sarah W from California
Congrats, Sarah W! You'll get an email from me shortly with instructions on how to get your prize.
To everyone else, I'm sorry that you didn't win, but as promised, you have another chance. At the bottom of this post is ANOTHER contest. This time, there are two prizes, and yes, part of this contest is open to international readers*.
Now, to the new chapter. If you missed my prior post, I originally published the beginning of THE OTHER HALF OF THE GRAVE as free, partial serial back in 2019, intending it as only a fun glimpse of some early chapters from Bones's point of view. I never intended to turn it into an entire book, but reader response, plus my own enjoyment, convinced me to finish it. So, now readers can relive the beginning of Cat and Bones's bestselling love story through Bones's point of view, which shows a darker, sexier take on their early days, as well as a deeper dive into parts of the vampire world that Cat didn't see when their story was told only through her eyes in HALFWAY TO THE GRAVE.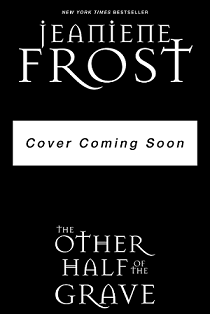 THE OTHER HALF OF THE GRAVE releases April 26th, 2022 in ebook, audio, and print (*due to supply chain issues, print editions might take longer to receive.) Preorder yours at #Ad Amazon, B&N, Apple Books, Kobo, or your favorite retailer.
Finally, the new chapter! Once again, a reminder that the below hasn't been through edits or revisions yet, so there may be spelling and/or grammar errors that will be fixed upon publication, not to mention other small changes because edits and revisions point out the glaring flaws that we writers are blind to no matter how many times we re-read our own stuff. Disclaimers aside, let's get to reading the new chapter.
Haven't read the other seventeen chapters yet? You can read them HERE.
Copyright Jeaniene Frost. All rights reserved
Chapter Eighteen
Bones checked his phone. No, he hadn't misjudged the time. She was over twenty minutes late. She'd never been that late before, even when actively plotting his demise.
Worry poisoned his thoughts. Her vampire side protected her from many things, but her human half made her so…fragile. What if she'd been a victim of a random shooting? Or a car accident? With that heap she drove, even a small accident could result in serious injury—
A far-off, mechanical sputtering sound brought instant relief. Her engine made that noise every time it came to a stop.
She'd just run late and hadn't bothered to ring him. Slightly inconsiderate, but nothing that merited his over-imaginative response. How did people not go mad when they were in love? These emotional highs and lows would end him faster than a silver stake.
By the time she made it to his spot in the cave, he'd covered his former worry with a scowl. In contrast, she looked right chipper, and she had several shopping bags hanging from her arms, making the reason for her tardiness clear.
"Took your sweet time, I see, but I suppose everything in those bags is for me, so all's forgiven."
A sheepish expression crossed her features. Didn't she know he was joking? Apparently not because she thrust a bag into his hands while stammering out that she had gotten him something.
"This massager is great for aching muscles," she finished, and then looked as if she'd choke. His muscles hadn't ached since he was human, as she'd just remembered.
Bones pretended to examine the device. "Five speeds. Deep, penetrating action. Sure this isn't yours?"
She huffed at his inference. "Just say so if you don't want it."
He gave her the bag back. "Give this to your gramps like you intended. Blimey, but you're still a bad liar."
Yet she'd lied because she didn't want to hurt his feelings. That meant more to him than if she had gotten him a gift.
"Let's move onto the target tonight," she said, clearly eager to change the subject. "Tell me the details."
Bones hid his grin as he followed her deeper into the cave.
"Let's see, your target's over two hundred years old, has naturally brown hair but he colors it frequently, speaks with an accent, and is very skilled in combat. Oh, and you can keep your knickers on. Bloke will be smitten with you on sight."
All true, and she had no idea how much control he'd exercised with that last concession.
"What's his name?" she asked.
"He'll probably use a moniker," Bones replied with a straight face. "Most vampires do, but his real name is Crispin."
Before she could ask him anything else, he brushed her off with a comment about watching telly, and left.
An hour later, she came into the cave's version of the living room. She'd picked the most conservative of her hunting outfits, not that it mattered. Her beauty still struck him like an unexpected blow. Her skin gleamed like polished alabaster against the black halter dress, and her new curls added thick waves to her scarlet tresses. Smoky eye makeup matched her storm-cloud gray eyes, and her lips were the color of freshly spilled blood.
He looked away before he gave into the urge to rip her dress off so he could see her clad in only her undergarments, gloves, and those thigh-high boots. Would be worth her staking him afterward. He'd die a happy man.
"I know you like this show, but can we leave?" she asked, oblivious to her effect on him. "We have to places to be."
Oh, they'd go. Right after he dealt with his raging hard-on.
"This is the good part," he lied as he quickly sent his blood elsewhere. What was on the telly again? Right, Court TV. "They're about to deliver the verdict."
"Who cares about the verdict in that murder case when we're about to commit our own murder?" she pointed out.
Finally, his third leg vanished. Not a moment too soon. He could only feign interest in that show for so long.
"Right, let's be off," he said, leaping off the couch to take her arm.
She looked more surprised by his statement than his sudden appearance next to her. "Aren't we driving separately?"
"Not tonight. You'd never find the place. It's a different sort of club, very particular. Come on," he added when she still hesitated. "Let's not keep your bloke waiting."
***
"What is this place?" Cat demanded, staring at the front of the nightclub.
Its nondescript gray steel exterior resembled an industrial warehouse. It was no fewer than ten kilometers off the main road, too, with only one way in or out of the tree-surrounded parking lot. A line of people waited to get in, and in such a desolate-looking area, that would cause anyone to do a double-take.
But that wasn't why she stared. Soundproofing might mask the music, but it couldn't muffle the energy emanating from the club. She should feel it even from the parking lot. No vampire could mistake it, and no half-vampire could, either.
"Let's not dawdle," Bones said in a cheery tone, and propelled her toward the door.
Some of the humans waiting in line gave him a disgruntled look as Bones bypassed them, but they said nothing. If they were here, they knew the pecking order of this club, and they were on the bottom of it.
A tall, beautiful vampire with thick muscles, short blond hair, and cerulean blue eyes guarded the door. Trixie had been the club's bouncer for over a decade. Anyone foolish enough to doubt her capabilities soon learned the error of their ways. Her muscular build wasn't the strongest part of her power by far.
"Trixie, luv, been too long," Bones said, and kissed her cheek.
"Missed you, Bones," she replied. "Heard you left these parts."
He winked. "Don't believe everything you hear. That's how rumors get started."
Trixie laughed and waved them through while barely looking at Cat. To Trixie, Cat was just another anonymous human on Bones's arm. That's why it was safe to bring her. Only vampires merited remembering in this type of place.
More tension eased from Bones once they were inside. Instead of a human club's trademark skull-pummeling noise, the music here was set to a vampire's version of loud. The lights were also dimmer, and the three-story, spacious interior meant you'd only be crowded if you wanted to be. On this level, a famous nineties grunge singer believed to be dead in the human world rocked the stage singing one of his most popular hits. Bloke was hardly the first celebrity to fake his own death after joining the undead ranks, but Cat didn't seem to notice him. She was too busy staring at everyone else.
Her expression looked as if someone had taken shock, added a dash of anger, shaken it up, and then splashed the concoction over her features.
"What is this place?" she growled.
Bones's wave took in the dance floor, three bars, and private curtained alcoves that made up the club's first level.
"This, luv, is an undead club. The locals call it Bite. All manner of supernaturals come here to mix and mingle without having to hide their true natures. See? Right over there you have some ghosts at the bar."
Cat stared at the trio of ghosts Bones indicated. They hovered next to stools, probably waiting for a human to drink their favorite liquor so they could fly through that person's throat to "taste" it. Winston wasn't the first ghost to figure out how to enjoy liquor even after death.
Flashes of green tore Cat's attention away from the ghosts. For a few moments, her head swiveled around as if she couldn't look at the club's other patrons fast enough. Even at this early hour, the lower dance floor and bars were full. Many vampires had their eyes lit up, indicating hunger or other needs. Cat glanced up, taking in the second and third levels of the club where interior balconies showed the green-lit gazes of more vampires. Her hands clenched as if gripping invisible stakes, and she moved closer to Bones without seeming to realize it.
"My God," she breathed out. "There's so many of them. I hadn't realized there were this many vampires in the world…"
Another reason he'd brought her here.
"Kitten, over five percent of the population is undead," Bones said, ignoring her gasp at the number. "We're in every state, every nation, and we have been for a very long time. Granted, certain areas attract more of our kind. Take parts of Ohio, where the line separating the normal and the paranormal is much thinner. Gives the region a faint charge. Younger vamps love that."
"You're telling me I live in a vampire hot spot?" she asked in dismay.
"Yes, but don't bother packing your bags," Bones said with a laugh. "There are scores of them around the globe."
Suddenly, she gripped his arm and yanked him toward her. He didn't mind, especially when he felt her lips brush his ear.
"What's that?" she whispered. "That…thing. It's not a vampire, but I can tell that it's not human."
He followed her gaze. "Oh, him. He's a ghoul. Flesh eater," he added when she still seemed confused. "Like Night of the Living Dead, only they don't walk funny or look hideous. The show iZombie had it much closer to the truth."
She looked revolted, which summed up how a large percentage of vampires felt about ghouls. The dislike was reciprocated. Ghouls and vampires had had a complicated history, but their species were currently enjoying a truce. Still, ghouls tended to avoid places with high vampire populations, which was probably why Cat hadn't run into their species before.
"Sit there, have a drink," Bones said, giving her a light push toward the bar. "Your bloke will show up soon."
"Are you crazy?" Now, she wasn't whispering. "This place is crawling with monsters. I don't want to be their appetizer!"
That garnered a few snickers from those close enough to hear her. Cat didn't seem to notice. Or care. She was still staring at Bones as if he'd indeed gone mental.
He touched her arm. "Trust me, Kitten. Remember all the humans waiting to get in? They know about vampires and ghouls, too, and they want to mingle with the undead. They're in no danger, and neither are you. There is strict etiquette here. Absolutely no violence on the premises, and only willing blood or sex exchanges. Can human nightclubs promise the same?"
He walked away, trusting that her curiosity would win out. Or her bloodlust would. Too bad she couldn't appreciate the irony that in a club full of "monsters," she was the only person who'd come here specifically to kill.
Well, perhaps not the only one. He intended to kill something tonight, too: more of her ignorance about vampires. Let her see them drinking, dancing, and enjoying themselves the same way humans did. Would do more to counter her mother's bigoted teachings than a thousand of his lectures could.
After he'd crossed the length of the club, he looked back at where he'd left her. She was still standing in the same spot, hesitancy written all over her. Then, she shook her head, muttered something he couldn't hear, and took a seat near the ghosts at the bar.
Bones smiled. He'd give her a few minutes to get more comfortable with her surroundings, and then he'd introduce her to her "target" for the night.
Then…let the games begin.
***
Once again, I hope you enjoyed the new chapter! Now, to the latest contest. I'm giving away two prizes to two winners this time. Here's the first:
ONE WINNER will receive any book of their choice (up to $25 in price.) This part of the contest is open to international readers*. If you're a US resident, you can pick either a paperback or an ebook. If you're an international reader, pick a paperback of your choice (up to $25 in price) via The Book Depository. *International readers, please first make sure that The Book Depository ships to your country. List of countries HERE.
And here's the second prize:
ONE WINNER will receive a $50 Amazon egift card. This part of the contest is open to US readers only.
To enter for your chance to win, please follow the rules below.
1. Send an email to jeanieneprizes AT gmail DOT com (obviously replace the "AT" with an "@" and the "DOT" with a "." in your email.)
2. Make sure to include your name, the email address you want to be contacted at if you win (if it's not the email you're sending your entry from) AND YOUR COUNTRY so I know which prize you're eligible for.
3. You can only enter ONCE. Duplicate entries will be deleted.
4. Contest starts NOW and ends Thursday, December 23rd 11:59pm Eastern time. Winners will be announced on my blog the next day, along with a new chapter and new contest because it's the holidays, so let's celebrate 🙂
Good luck, everyone!