First, Merry Christmas to all who celebrate! As you can see, Leia is certainly in the holiday mood, heh.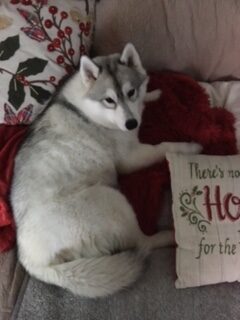 Next, to the winners of last week's contest giving away a $50 Amazon egift card to one winner, and a "book of your choice up to $25 in value" prize to another winner. As usual, winners were chosen at random because I can't pick between you. For privacy reasons, only the winners' first name and last initial will be publicly displayed. Winners will also be contacted via email, so check your email address if you see your name and initial below! Without further ado, the winner of the $50 Amazon egift card is…
Roslyn E J.
And the winner of the "book of your choice" prize is:
Jessica M.
Congrats, Jessica and Rosyln! Once again, check your emails for details on how to claim your prizes. Everyone else, you'll have another chance to win because at the bottom of this post is ANOTHER contest. This time, there are THREE prizes for THREE winners, and again, part of this contest is open to international readers*.
Now, to the latest chapter. For new readers to my blog, I originally published the beginning of THE OTHER HALF OF THE GRAVE as free, partial serial back in 2019, intending it as only a fun glimpse of some early chapters from Bones's point of view. I never intended to turn it into an entire book, but reader response, plus my own enjoyment, convinced me to finish it. So, now you can relive the beginning of Cat and Bones's bestselling love story through Bones's point of view, which shows a darker, sexier take on their early days, as well as a deeper dive into parts of the vampire world that Cat didn't see when their story was told only through her eyes in HALFWAY TO THE GRAVE.  And, for the month of December, I'm posting a new chapter a week PLUS contests to celebrate the both holidays and the upcoming book.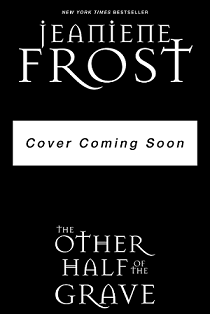 THE OTHER HALF OF THE GRAVE releases April 26th, 2022 in ebook, audio, and print (*due to supply chain issues, print editions might take longer to receive.) Preorder yours at #Ad Amazon, B&N, Apple Books, Kobo, or your favorite retailer.
A bit of a content warning on this new chapter: Bones is thinking some naughty thoughts during their dance scene, so don't read this with any kids looking over your shoulder. Also, a reminder that none of these chapters have been through edits yet, so there may be spelling and/or grammar errors that will be fixed upon publication, in addition to other changes. Disclaimers aside, let's get to the new chapter!
If you missed the previous eighteen chapters, they're HERE.
Copyright Jeaniene Frost. All rights reserved
Chapter Nineteen
Fifteen minutes later, Bones approached Cat from behind. She should have felt him coming, but with scores of vampires here giving off inhuman vibes, her radar was off.
"Sod off," Bones said to the two human boys on either side of her. Figures she'd chosen mortals to while away the time with. When the sandy-haired boy hesitated, giving Cat another lust-filled look, Bones lit up his gaze with green.
Both lads wisely scattered. So did the vampire sitting on the stool next to Cat. Bones took that seat.
"What are you doing here?" she hissed, not looking at him. "What if he comes in?"
Bones laughed and held out his hand. "We haven't met. My name is Crispin."
She did look at him then. And glared. "That's not funny."
"Don't want to shake my hand, do you?" Bones said with mock reprimand. "Not nice manners."
"Will you stop?" Another furious hiss. "I have a job to do. The real Crispin's going to be here soon, and he'll be put off by your blathering!"
Bones used a single finger to turn her to face him.
"But my name is Crispin, pet. Crispin Phillip Arthur Russell the Third. 'Course, that last part was merely a bit of fancy on my mum's end. For obvious reasons, she had no idea who my da was. Still, she must've thought adding numerals after my name would give me a bit of dignity." He gave a brief smile at her memory. "Poor sweet woman, ever reluctant to face reality."
Cat's eyes were growing wider by the moment. "You're Crispin? You? But you said your name was—"
"Told you most vampires change their name after they change from human," Bones interrupted lightly. "Crispin was my human name. After Ian turned me, he laid me in the native's burial grounds until I rose. For hundreds of years, they'd buried their dead in the same place, and not too deeply, either. When my eyes opened for the first time as a vampire, all I saw around me were bones."
And blood. Every vampire rose with mindless, uncontrollable hunger. Bones didn't even remember making his first kill. All he remembered was waking up to the sightless gaze of his victim staring back at him amidst a sea of bones.
"I knew what I was then," Bones said. "For from bones I rose and Bones I became, all in that night."
Something flashed across her face, and her scent changed from annoyance to something softer. Their circumstances might have been different, but she knew what it was like to have her entire existence upended in one night.
"Okay, you're Crispin," she acknowledged. "What kind of game are you playing, then? You want me to try to kill you again, is that it?"
"Blimey, no," he said with a laugh. "In fact, this is all your doing."
"My doing?" she repeated with disbelief. "How could I have anything do with this?"
He grinned. "When you were complaining about your life last night, you said you'd never been to a club just to have fun. So tonight, we will drink and dance and absolutely murder no one. You will be Cat, I'll be Crispin, and you'll send me home with a dry mouth and aching balls just like you would if we'd never met before."
A scowl knit her brows, but something sparked in her gaze that she tried to conceal by taking a long sip of her drink.
"Was this all a trick to get me to go on a date with you?"
Absolutely, and I'm not finished yet.
"Let you keep your knickers on, though, didn't I?" he teased. "Don't even appreciate the willpower that took. Now, then, finish your drink and let's dance. Promise I'll be the perfect gentlemen… until you request otherwise."
That earned him another glare as she set her glass on the counter with a loud clink.
"Sorry, Crispin, I never learned how to dance. You know, my whole lack of a social life and all that?"
"You're serious?" That other sod hadn't even taken her out for a twirl? Oh, he'd enjoy killing him for a thousand reasons.
"Yep," she said, gripping her glass a little too tightly now.
She was embarrassed. As if it were her fault that she hadn't been taken on a proper date.
Bones grasped her free hand. "You dance now."
She argued the entire way, but if she really didn't want this, she was more than strong enough to stop him. Instead, her tugs on his hand were halfhearted at best. When they were in the middle of the gyrating throng, he turned her back to him so she could see the other dancers.
"It's easy. Watch them, and move the way they do."
He demonstrated as he spoke, splaying his free hand across her waist to guide her movements. His other hand still held hers, and her fingers tightened as their hips brushed.
"I swear, if you try anything," she drew out.
He let his laughter hit the sensitive spot on her neck. Her shiver felt almost as good as the light brushes of her body.
"Relax. I won't bite."
That caused another shiver that he savored. Then, she lost her hesitancy and began to move in earnest as she copied the other dancers. Soon, her body was dipping and twisting of her own accord. He followed her movements, matching each bend and sway while heat slammed into him. 
Feeling her this way inflamed him more than every erotic act he'd indulged in before her. He couldn't stop fantasizing about tasting the sweat that was now beading her skin. Or bending her forward until her arse cupped his cock. Or plunging so deeply inside her that her juices basted his thighs from her pleasure…
He spun her around to redirect his thoughts. A mistake. Her dreamy, sensual smile almost undid him. She'd never looked at him that way, even when she was trying to seduce him into an early grave.
He pulled her closer, stroking her with light, sinuous touches. She raised her arms and her head fell back, baring her throat. Its long, luscious line begged him to taste it, and her arched back jutted her breasts out until the lovely globes were only a few centimeters beneath his mouth.
Taunting him, was she? Two could play at that game.
He bent her backward until her hair brushed the floor. Then, he pulled her up while letting her body slide along his. Pleasure knifed him at the contact, heightened by her quickening pulse and her little gasp.
Then, her brow cocked in challenge, and she flattened her hands against his chest as she twisted her hips hard against his.
"You were right, dancing is easy," he heard her say above the new roar in his ears. "And I'm a fast learner."
Lust nearly felled him. He let her see a fraction of what he felt before bending his mouth to her ear.
"Playing with fire, Kitten?"
A warning and a promise. She could still walk away unscathed, if she stopped now. She could still—
Her tongue slid up his neck in a warm, wet path.
His vision went black. Only extreme bloodlust had erased his sight before, and only when he was a new vampire. He felt himself gripping her hair, felt her sharp intake of breath…and then all he saw was her lips.
Bones claimed them with all the hunger ripping through him.
***
Once again, I hope you enjoyed the new chapter! Now, to the new contest. Once again, this time I'm giving away THREE prizes to THREE winners. Here is the first prize:
ONE WINNER will receive any book of their choice (up to $25 in price.) This part of the contest is open to international readers*. If you're a US resident and you win, you can pick either a paperback or an ebook. If you're an international reader and you win, you can pick a paperback of your choice (up to $25 in price) via The Book Depository. *International readers, please first make sure that The Book Depository ships to your country. List of countries HERE.
Here's the second prize:
ONE WINNER will receive a $50 Amazon egift card. This part of the contest is open to US readers only.
And the third "grand" prize is:
ONE WINNER will receive a $100 Amazon egift card. This part of the contest is open to US readers only.
To enter for your chance to win, please follow the rules below.
1. Send an email to jeanieneprizes AT gmail DOT com (obviously replace the "AT" with an "@" and the "DOT" with a "." in your email.)
2. Make sure to include your name, the email address you want to be contacted at if you win (if it's not the email you're sending your entry from) AND YOUR COUNTRY so I know which prize you're eligible for.
3. You can only enter ONCE. Duplicate entries will be deleted.
4. Contest starts NOW and ends Thursday, December 30th at 11:59pm Eastern time. Winners will be announced on my blog the next day, along with ANOTHER new chapter and new contest because it's the holiday season, so on Fridays, gifts will flow! Lol.
Good luck, and see you next Friday :).